Continuing with the rest of the fun party we had a week ago for my daughter. We had many activities. This post is going to cover the fun stations we had 🙂
I want to give credit where it is due – The Crafting Chicks featured their stations where I branched off and expanded on for our party.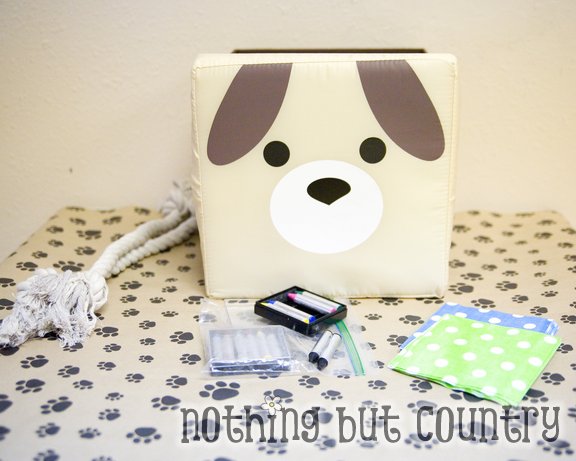 First stop they received their puppy ears and made up their faces at this station. (More on puppy ears in another post)
They received their ears and make up their faces in the beginning of the party. We did the rest of the stations later after lunch.
Puppy Box- Container Store  (it's actually a storage stool she can use later see link for better description)
Face Paint – Party City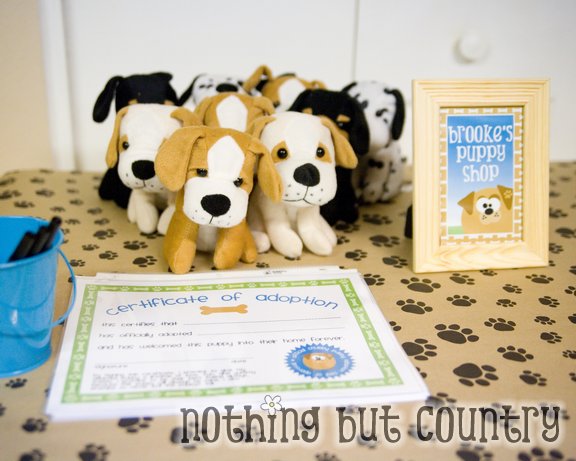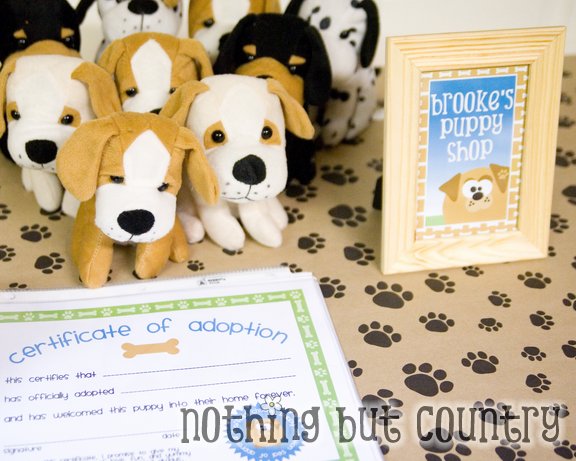 Brooke's Puppy Shop was our next stop. They were able to adopt a puppy of choice. Name it, and the certificate was theirs. To help protect the certificate I silde them in heavyweight sheet protectors to help it from bending and make it look nicer.
Puppies- Dollar Tree
SignFrame – Dollar Tree
Sign – Designed by Me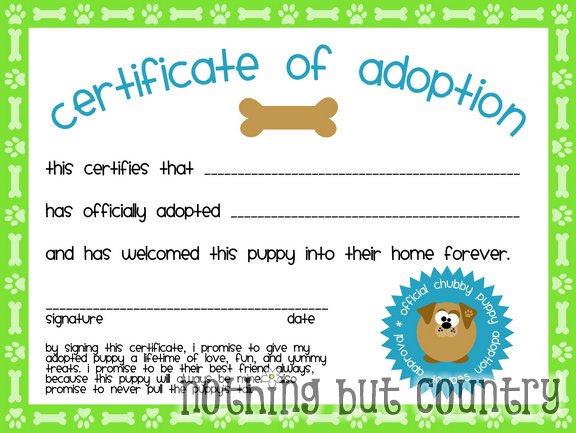 I love how the certificates came out. I designed them in Photoshop myself with the colors of the party. However the idea was not mine. I saw a certificate online and loved how it was set up. Changed a few words to reflect any gender puppy or any gender party goer.
Check out Chickabug Blog for their great certificates and see where I was inspired to make my own.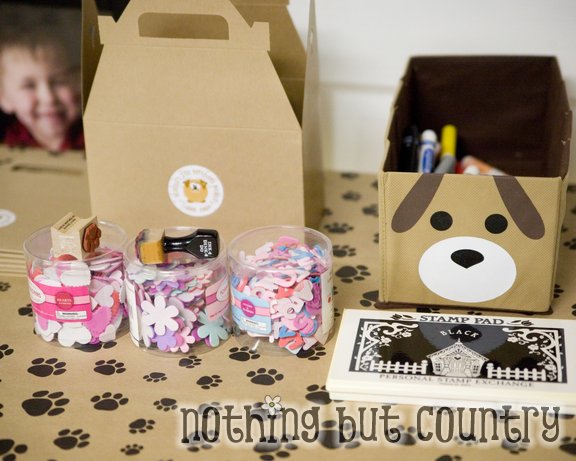 At the same Puppy Shop station. I had Kraft boxes big enough for the puppies to go home safely in. Added a cut sticker on the outside of the box reflecting "Brooke's Puppy Pawty" and allowed the party goers to decorate their puppy carriers any way they wish. That was a big hit.
Kraft Gable Boxes – Whispering Pines
Labels on the box – Designed by me (printed on full sheet address label and punched out)
Foamies- 1.00 section of Target
Various stamps and markers we had on hand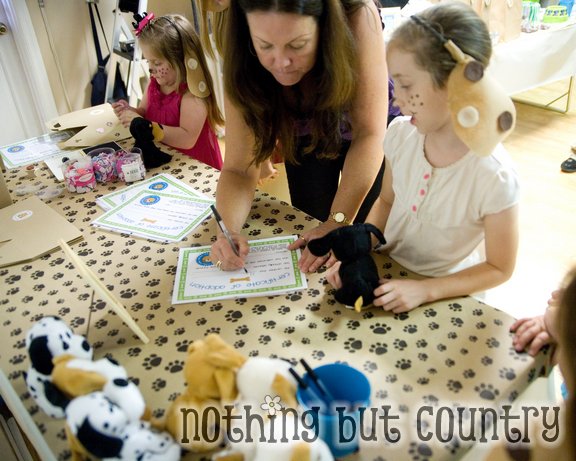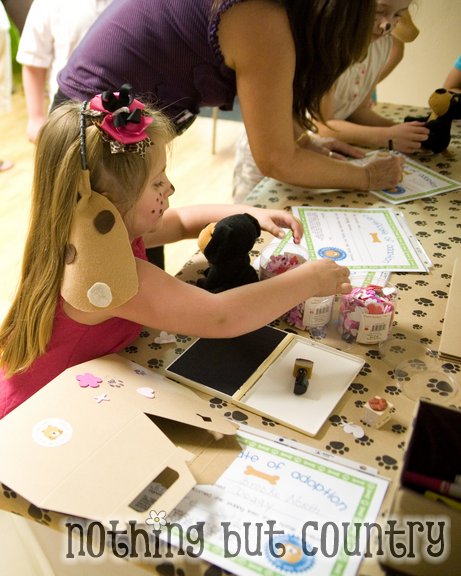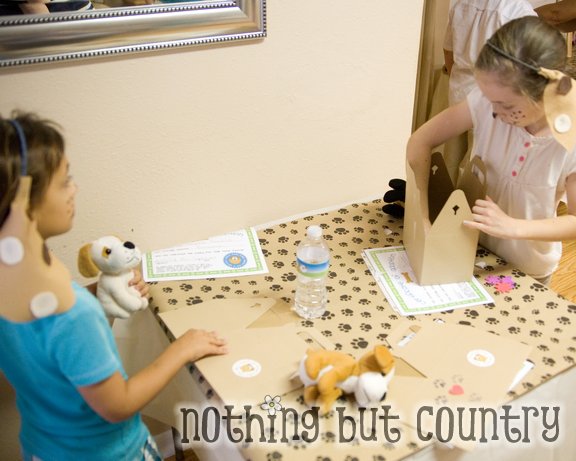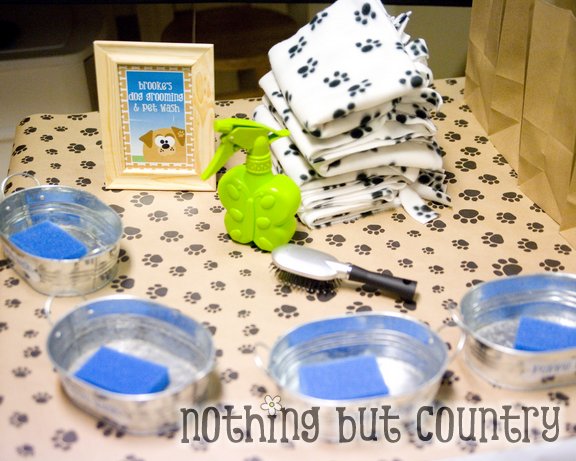 Next stop was Brookes Dog Grooming & pet wash. The party goers got to take home a towel/blanket. And stop and wash (pretend) pamper up their pooches. With a quick wash /brush and dry. The spray bottle was empty.
Bath Tubs- 1.00 section of Target
Sponges – Dollar Tree
Spray Bottle – 1.00 section of Target
Towels / Blanket – No Sew Blanket Tutorial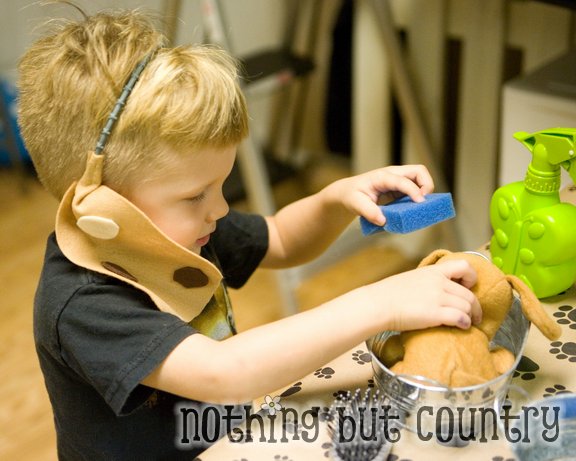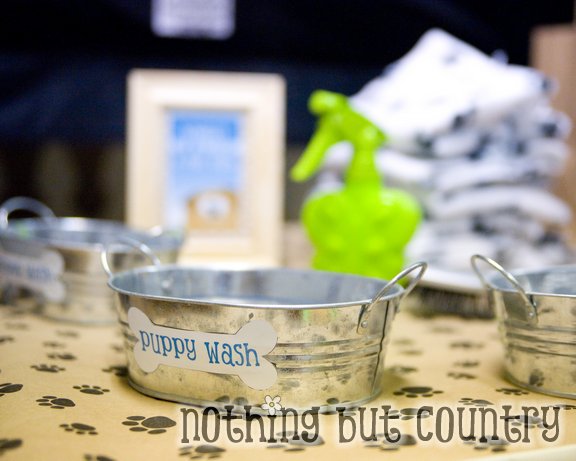 I made labels to look like bones and cut out of address label paper.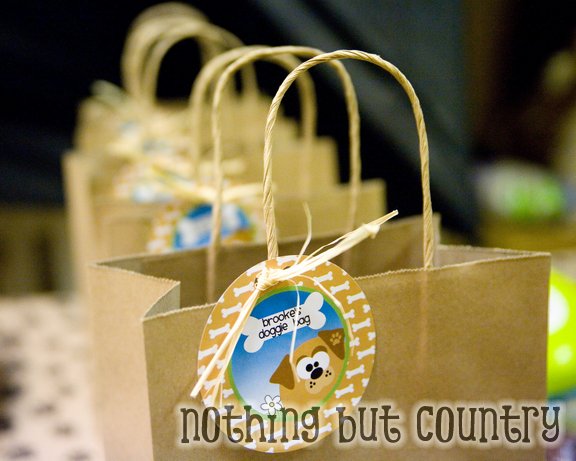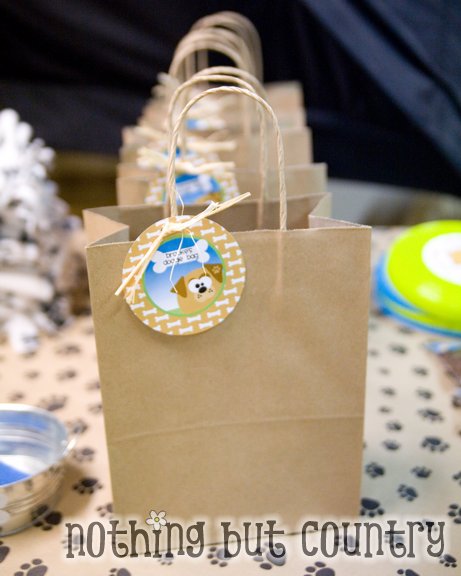 Each party goer then picked up a "Doggie Bag" before proceeding to the next station.
Kraft Bags – Dollar Tree
Labels- Designed by Me (printed and punched out)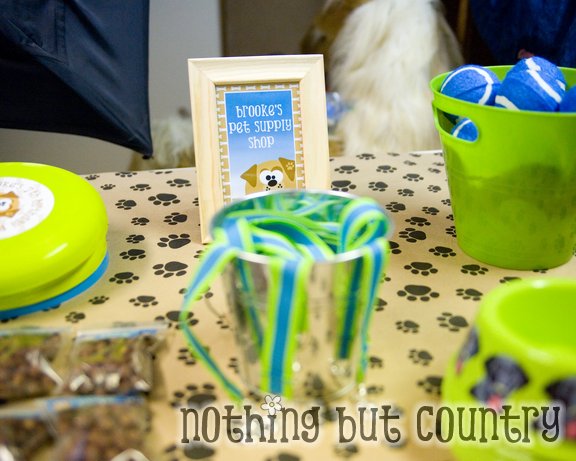 Next station they stopped at Brooke's Pet Supply Shop. They were able to pick up various items for their puppy needs.
Puppy Chow – Tutorial Here
Leashes – Tutorial Here
Frisbee- Michael's Craft and Tutorial Here
Puppy Bowls – 1.00 section of Target
Collars – Tutorial Here
Tennis Balls – WalMart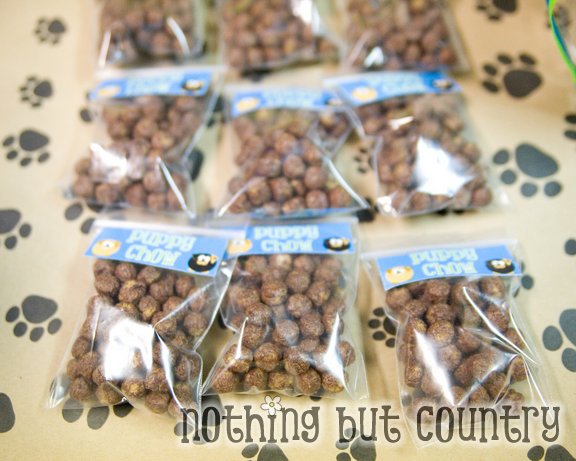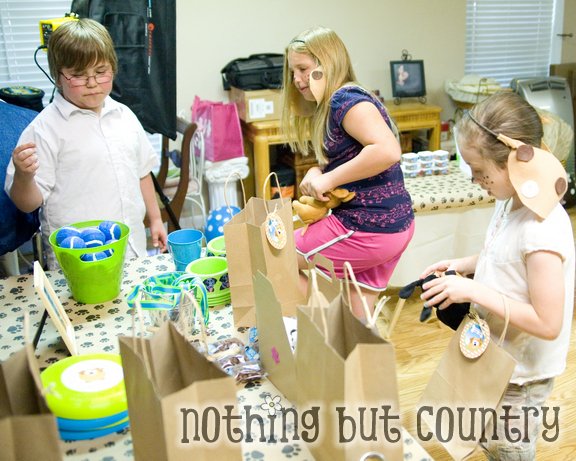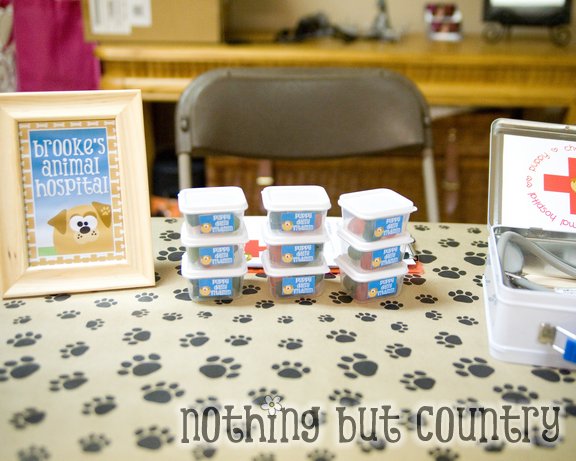 Last but not least. Brooke's Animal Hospital station.  Party goers stopped by to see Dr. K . North for a quick examine and receive a supply of puppy vitamins 🙂
Puppy Vitamins – Tutorial Here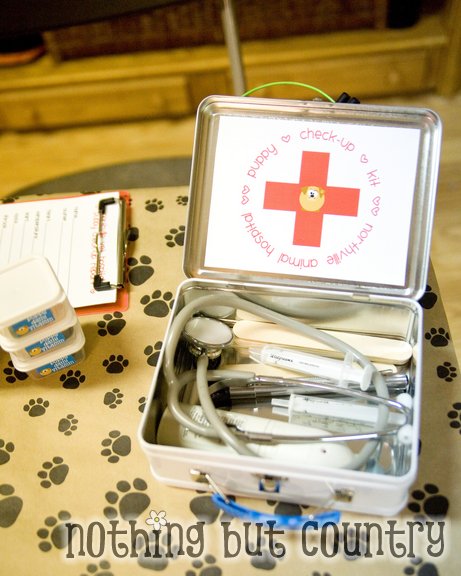 The check-up box was a last minute thing we put together the night before. It came out so cute!!
The white metal lunch box came from JoAnn's Crafts.
Made a sign in Photoshop taped one on the outside and the inside.
We have supplies on hand – stethoscope, otoscope, thermometer, large kraft sticks, and to pretend as a shot- a pediatric medicine dispenser.  You could easily use a fake dr. kit. I just didn't have one and had the real stuff at my own home 🙂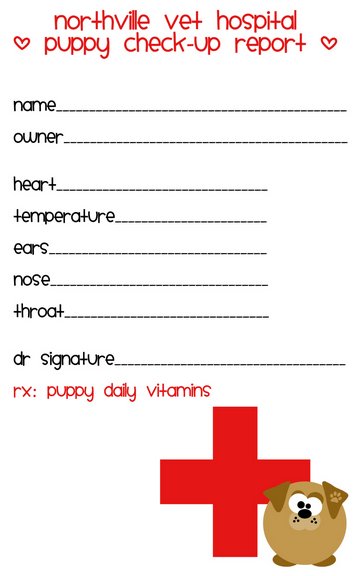 Dr. North then used the above check list to help him check over the puppies. Big Brother really enjoyed helping at the party and it was right up his alley. He did a great job. The girls got to take the physical papers home. I printed 2 of these on a sheet and cut in half and added it to a clip board for Dr. North It included them an RX for the vitamins 🙂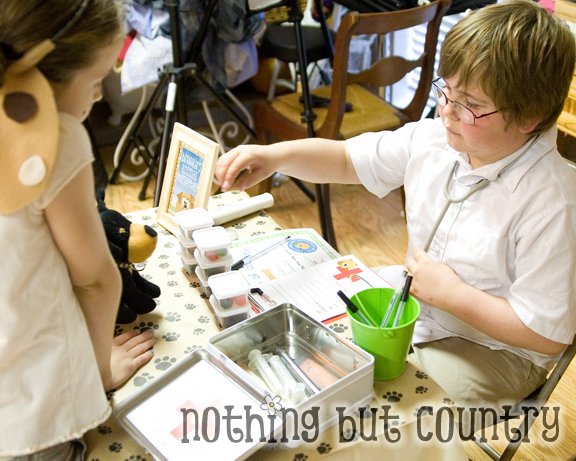 Dr. North hard at work 🙂
There is still MORE to share!! Will share more with you in Part 3 in tomorrows post 🙂