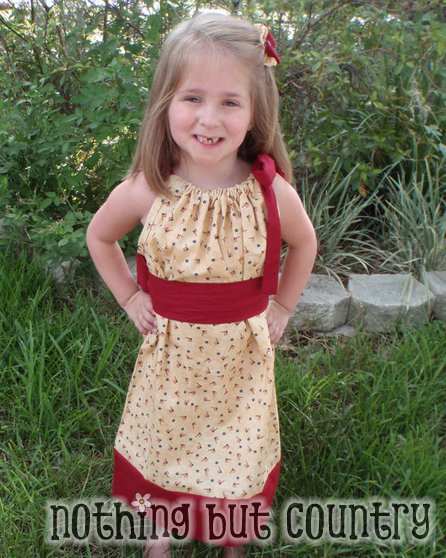 One of my very 1st dresses I have ever sew was this one last year. I love how it turned out. The little American flags, and used maroon fabric to accent it. Its great to also wear on Memorial and Labor day.  I also sewed it a bit long so she could wear it for more than 1 year as well.
I followed this tutorial for making my basic pillow case dress. (DRESS TUTORIAL)
I made a few adjustments. I cut the dress shorter and extended it with the maroon fabric.
The ribbon around the neck/collar. Is a long strip sewn then turned inside out to make a fabric ribbon so to speak. I didn't want to use actual ribbon. I wanted it to be the same as the bottom maroon fabric color.
And last but not least- the belt. Adding the belt gave it a bit more dress up look to it.
This dress was made in a size 5/6 and now my daughter is in a 7/8 and it fits just as perfect.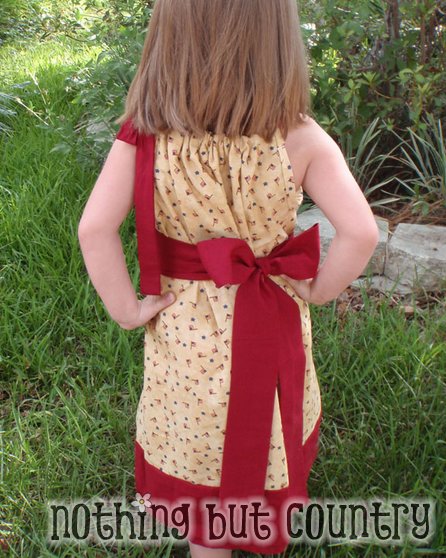 Here are my fabric dimensions I cut
Shoulder Ribbon/Strap – I cut  3″x68″  (once folded in half sewn down 1 side and turned inside out- the final was more like 1 1/4 inch wide by 67) Tucking in the ends.
Bias Tape- for the arm holes  – 2″x45″
Top Dress –  25″x45″
Bottom Dress (maroon) – 6″x45″
Belt – 6″x82″
The Belt I cut in 3 pieces.  18″ , 32″ and 32″
I had the 18″ piece in the center where her tummy is. Because I didn't want to see a seam. And then the 32″ inches on each side of the 18″ piece. Once I had 1 long 6″x82″ piece. I sewed it exactly how I did the Shoulder Ribbon/Straps. Turning it inside out and tucking the ends.  Gave her a nice almost  2 1/2-3″ belt.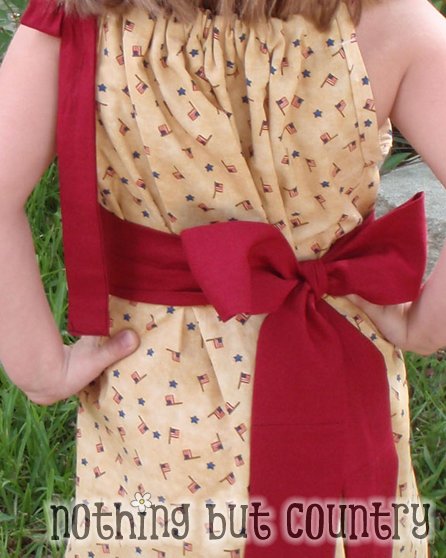 She also wears it with out the belt sometimes for a more casual look.
Then last but not least her hair piece.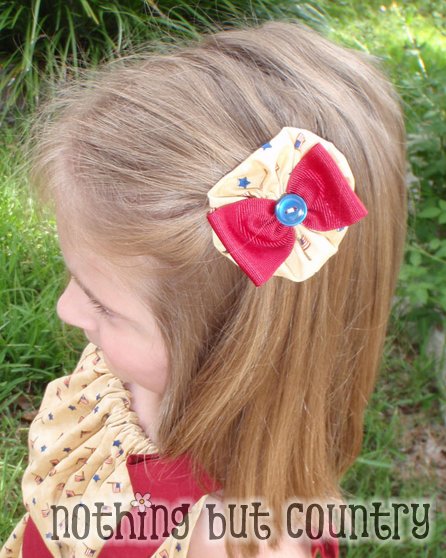 Simply made a fabric yo- yo (great tutorial found here) and glued it on a french clip. With a bow and button on the top.
I love outfits that I can make a little bit bigger and get a few years out of it. 🙂