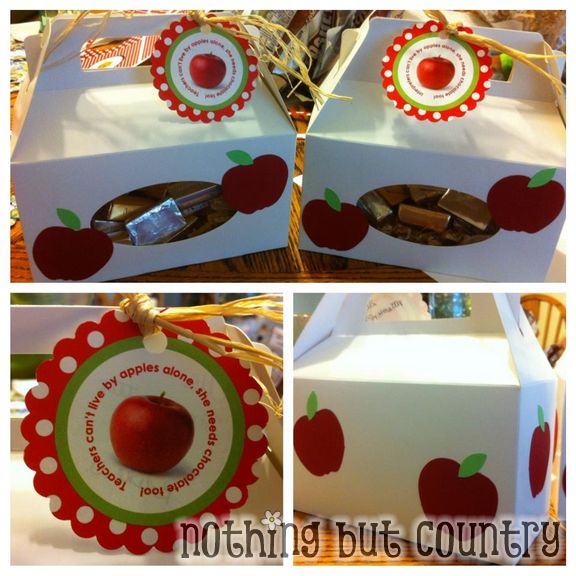 Gable boxes found at Michael's. Cut out apples on my silhouette machine. Filled it with candy. That happen to be buy 1 get 1 free at Publix.  The tag says "Teachers can't live by apples alone, she needs chocolate too!" To play off the cliché of teachers and apples. 🙂  This is what we gave for day 1 🙂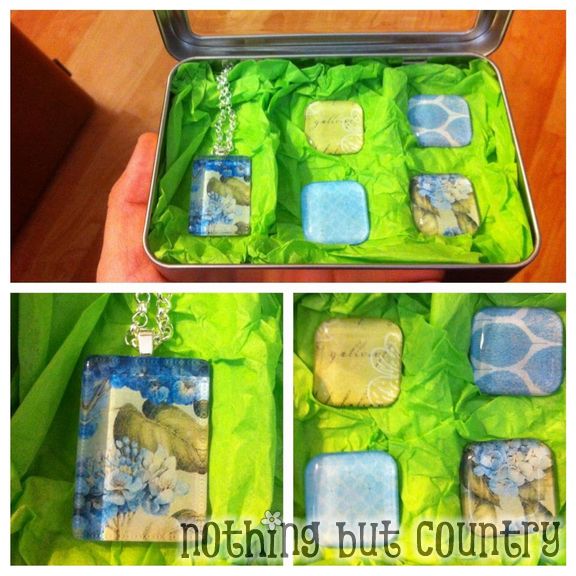 A something little nicer for the teacher. Glass pendant necklace and magnets. Everything to make this I purchased from Sun & Moon Craft Kits. Followed the directions on her blog. I was inspired by the pattern/idea from House of Joyful Noise. The paper set came from Michael's crafts. I put it in a tin box and the teachers loved it!! I made about 11 sets that week. My hands almost fell off 🙂 This gift was given on day 2.
Tag reads "Ms. _______ has the "write" stuff".  Made sticky pad holders for the teachers. I purchased all the parts for it at Walmart. Very inexpensive.
Sticky Pad
Pen
Paper Clip
4×6 Acrylic Frame
Ribbon
I created a 4×6 digital scrap to slide into the frame upside down. Used E-6000 to glue on the sticky pad to the front.  Used the large paper clip on the side for a few reasons. 1 to give it more support. 2. I could tie the pin to it as a set.  I made 5 of these. Very inexpensive gift and I thought came out very cute. The digital scrap set that I used is free and from – Shabby Princess I was able to personalize each one with the teachers last name at the top of each of the notepad holders. If you can't digital scrap you could definitely use regular scrap-book paper and put their name on or not at all. It's like a blank canvas 🙂  This gift was given on day 3.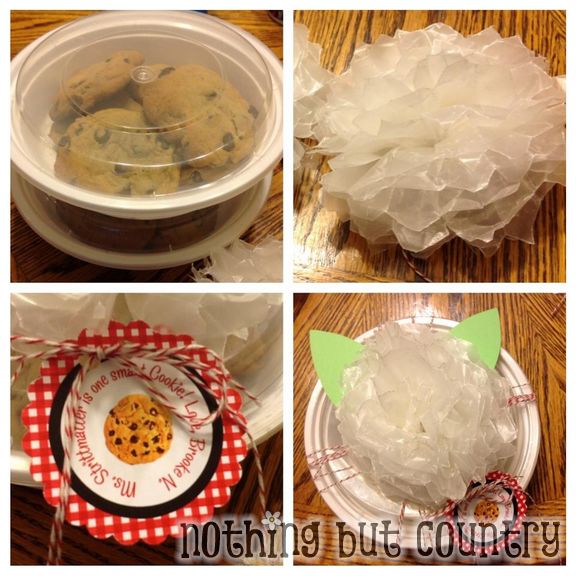 Tag reads "Ms. _______ is one smart Cookie!"
I love these containers that we get when we order Chinese dinner. 🙂  After we moved a few months ago the restaurant near us uses these. My husband kept tossing them. I finally begged him to save. I promised him I would use and not hoard the containers. So — here is proof I reused them. They are perfect for gift giving treats in once they are all washed up.
Simply made chocolate chip cookies put them in my reusable container. Tied it up with bakers twine and made myself a wax paper flower for the top. I got the flower idea off Pinterest. You can find the directions for this cute flower here — Nice Package Blog. I simply cut out some green leaves on my silhouette machine. 🙂  Easy peasy gift. This was given on day 4.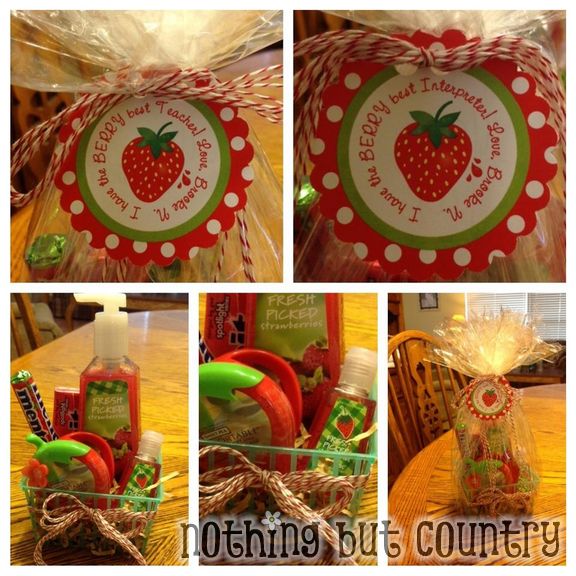 Tag reads "I have the BERRY best Teacher/Interpreter!".  My daughter gives a gift to both her teacher and her ASL Interpreter. They both work so hard all year with her. 🙂 They deserve the extra pampering for working with her every day 🙂
I save berry baskets every year when I order large amounts of strawberries from Church. I have LOTS of them. I keep saying I will use them for easter and then I don't. Again- another thing I "hoard". Hoarding seems like such a terrible word. "COLLECT". And with threats from the hubbster I needed to show him I was really going to use some of them. So I did 🙂
Found Strawberry Mentos and Strawberry Orbitz Gum at Walmart. Filled the basket with some kraft paper shreds from 1.00 store.  Strawberry Soap, Antibacterial Cleaner and the Strawberry scent holder came from Bath & Body Works. Then I wrapped it up in cellophane.
This will be given on day 5. (Tomorrow).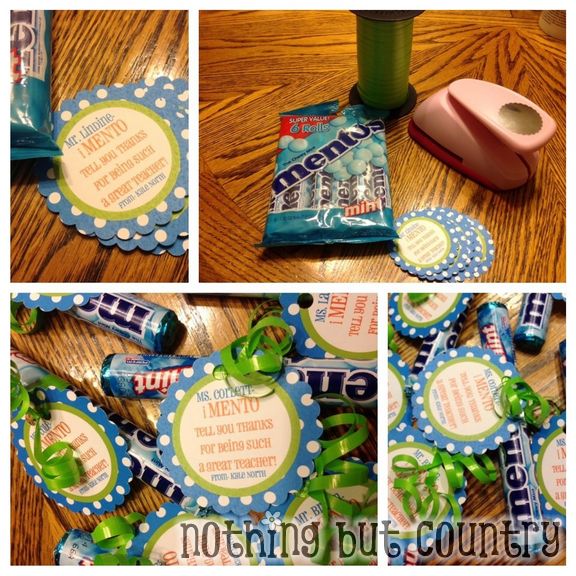 Tag reads "I MENTO tell you thanks for being such a great teacher"
My son too wanted to give a little something to his teachers. Being a tweener- its uncool to be a teachers pet in middle school. But a little gift he still wanted to give. And this one he was excited by. It was still "cool" enough 😉
So I purchased the mentos in a 6 pack at Walmart and tied on a tag. Easy Peasy too!! He was happy about this gift and looking forward to passing them out to the teachers this week.
I have one more gift I am working on. I am the room mom for my daughters class and tomorrow we will be giving her the class gift. So I will post how that one turns out. I have it in my mind what I want- just haven't put it together yet. 🙂
I am so thankful for the teachers in my children's lives. With out them they would not be where they are. For their love and support. 🙂
THANK YOU TEACHERS ALL OVER!!! XOXOX