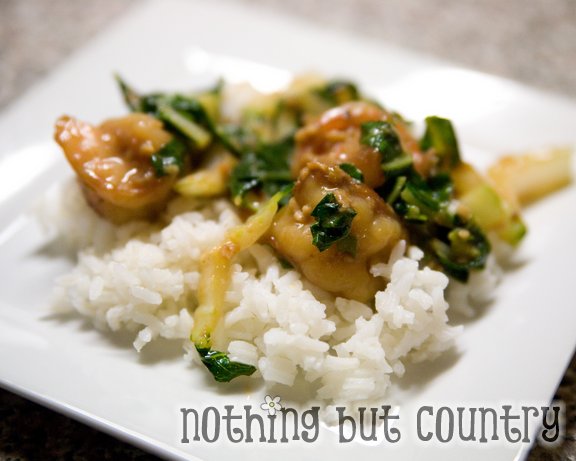 We have never cooked with Bok Choy before. I am not sure why not but we really enjoyed this dish. It was simple and so flavorful!! It's now added to our list of must make again!!
This recipe is not our own completely but we changed a few things to make it more like what we enjoy. However the original recipe is from Food Network called "Shrimp & Cabbage Stir-Fry" Found here.
We could not find the nappa cabbage so we substituted for Bok Choy. I know both Nappa Cabbage and Bok Choy are both referred to as Chinese Cabbage.  However, I learned Bok Choy is a chard not a cabbage. Just thought I would throw out that piece of did you know 🙂
We had to share this with our readers. If you enjoy cabbage/Bok Choy  and shrimp this is for you. Dinner was ready in about 20 minutes. 🙂
ENJOY!
Shrimp and Bok Choy Sitr-Fry
1 large egg white
1 tblsp + 2 tsp cornstarch
1 tblsp +  1 tsp soy sauce
1 1/2 lbs medium shrimp, peeled and deveined
2 tsp hoisin sauce
2 tsp rice wine vinegar
1/2 cup chicken broth (or water)
2 tblsp vegetable oil
5 scallions, cut into 1/2 inch pieces. White and Green parts separated
1 tblsp finely grated peeled ginger
1-2 cloves garlic, finely grated (we like more)
1 lb Bok Choy, cut into 1 inch pieces
(White Rice cooked for this meal is optional)
Beat the egg white, 1 tbsp cornstarch and 1 tsp soy sauce in a bowl until frothy.
Add the shrimp and toss to coat. refrigerate for 10 minutes.
In another bowl whisk hoisin sauce, vinegar and the rest of the 1 tblsp soy sauce and 2 tsp cornstarch in a small bowl. Whisk in the broth/water. Set on the side.
Drain shrimp. Heat the vegetable oil in a large skillet (or wok) over medium-high heat.
Stir-fry the scallion whites, ginger and garlic about 30 seconds.
Add the shrimp and stir-fry until almost cooked through about 2-3 minutes.
Add the Bok Choy and the hoisin sauce mixture and cook till the Bok Choy has wilted. Approx 2 minutes.
Stir in the scallion greens.
Serve over rice 🙂
YUMMM YUM!!!