Part 2 of our Magic Show Party. We did this party for our Blue and Gold banquet for Cub Scouts. We called the night "The Magic of Cub Scouting"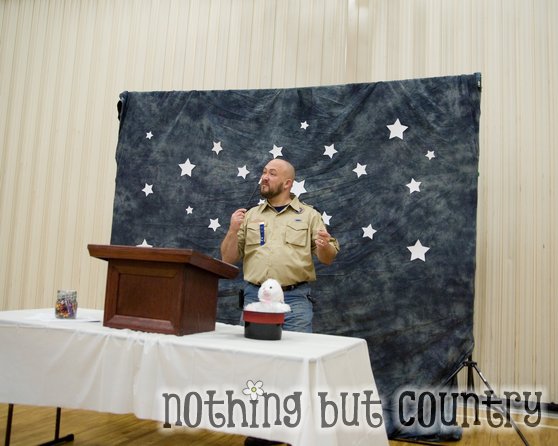 Ignore what Chad is doing. Good Grief!! He acts like a 8 yr old cub scout himself. HAHA
We wanted to have a nice magic background. Since we are photographers. We used one of our blue/denim looking backgrounds on a stand. I cut out white paper stars on my silhouette machine. We simply just taped them on. They made a nice backdrop for our magician that was coming to perform when I took photos. 🙂 This is just a back up photo to show you how we did it. (Ignore the Cubmaster)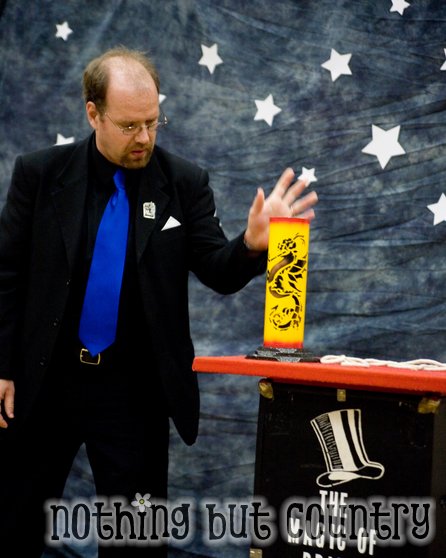 Here is now nice the photos looked when the night happened in front of the backdrop.  Very inexpensive. If you do not have the photo equipment. This could be easily done with navy paper on a roll you get at a teachers supply store hung on the wall.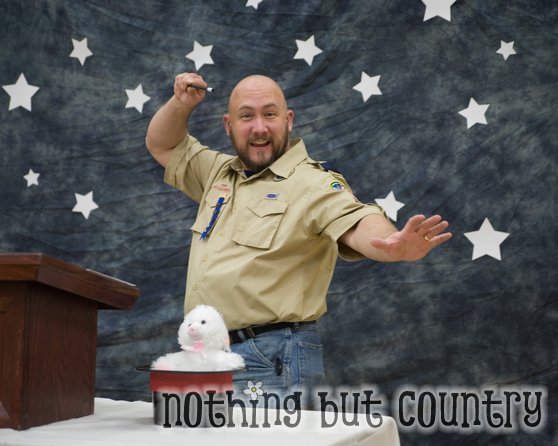 Chad being the Cubmaster- and passing out the awards that evening. All the boys awards were pre-packaged up in ziplock bags with their names and what they were getting on a piece of paper in the bag. They were hidden inside of the hat before they arrived.  Put a rabbit stuffed animal on top and they didn't know they were there. So he  made up a silly spell and would pull out the next awards. Simple but the boys loved it. (I think Chad did too)  See our magic wands came in handy.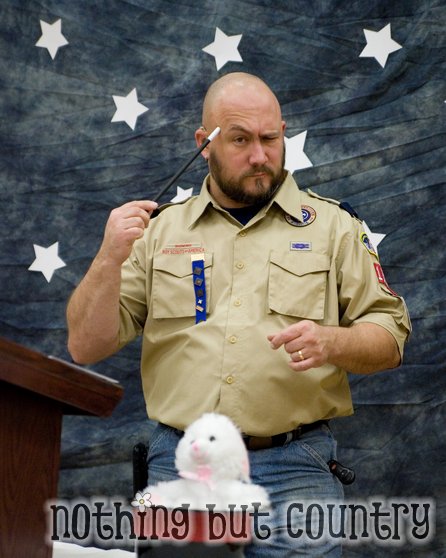 One more photo on our backdrop 🙂
Now onto the details of the tables…..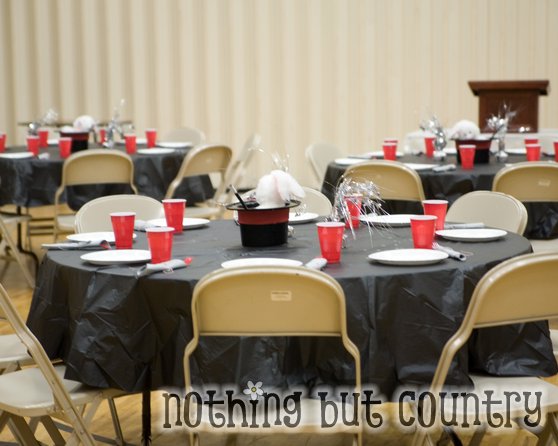 We set up tables- and used black table cloths from the dollar store.  Red Cups, White Plates, Red Forks and the forks were simply rolled up in the napkin and tied with red/white bakers twine. (Wish I got a better photo of that). The napkins were silver.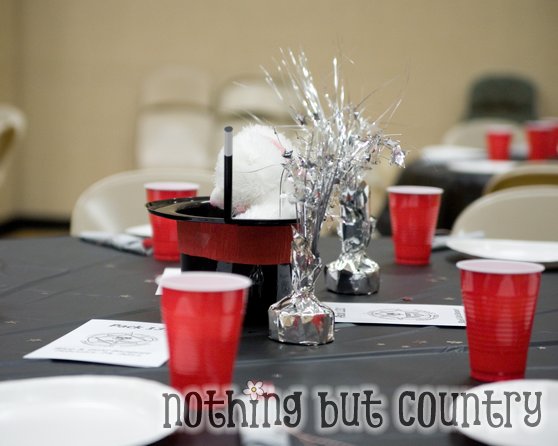 Also on the table we sprinkled silver stars. We used those 1.00 balloon weights in silver. I really wanted to have black/white and red balloons tied to them- but like I said- we were on a strict budget and had to cut them out sadly. But since they were silver and had stars on them (we used them for our pine wood derby too) We got lots of use having those silver balloon weights. Perfect for magic show theme.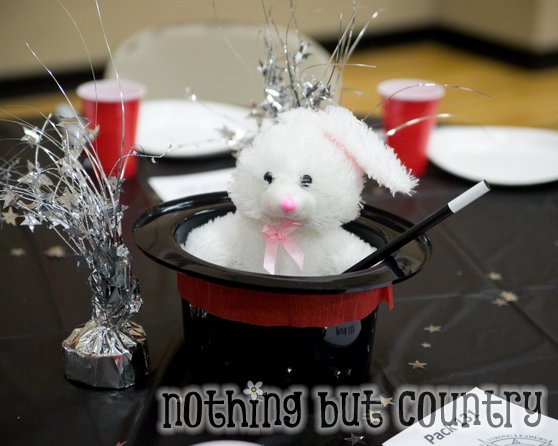 Center of the tables. We got plastic top hats at our local party store. The cheap ones. They really were hats for "casino" but they were all black. We simply used red crepe paper and made a red band around the hat to make them look more like a magician's hat. 🙂 Simple fix and saved us looking all over for other black hats. 🙂
The rabbits were also from the 1.00 store.  Early February the dollar stores were already rolling out Easter decorations and items. Finding white rabbits were very easy.  And they were the perfect fit to sit in our hats.
We then just placed a magic wand we made (see previous post yesterday) into the hats.
Once dinner was served we had a magician perform a great show. He was also a member of our Church so that helped too. It gave great entertainment for the boys and the parents.
He had a surprise for us at the end of the show- and when he said he was going to do a disappearing act- out came a storm trooper HAHAHA To drag him off the stage and "disappear"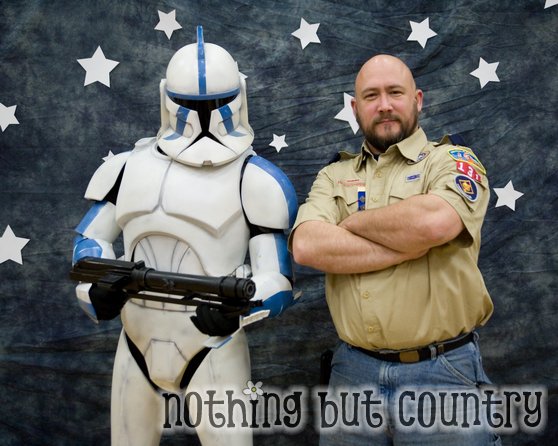 Of course the boys LOVED THAT!! Surprised not only them but US TOO. We got to put our backdrop in action again and take photos of the boys. Here is one with Chad and one with my son (he was there helping us that night)

Hope some of my ideas will help and inspire other's looking for Magic Show decorations and ideas. 🙂 It was fun and challenging at the same time when you don't have that much to spend and the outcome was still pretty amazing if I do say so myself. 🙂