I can't believe this is my last teacher appreciation post! Where has the week gone. So many fun ideas have been shared. Make sure you go see them all. Most of them came with free printables for you. I hope you loved all the freebies as much as I enjoyed sharing my ideas and inspirations.

Target had these wonderful 1.00 metal bucket/pails. They were oblong and I enjoyed the different shape it offered. Was adorable. Even if the teacher didn't use it to plant in it, was perfect for her desk to keep trinkets in.
I used my Silhouette machine to cut out the teachers names, and some fun polkadots to add.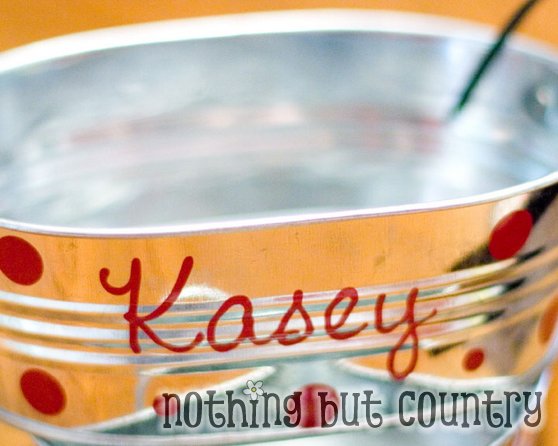 Then I tied on a fun tag, and a pack of seeds. That's it. 🙂 You have a thoughtful gift. I know some PTA's designate a day to bring flowers in for the teachers. This would be a great spin off to do on that day 🙂  The tag reads –
THANK YOU FOR PLANTING THE SEED OF KNOWLEDGE IN OUR CHILDREN!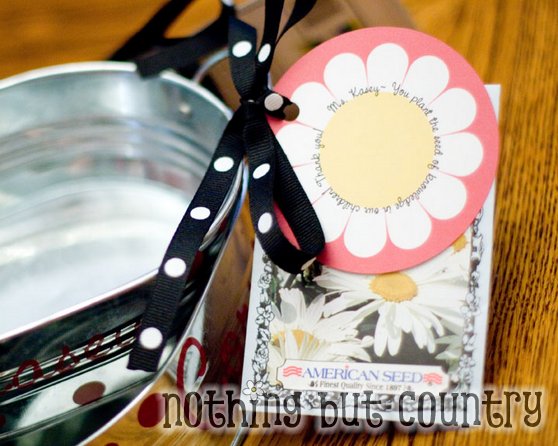 I used a 2 1/2 inch circle punch – Uchida Clever Lever Mega Craft Punch, Circle
For the tags. Make it easier on myself but you can cut it out by hand as well.

Would appreciate any comments and/or you to LIKE us on our Facebook page here if you like this project/freebie 🙂