I have all these swatches/paint chips in my home. I love to collect them because they are great learning tools. You can use these to play memory games by having 2 of every color. Skies the limit.
I have friends that have little ones with birthday's coming up and wanted to make a little gift for them. I had rings left over from when I redid my kids rooms.  (SEE THIS POST)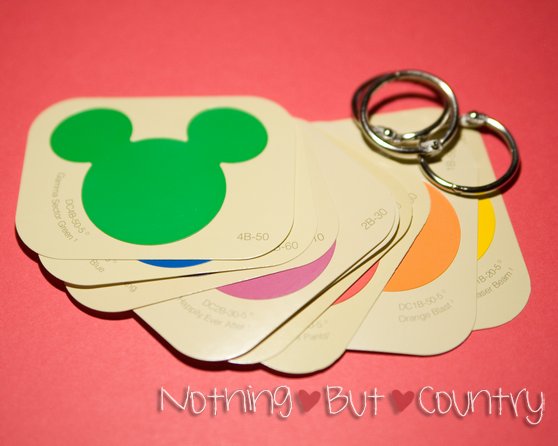 I printed off their names on the computer. They paint sample chips are approximately 3 x 2 1/2 inches in size. Typed of the kid's names in my favorite font.  Printed it and then traced another paint chip color for size, and cut it out.
Using one of every color in the rainbow plus 3 extras I added (pink, white, black) I punched a hole in the corner , and put them in color order to the rainbow, and added my ring.
I added ribbon from my scrap ribbon pile. I always save my scraps. Never know when you will need it. And tied it on for a little whimsy.
That's it!! Almost free books. And these would be great to have at church during Sacrament Meeting. Put it in their quiet bag and they can learn their colors. Actually it's nifty to keep in your purse when you are in line at the grocery store to keep them occupied at check out. 🙂