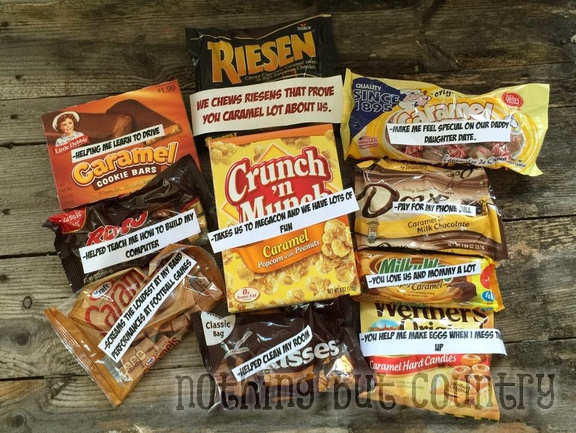 My husband LOVE Caramel!!!  SERIOUSLY LOVES IT!!! We hit the stores and found everything in Caramel. WE did a play on words using the foods-
WE CHEWS RIESENS THAT PROVE YOU CARAMEL LOT ABOUT US.
I then had the kidlets tell me all the things that dad does for them that proves he loves our family and he is awesome. We attached each of those RIESENS to the caramel foods.  I never realized how many caramel items we could find. We found LOTS more but we decided not to buy out the entire store. HAHA He loved this!!
One more fun item that happened- our Church gave out thees fun bags to all the dads (or any male over 18).  I designed the card/tag and they attached it to the bags. It has chips, candy and other yummies in it. Something different and the fathers really enjoyed getting a "DAD'S STACHE" at church 🙂