I love decorating for every holiday 🙂  Also creating new crafts for the decorating is also alot of fun for me!! This section of my home is pretty new for me this year. I am happy how it turned out. I love green so I had alot of green things already.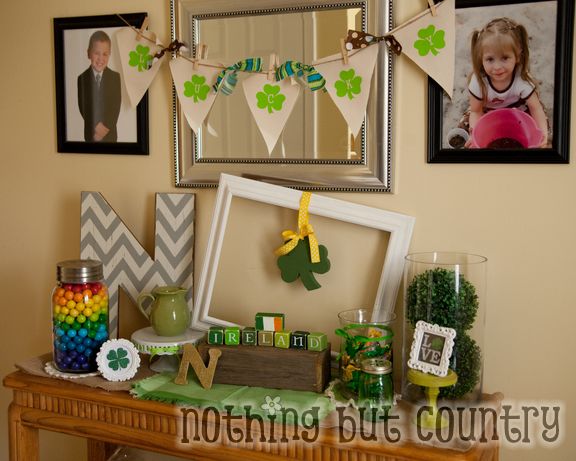 Canvas banner- I got from hobby lobby the pennant and used iron on heat vinyl then just clothes pin it to jute with some favorite fabric scraps left over from another project.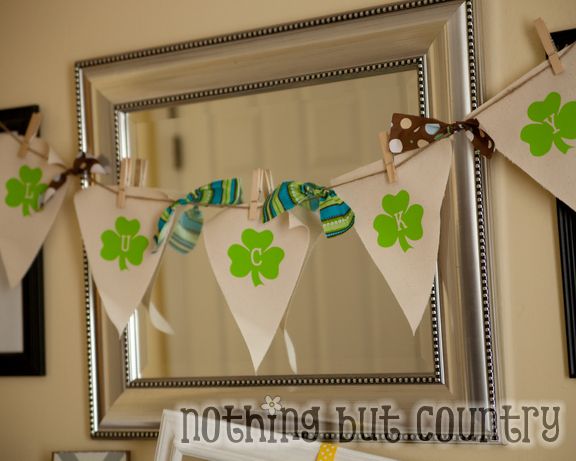 I had this white frame 16×20 out in the garage, dusted it off and hung a shamrock from it. The shamrock is from JoAnn's and it is just a card board 3d shamrock that I painted then poked a hole through it for the ribbon to hang on the picture frame. I broke the frame glass some time ago on accident.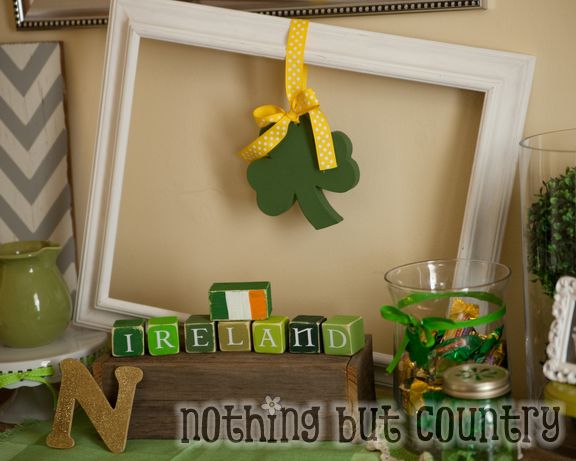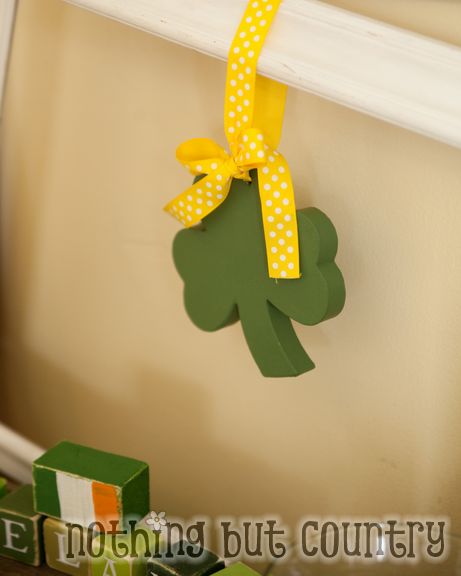 I still have left over wood blocks and pieces from various other projects from Christmas and holiday. I had just enough to spell out IRELAND and paint the flag. Painted this and added vinyl letters. Was easy peasy!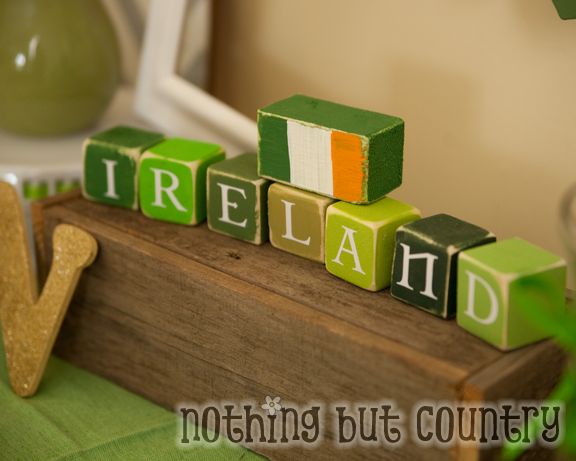 I have a box of gumballs I purchased some time ago from Sam's Club. I do not use them to eat now that it is a bit past expiration date so I use it for decorations and filled up this big jar for a fun rainbow piece.

Small frame I found in the Micheals section and printed off this 4 leave clover image from google images for this frame.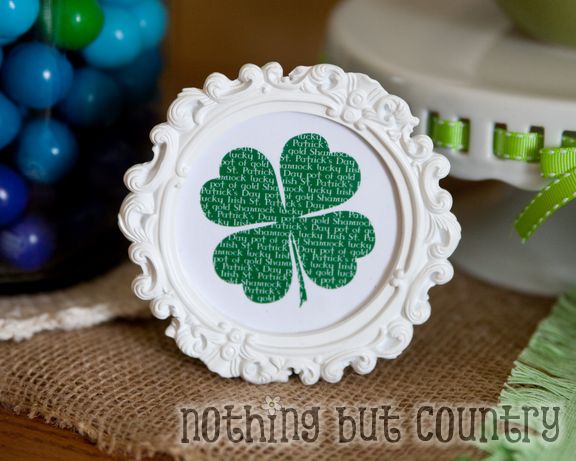 Another small frame and image.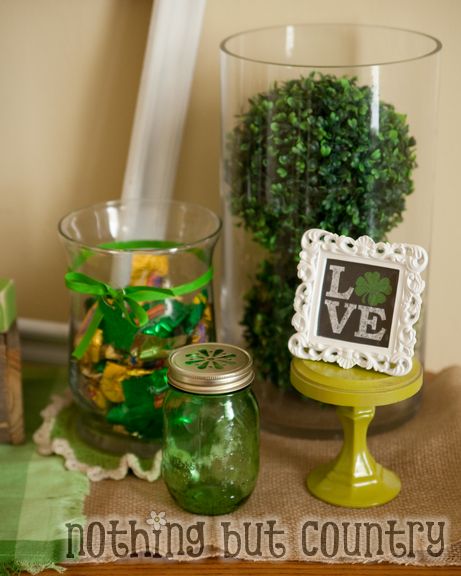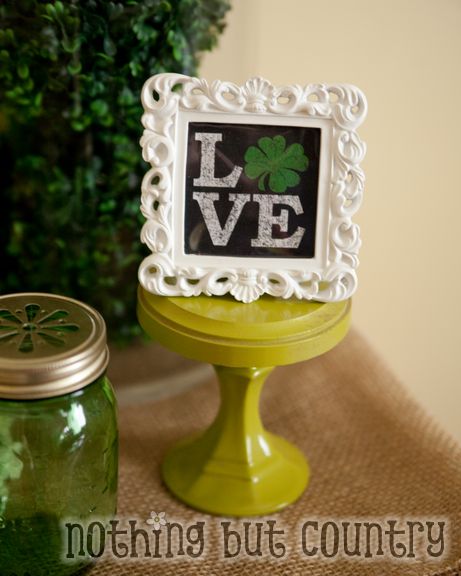 Over my piano I love how that turned out as well!!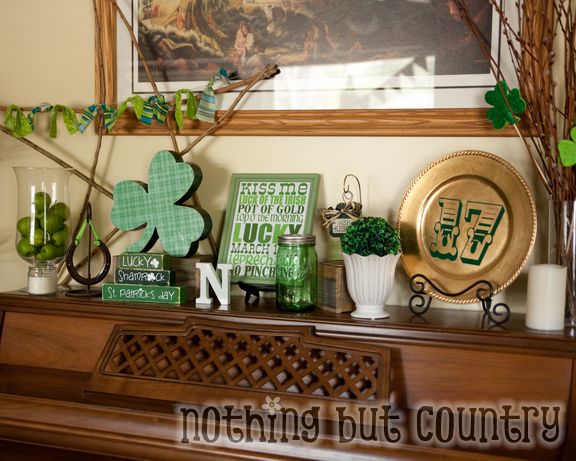 Hubby drilled holes in this horseshoe I already had and added ribbon and hung it from an ornament hanger.

Cheap 1.00 charger in gold and added a 17 for "March 17th" date with Green vinyl I cut out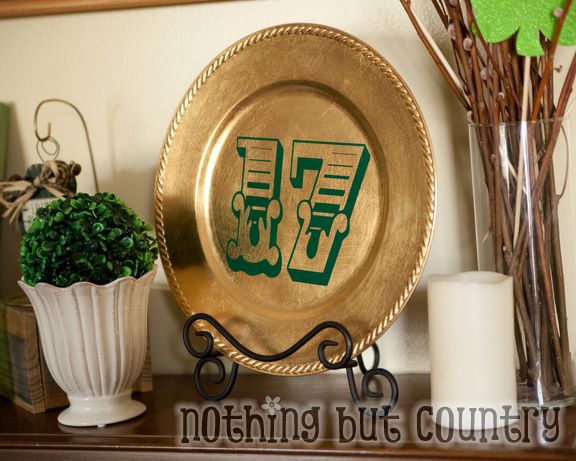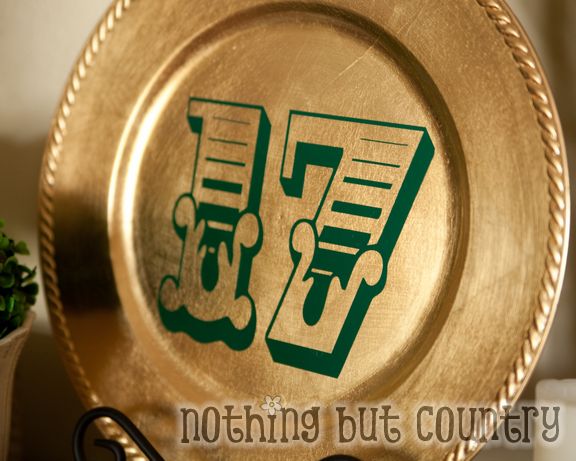 I love this big shamrock!! My hubby also cut this out of wood, I painted it then I mod podge on scrapbook paper on the front and then roughed it up with sand paper along the edges. It is quite heavy piece. I love the pattern of the paper!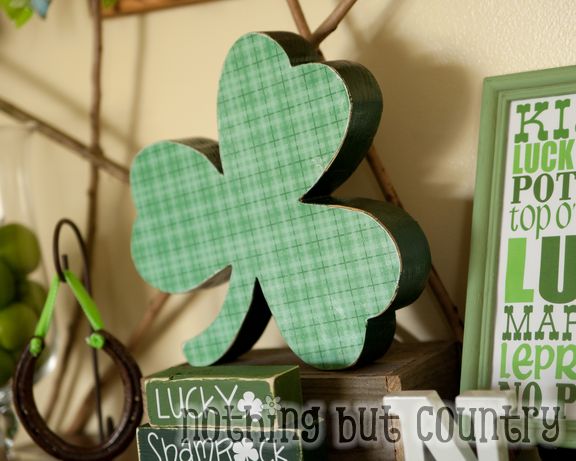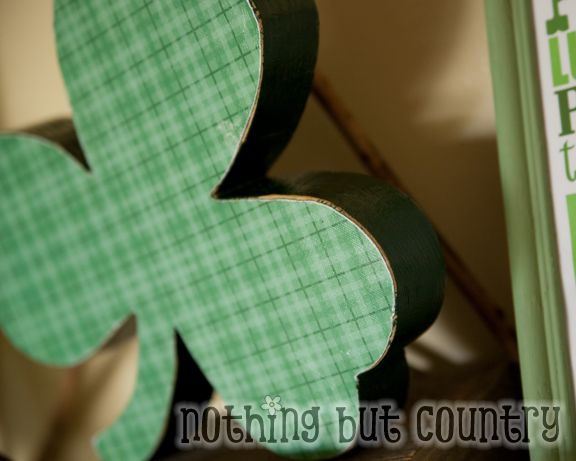 Again- more left over blocks from a past project and painted up with vinyl letters. Quick and easy. Using my silhouette and a favorite font.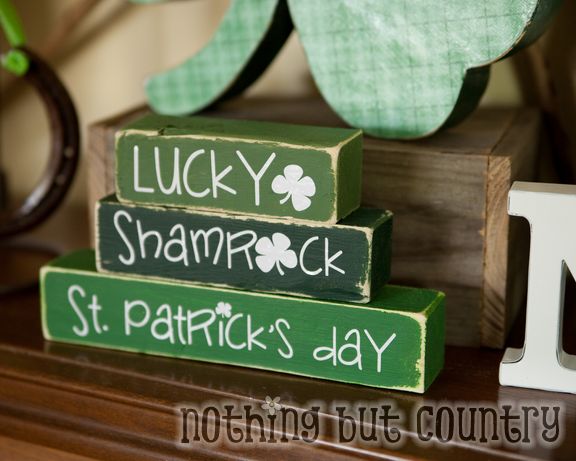 A few other decorations in my home I love…. Hobby Lobby having blank burlap and canvas pillow cases with zipper bottoms. I love to use heat transfer vinyl and create fun covers for each occasion.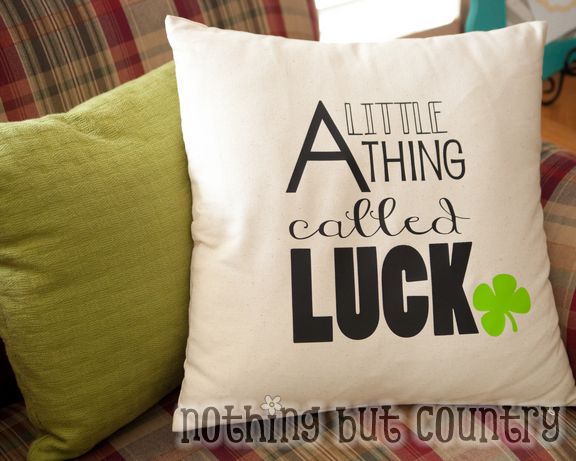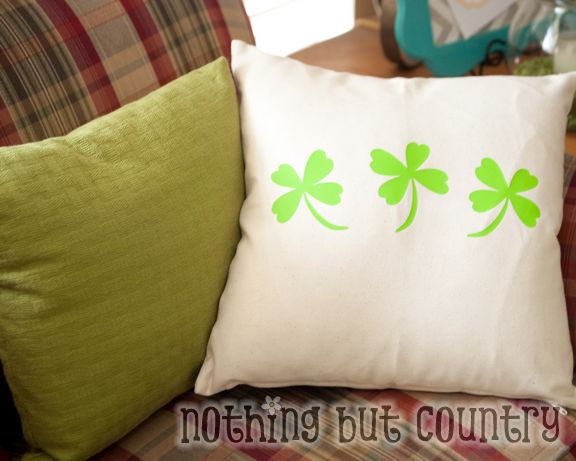 I just posted how I made this Lucky sign. One of my favorite favorite pieces yet!! LOVE!!!!!
Using chalk pen and my chalk board wrote on a Irish Blessing quote

Hubby cut out and varnished these blocks for me. Using vinyl cut from my Silhouette machine for scrabble blocks 🙂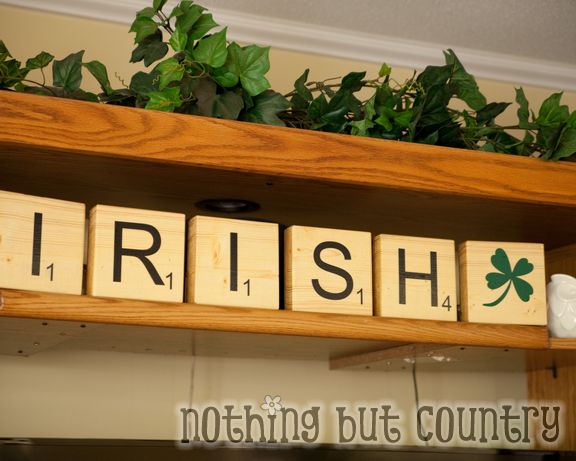 I saw this cute tip on a home decorating show using dried split peas for candles. So I tried it out with what I already had on hand. Love this tip too! Never would have thought about using Split Peas!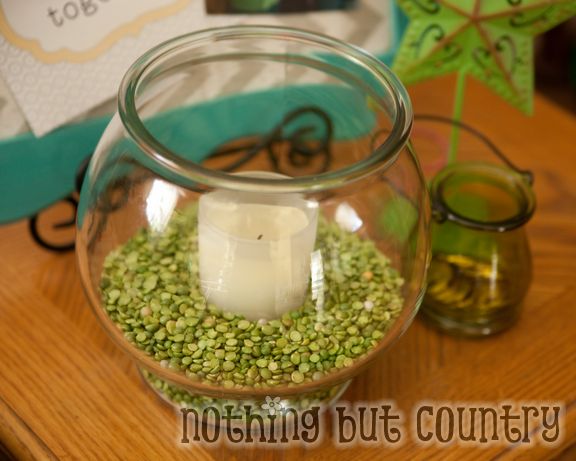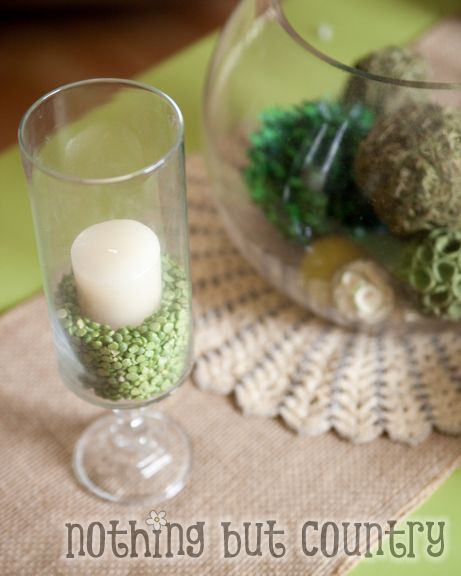 A funny chalk board drawing I did. Little humor 🙂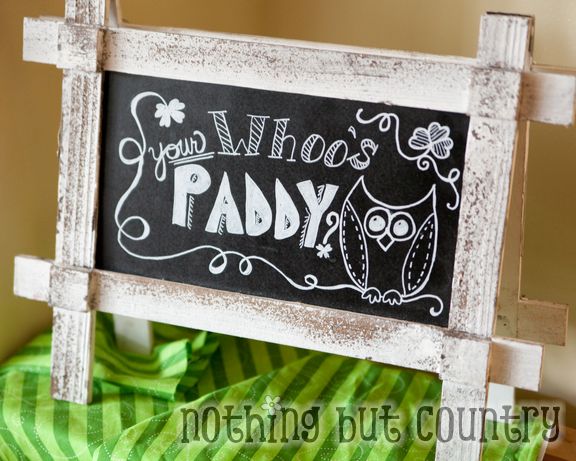 Yes I asked my home improvement store if I could have a few of each color green to make this. They said I could. Made a pennant for a bare window that I haven't had time yet to decide how I want to finish it, for now I love this adding color!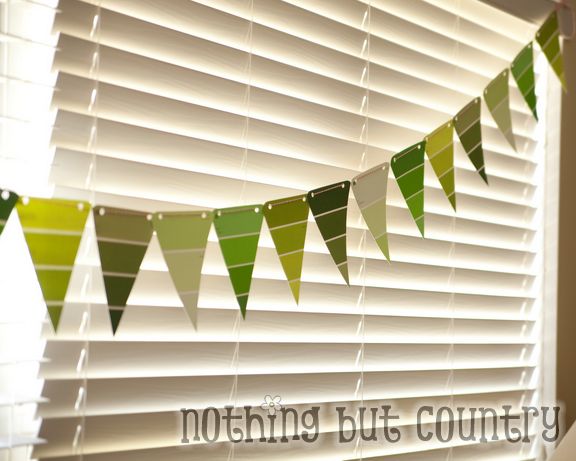 Last but not least– hand hubby made me 2 of these wood pieces for my front window of our house 🙂  Painted it and added ribbon. Decorate a little bit outside as well 🙂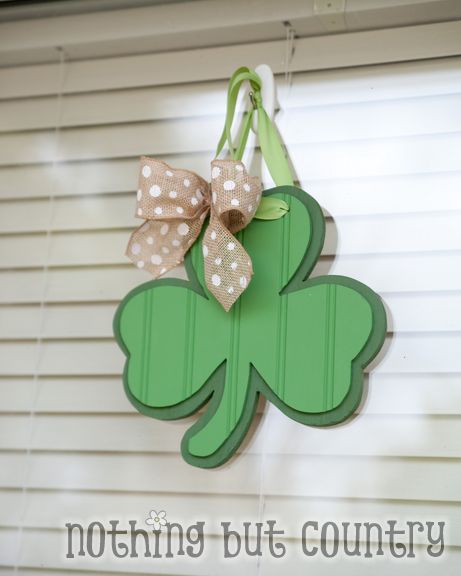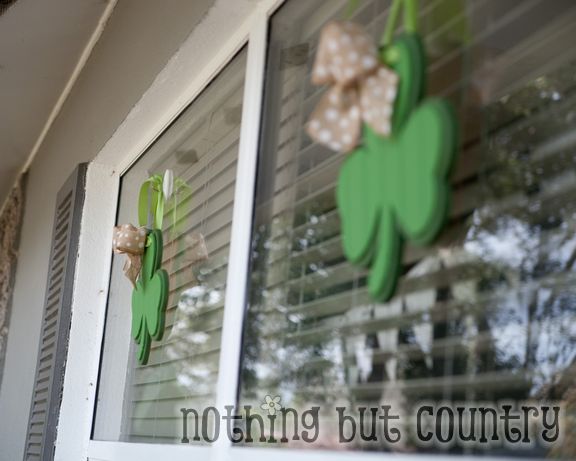 I am thrilled how everything turned out this year. Already looking ahead to Easter. Trying to decide what I want to craft for that holiday coming up. Crafting is my stress reliever! I let get so tuned into it , it brings me joy and I love looking at it as I celebrate these fun events with my kids and family 🙂