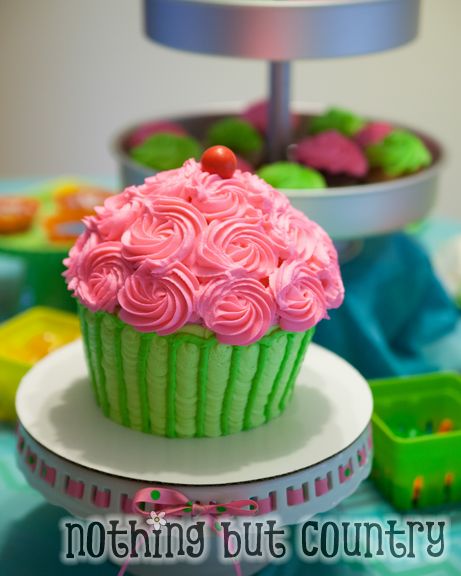 My daughter LOVES cupcake wars TV show on Food Network. Have you ever seen it? If not you are missing out!! 🙂
But this is for a group of kids 9 and under and I didn't want it to be too competitive. Plus as much as my daughter wanted to have 1st, 2nd , 3rd place winners I didn't want to have any hurt feelings at the party either. So I tweaked it to fit our party and it was great.
We had 9 cake decorators (including the birthday girl). They got to stand around the table and decorate their cupcakes. We just did 1 round of the competition but we didnt force them within a time limit. (unlike the show)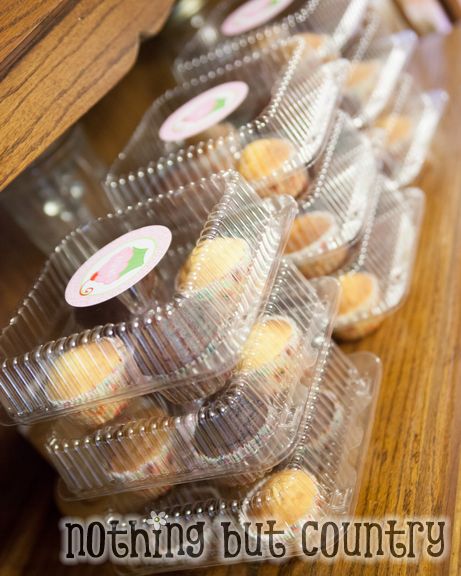 Each decorator got a box of 4 cupcakes 2 chocolate and 2 vanilla and made a label on each box with their name on it.
I used the same label I used in the CUPCAKE BIRTHDAY INVITATION – FOUND HERE I blogged about earlier.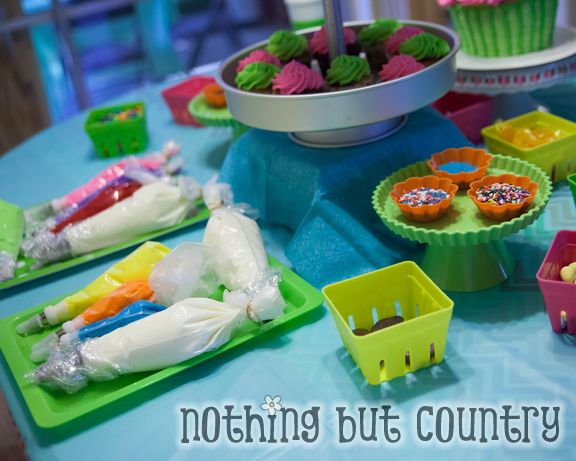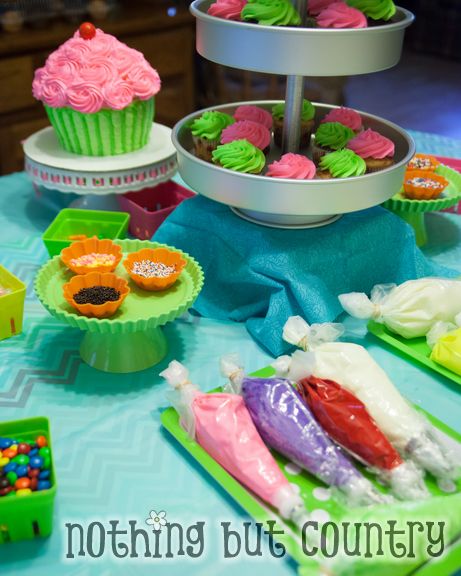 I used all different fun colors and fun tips on the icing bags prepared with colored butter cream. I had 3 bags of white with large decorating tips and the colors were all smaller decorating tips. However the kids could do whatever they wanted.  I also had various sprinkles and candies set all over the table. Some candies were already shaped as veggies (jelly belly that I found for our April Fool's Day – FOUND HERE ) Chocolate Kisses, M&M's , Skittles, all types of shapes so they could get creative on their cupcakes.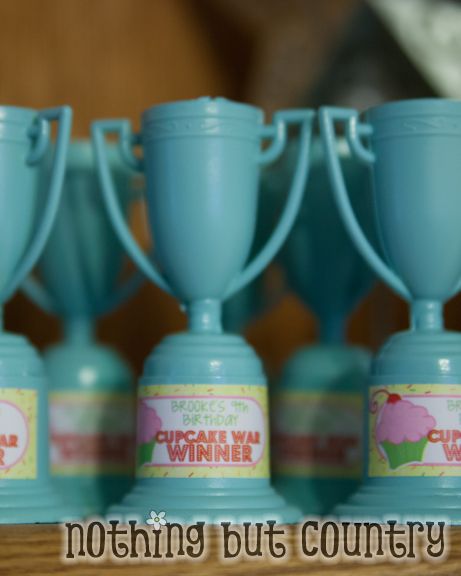 We had little awards to give out. One for each decorator. We informed them we had categories they could win but we couldn't tell them till after they created. (We really didn't HAHA We made up after we saw what was created – will explain more about that later in this post)  Spray painted little trophies and added a label to the front. They loved them. They looked great!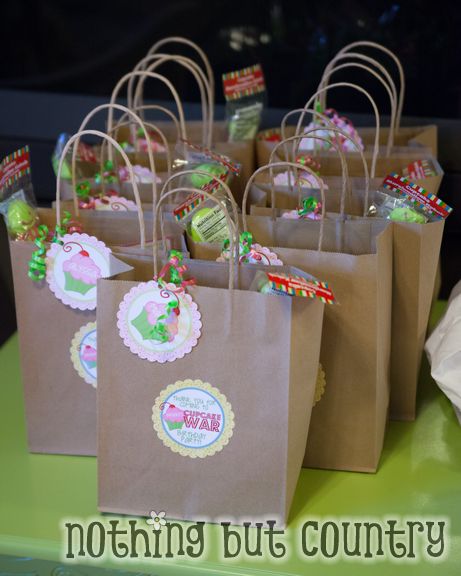 Made up goodie bags for the decorators to take home with some fun things.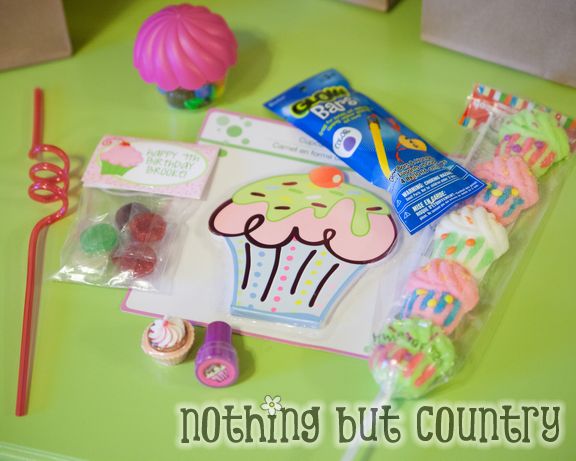 Cupcake notepads and cupcake marshmallow sticks were found at the Dollar Tree.
Glow sticks I have a huge supply from many parties ago so I keep using them 🙂
Cupcake Stamp I got a box from here
at Amazon.
Cupcake lip gloss I also got here
at Amazon.
Straws were from JoAnn's Fabric two summers ago. They were on sale and I bought lots of them up.
The pink cupcake in the far left corner of the photo is a container from Hobby Lobby filled with M&M's
Little baggies of Life Savers with tags I created to go with the Party theme as well.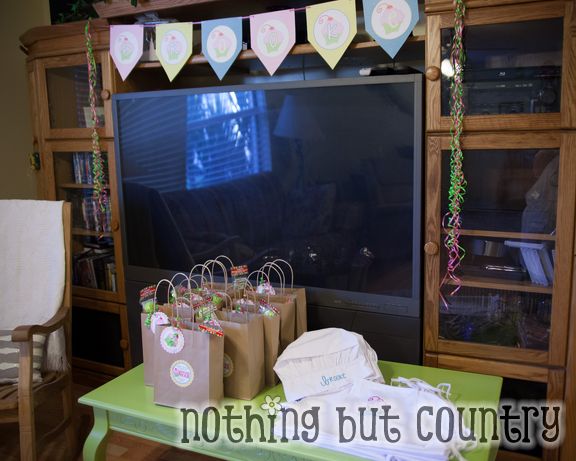 We also had Aprons and Hats for the decorators.
Also made her a banner I printed off.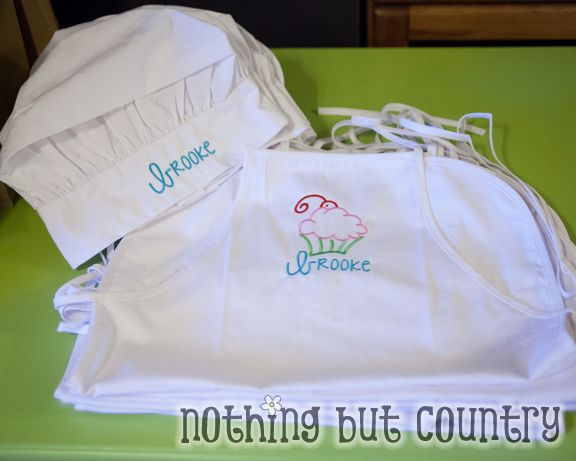 Chad embroidered one for each of our decorators to wear. They loved it. I hand drew the cupcake design and he digitized it and embroidered them all. I love how they came out!!!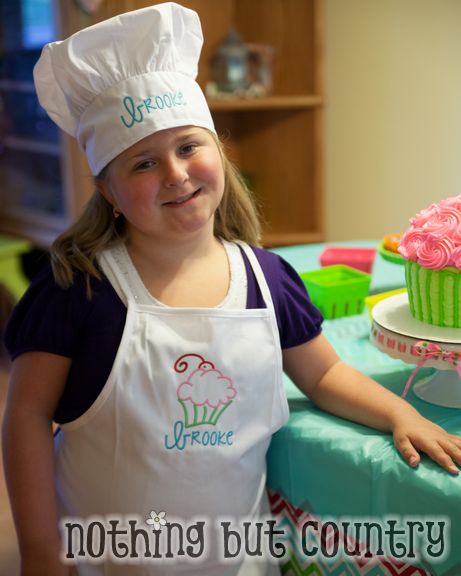 My sweet birthday girl. All excited for her friends to arrive!!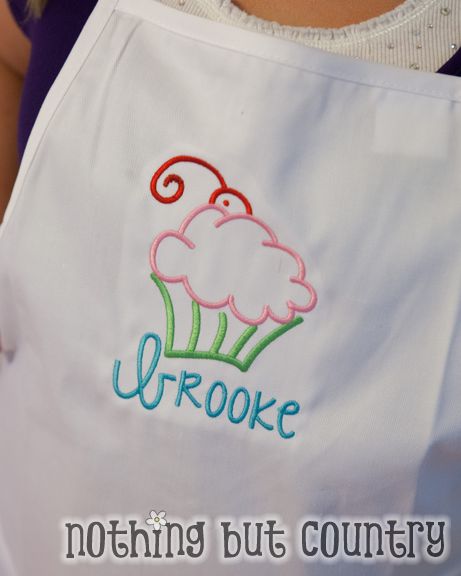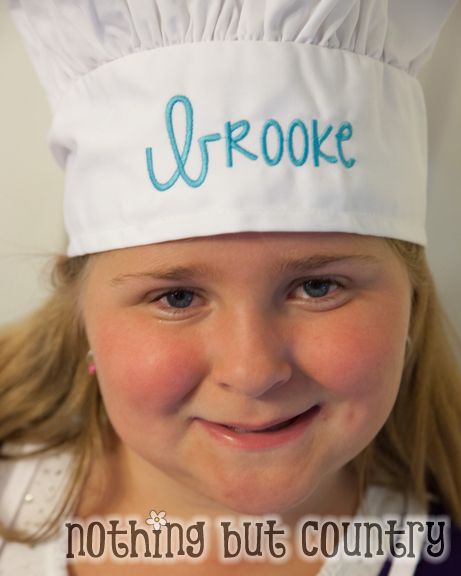 We did have a few decorators that were boys and we used a different font and no cupcake for their aprons and hats. I am sure the parents appreciated that. 🙂 Cupcakes aren't just for girls too!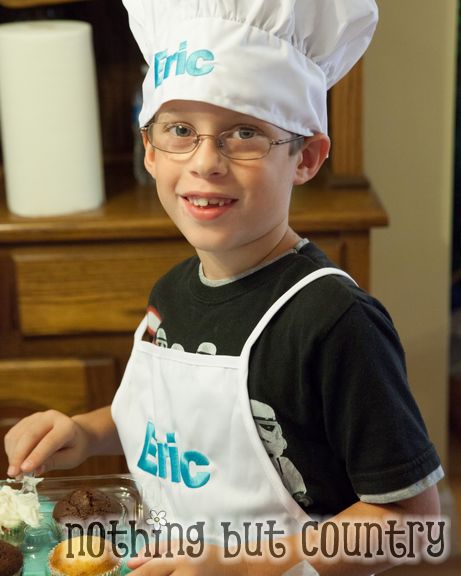 The boys got right into the decorating!!! 🙂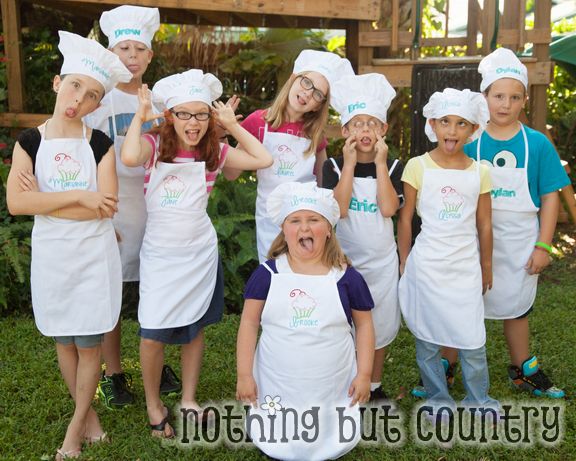 Here are all our silly decorators 🙂 (Minus one that showed up a bit late–opps)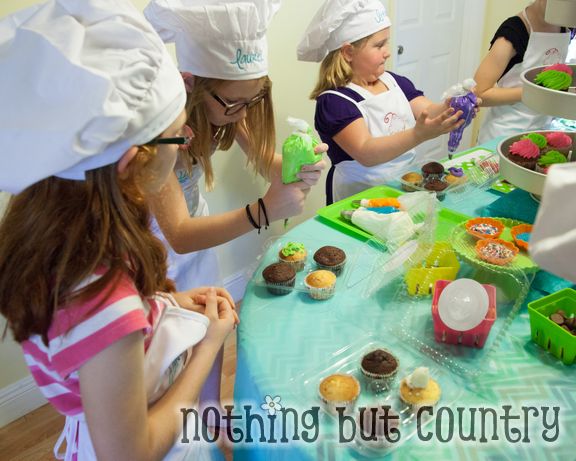 They were SO excited and it was hard to decide which color to start with first.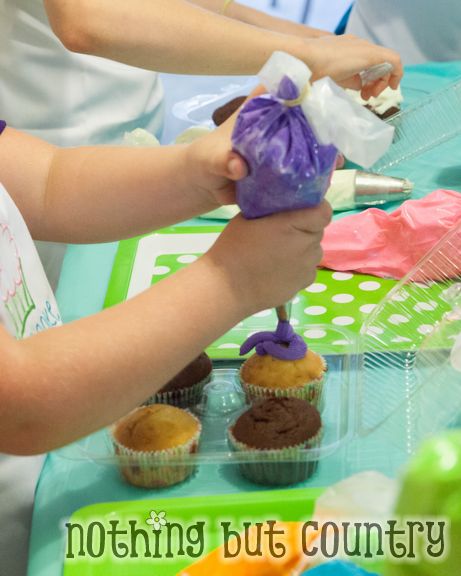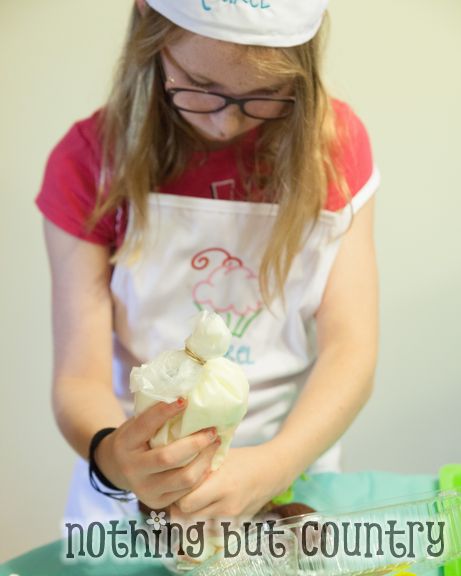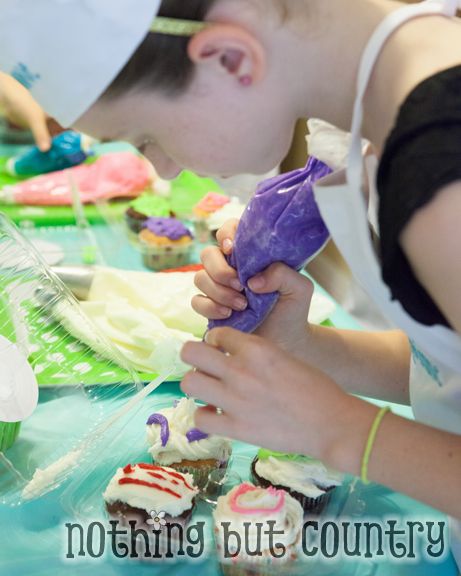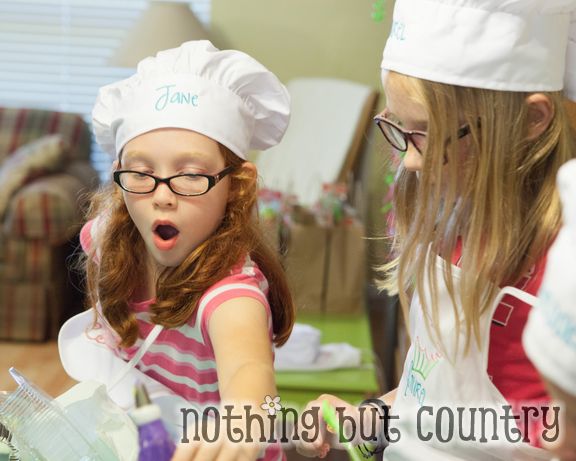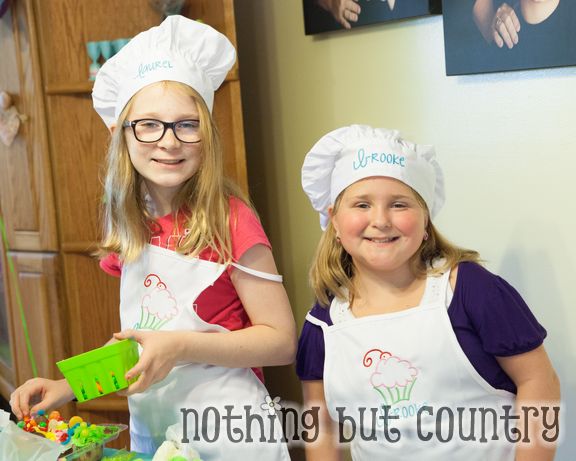 Aren't they adorable?? I could just hug them all!!! I loved watching them get their cupcake creation on!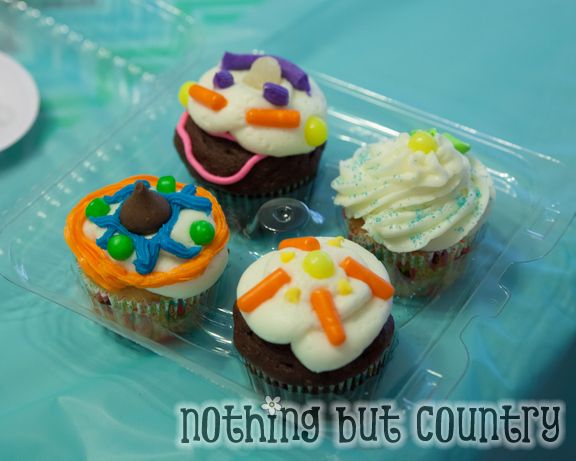 Here is just 1 of many in our collection created at the party.  What a great job these kids did!!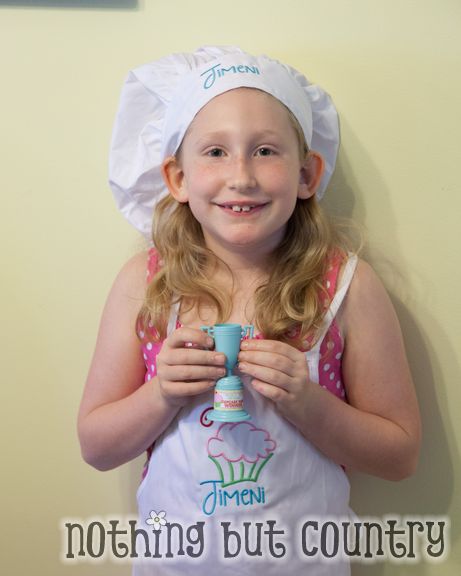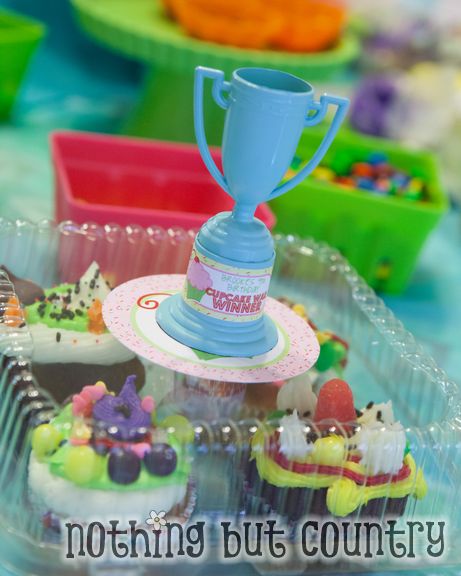 Now on to explaining how we awarded each creation.
We had a guest judge that didn't really know the kids all that well except the birthday girl. (My mom) All the containers lids were left open so none of the names showed. She walked around the table as all the decorators wide eyed waited for her judging. Basically she just looked at EACH of the sets and came up with a catagory on the spot.  For example :  One set won for the best use of the STAR tip. Another won for the best use of neon colors… best use of M&M's , most flowers used etc…. you follow?  There was no real way to know what these cute kids were going to come up with. My mom did a great job. So as she walked around and talked about how awesome their creation was and then would ask ok who's  creation is this once she was done talking about it- the decorator was sooooo excited and stood up and came up to accept their trophy and all the kids cheered each of them on. They felt so great and that was the best type of Cupcake Wars. And the kid really did remember what they won. At the end of the party one decorator told their mom they won for the best star tip use on their cupcakes. I was excited to see they were so into it.  It was a great cupcake war event for sure! All winners in their own unique way!
Once we were done with decorating we headed outside for games.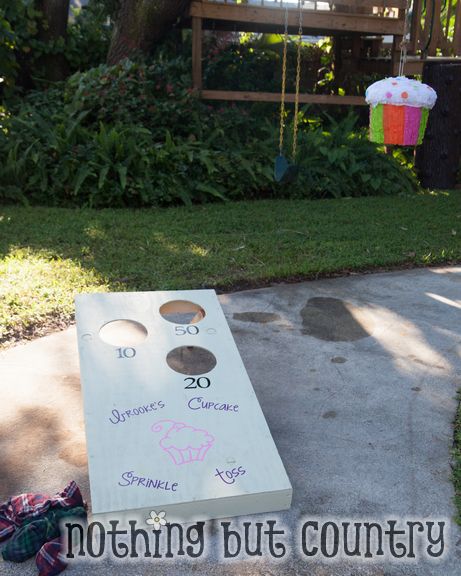 Brooke's Cupcake Sprinkle Toss and a Cupcake Pinata.
The cupcake sprinkle toss I have reused this game Chad made 4 times in the last year. I peel off the vinyl sticker name and it becomes something else. I love this game!!
Pinata of course was a hit! (pun intended)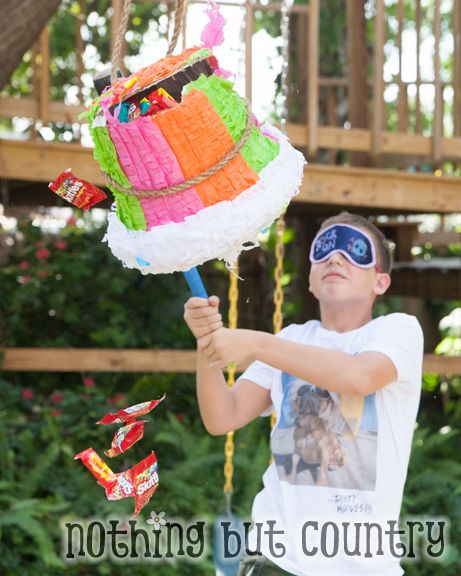 We ended up having to tie the pinata a 2nd time after the main attachment broke off. However this was the last and final hit before all the yummy candy came out.  Lucky action shot I got here. LOVE IT!
I found plastic cupcake bags for them to use to collect the candy at the end. I found them also at the Dollar Tree. Wish I got a photo of them.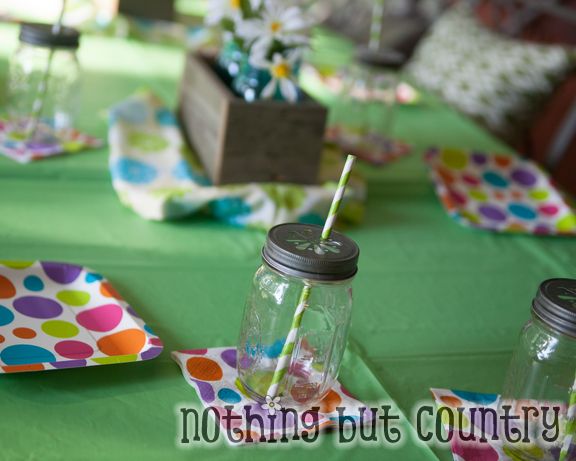 We headed back onto the porch for lunch. Hotdogs, chips and lemonade 🙂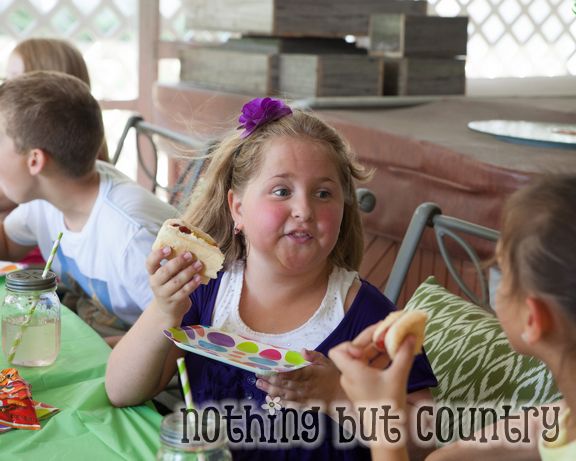 It was rather warm day in Florida! So lots of cold lemonade was had.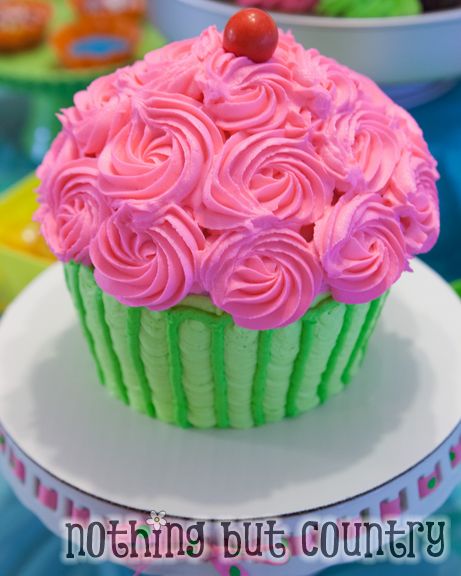 Last but not least- it was present and cake time. Even with all the cupcakes you have to have a GIANT cupcake cake to enjoy! Created this cake to match the entire theme of the party. It was delicious!!
It was quite the party and I was so sad to see it end. Seems every year flies by and we are working on another birthday. I know I only have a few more she is going to allow me to go all out for. Then its going to just be slumber parties and she won't want me hanging around. But for now I am going to enjoy all the details that go into a fun party. It's what makes me truly happy and I enjoy!!
If you ever want to have a cupcake party and interested in my theme. I have printables for sale and we also offer embroidery as well. Contact us here and we would love to help !!