Decorations were the easiest at this banquet. Since we had just moved 3 weeks prior to this event- I needed this to be a VERY simple event. However, it turned out to be one of our best ones yet. Even better!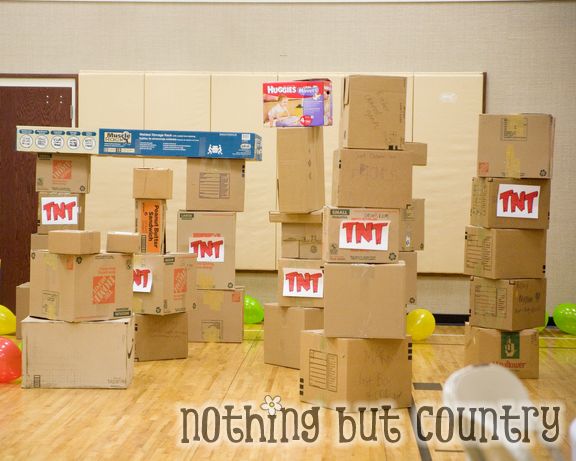 Lots and Lots of moving boxes came in handy 🙂 Stacked them up high, and will share how we used these in the next post.
Taped on a few of those TNT printables and looked pretty sharp. Who knew moving boxes had so many great uses. 🙂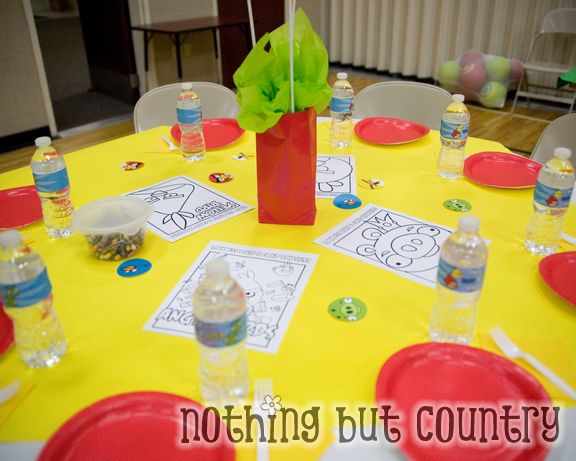 On the table we had used our 2 1/2 inch round punch and printed off birds and pigs. Printed off enough of them just to throw around on the table for extra decorations. The kids loved them. In fact when the party was over they collected them to take home.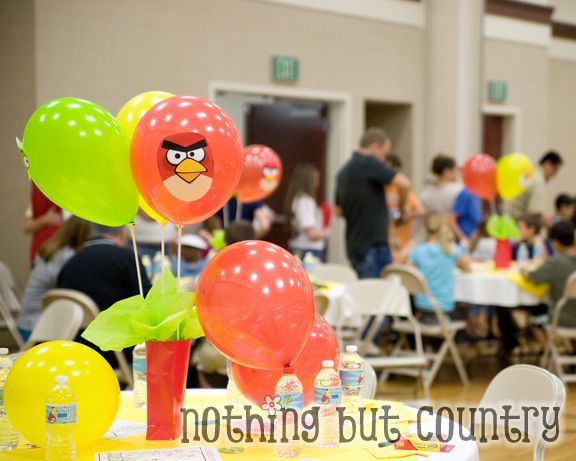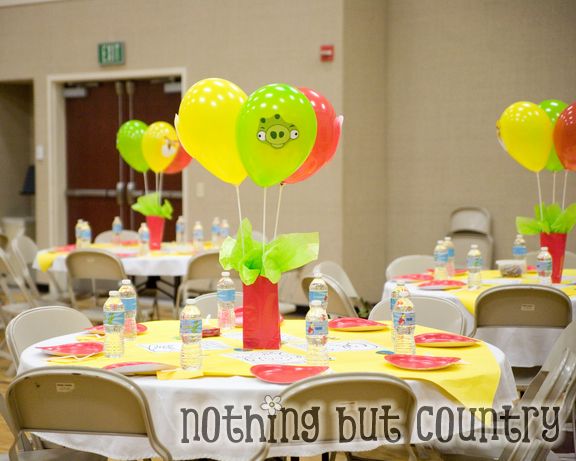 To create the center pieces you will need – balloon sticks – which we found at Hobby Lobby
Red Bags – Dollar Tree
Tissue Paper – Hobby Lobby
Various Cans out of your pantry
Tape
lime green, bright yellow, and deep red balloons (found at Walmart)
Birds & Pig Faces Printables (see below)
Assemble the balloon sticks and blow up the balloons. Once you get your green, red , yellow balloons on the sticks.  I then taped one of every color balloon to stand up on a can of beans 🙂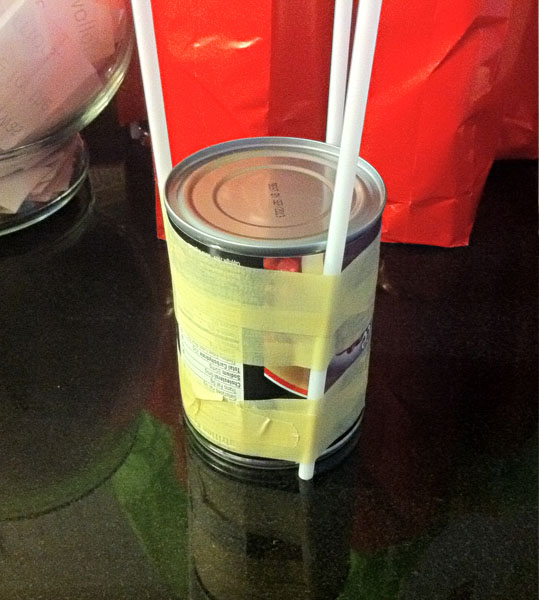 (Sorry was a quick iphone photo to show you before I took them apart)
Once they are all standing up. Simply slip the can and the balloons into a bag, add 2 piece of green tissue paper.  Then tape on the faces on the balloons. EASY PEASY.

The pig faces I did not cut out on the line. I just randomly cut the face out to include all the important features (see the photos )
The rest of the decorations, were white table cloths on all the tables, and the yellow square is a piece of large bulletin board paper I had access too. Cut a large piece and added it to each table. The kids could draw on it if they wished . Easy clean up. The other tables were covered in green or red paper as well. I would have used plastic if I needed to but I had this paper on hand and decided to use it.