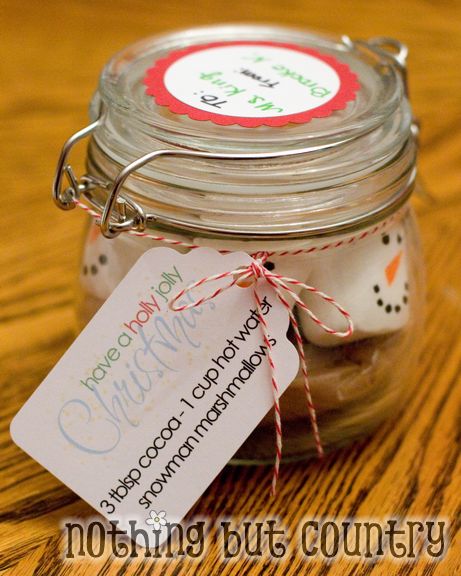 Another really great fit and easy to do.
You will need
Jar of your choice
Zip top baggie
Hot Cocoa Mix
Large Marsh Mallows
Set of – Gourmet Writer Food Decorator Pens, Assorted Colors, Set of 10
(Used only Black and Orange colors)
Recipe Tag
Ribbon or Bakers Twine
I want to be straight up- I do not know where I got the Christmas graphic. I wish I did- if anyone know I will totally give them credit where it is due. I did not create it.  So if anyone knows- I want to link to them. Thanks.
In the jar- I bagged up in a zip top baggie- hot cocoa mix.  Approximately a 1/2 –  1 cup in the bag. I then used large marshmallows and drew on Snowmen faces with my Americolor Gourmet Writer pens.  It will depend on how big your jar is how many you can include. Allow your marshmallow to fully dry. Or if you are in a rush like I am, make sure the writings on the marshmallow do not touch another one. It will bleed on each other. Allow them to dry fully if you have more time 🙂
Then simply add on a recipe tag on how to make the hot cocoa and add a bow if you wish 🙂
My tag was made with a Uchida tag punch I got at Michael's Crafts. (use a 40% off coupon for a great deal)
This is a great gift for teachers and friends and family. Something simple and cute and you can do this if you need a last minute gift and no time to bake 🙂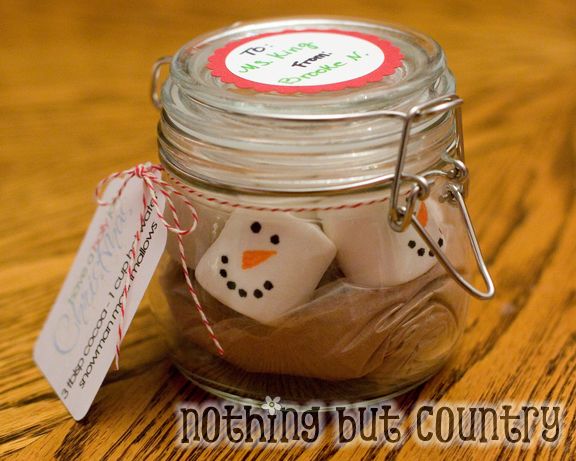 Happy Holidays.