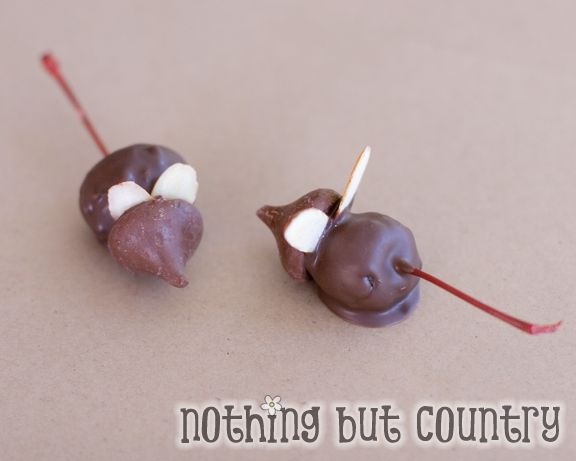 These mice we made last year and we will be making them again this year. They are yummy and so easy to make.
You will need
Jar of Maraschino Cherries with Stems
Hershey Kisses
Almond Slivers
Chocolate Almond Bark (from Wal-Mart) or Chocolate Candy Melts
Before starting- have all your Hershey Kisses unwrapped and your Cherries- take them out and dry them off as best as you can.
Melt your chocolate or almond bark over a double boiler or carefully in the microwave. Holding the stem dip your cherry into chocolate, allow excess to drip off.
Place your chocolate cherry onto wax paper. While it is wet, add an unwrapped Kiss to the front of the cherry to look like a face. Add 2 almond slivers to the top for ears.  Allow to dry.
They would make great toppers for cupcakes. Which I do plan to do this year as well 🙂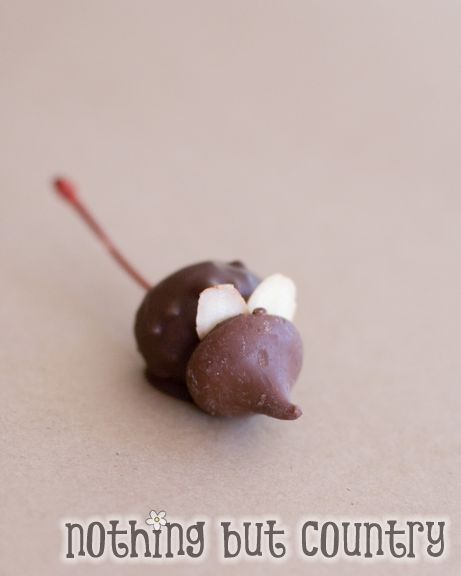 My family LOVED these cherry mice. SOOO SOO delicious. I personally thought they were too cute to eat. I felt bad.  😉
Happy Holidays!