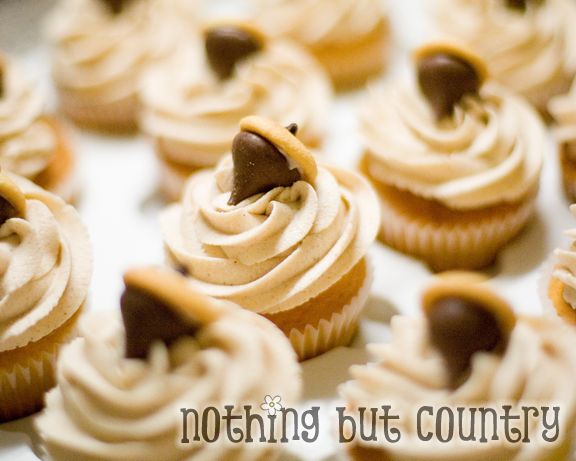 These cupcakes are super fun!  Nothing difficult at all, yet they look fancy smancy 😉 Perfect for the Thanksgiving/Fall Holiday upon us!!
This is definitely a "cheater cake" recipe. Except for the frosting everything else is from a mix 😉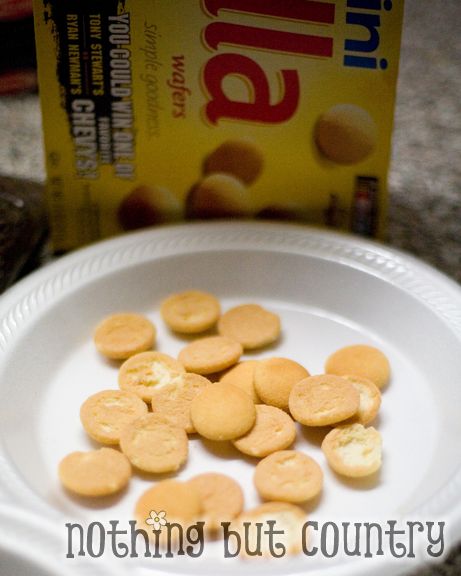 Let's start with assembling the Acorns. 🙂
You will need MINI sized Nilla Wafers….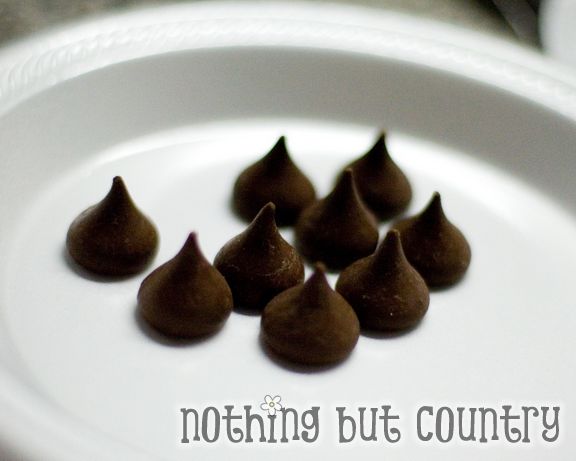 Chocolate Kisses….

Mini Chocolate Chips….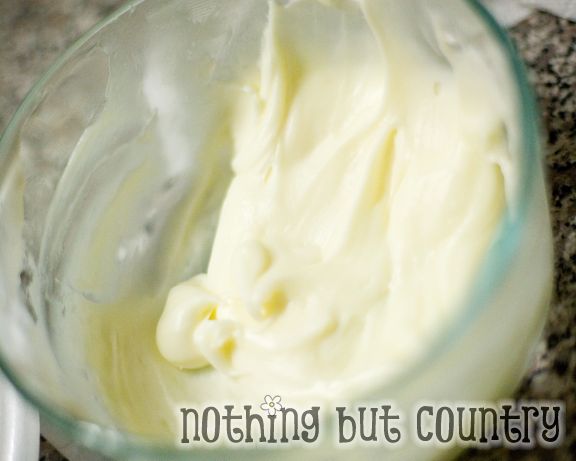 Buttercream frosting…. (any frosting– or I have been told you can use Nutella as well)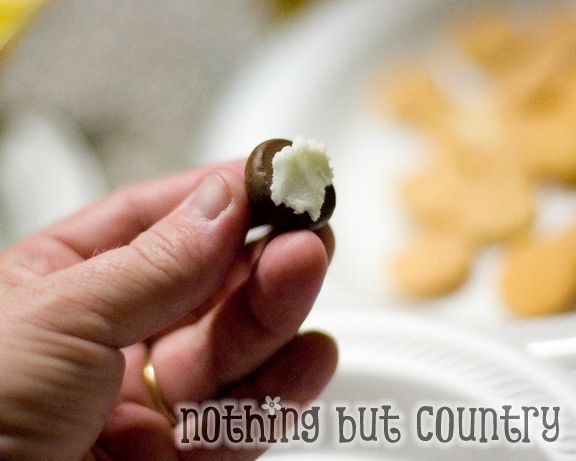 Add a dab of frosting to the bottom side of the kiss….

Stick on 1 of the Nilla wafers. Do the same with the mini chocolate chip. I used a toothpick to put on a dab of frosting on the back of the wafer then added the chip onto it.  Allow time for the frosting to harden and it will hold your Acorn well.
Pretty easy and SOOO CUTE on top of a cupcake!!!
Now… on to the pumpkin spiced filled cupcake…..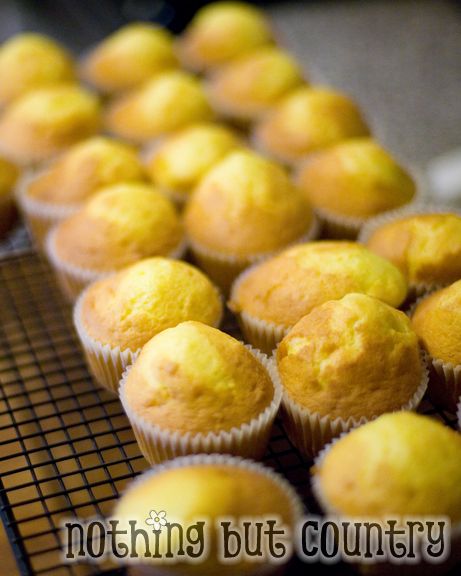 Simply baked up a batch of yellow cupcakes exactly as the box says.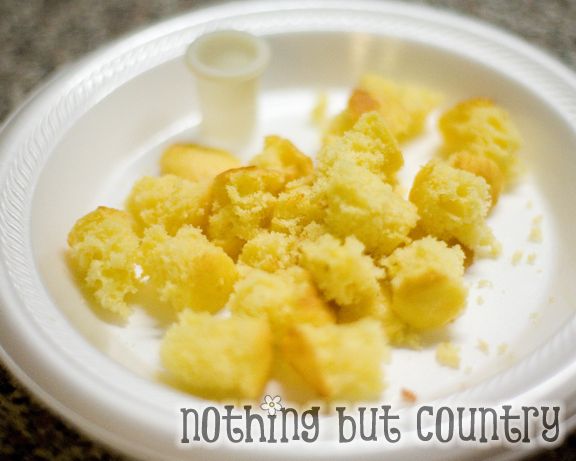 Then using a small cutter, we pulled out  the middles of all the cupcakes so we could then fill it with…..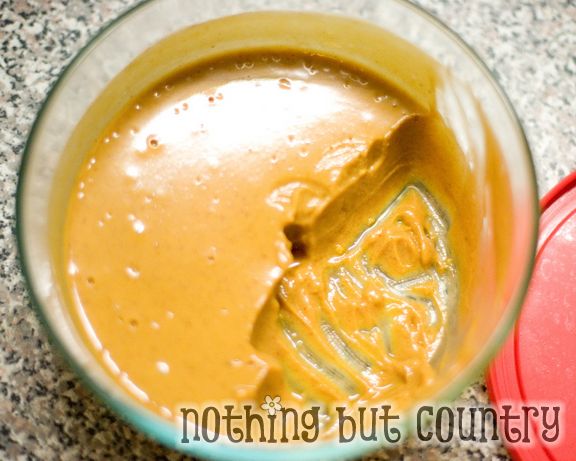 Pumpkin Pie instant pudding….. (have you tried the new flavor?? TO DIE FOR!!! YUM!!!!)

We simply spooned in the pudding into the centers. You could put the pudding into a pastry bag if you wish, but our small spoon did the trick.
Now on to making the pumpkin pie buttercream frosting….. (my favorite part!!!)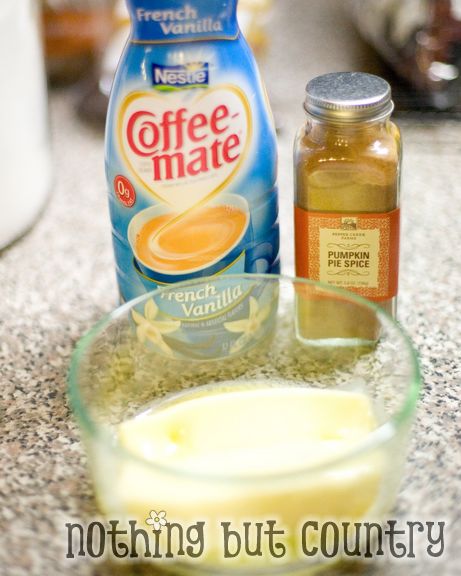 2 sticks of room temperature butter, pumpkin pie spice, french vanilla creamer (you can use water or milk etc) and not showed powdered sugar.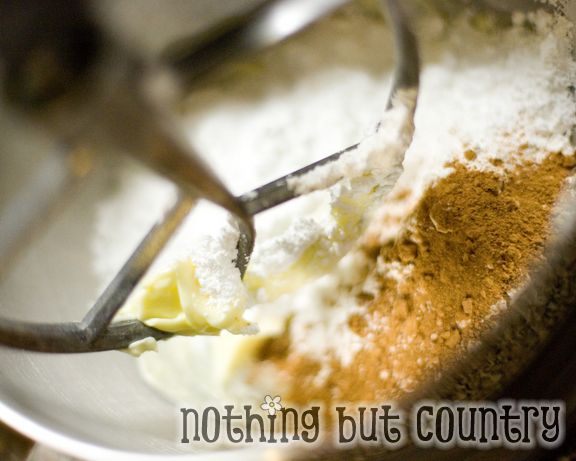 In your mixer- beat your 2 sticks of room temperature butter. (Do not soften it in the microwave you will not get very good buttercream)
Add in 2 cups of powdered sugar and 1 tablespoon of pumpkin pie spice. Mix well. Add in 1 tablespoon of the creamer and 2 more cups of powder sugar. Mix very well. If your buttercream is too thick you can slowly add in a few more 1/2 teaspoons of creamer at a time till you get the consistency you want. I like my buttercream to be pretty thick.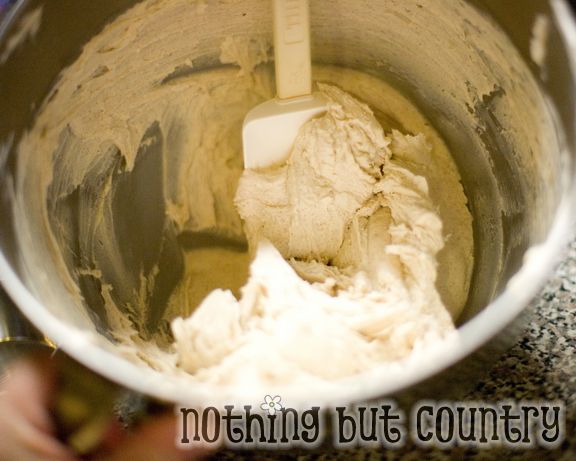 Not sure if you can tell how thick it is- but I like it THICK. HAHA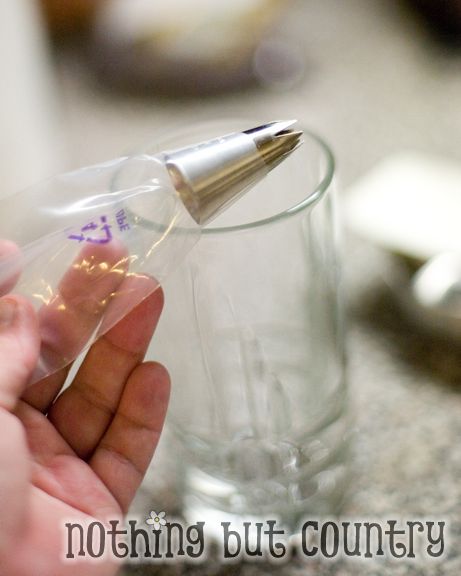 Cut the tip off the end of my pastry bag, and insert the frosting tip. I do not use a coupling or screw. Just drop the tip in. It won't go anywhere 🙂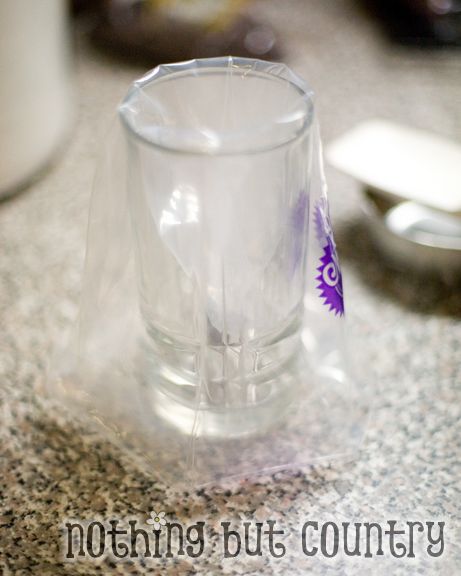 I then drop the tip/end of the bag into a tall glass and peel the edge down over the side to get ready to fill my bag with buttercream.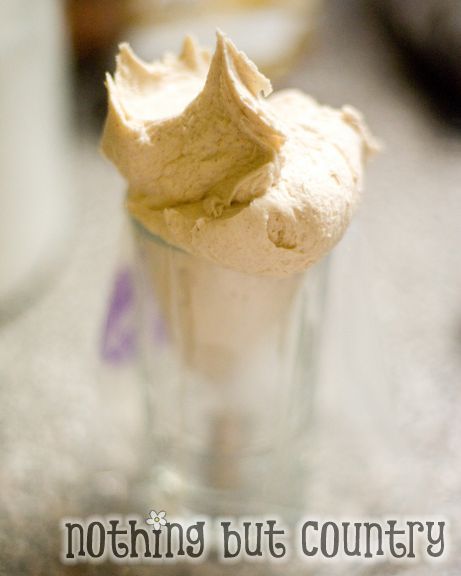 Lots of yummy buttercream being filled into the bag.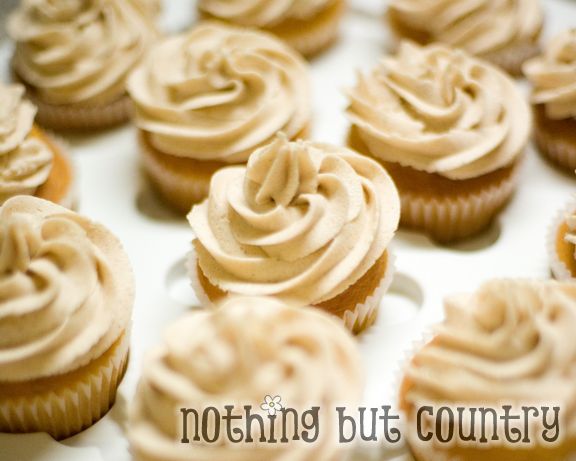 Then I just pipe the frosting right onto the cupcakes. Starting from the outside and working to the middle. I can do 2 dozen cupcakes in about a minute. Very easy / fast and looks so professional 🙂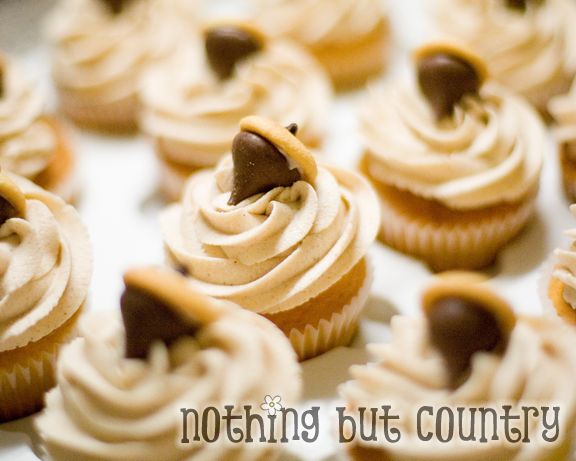 Add an acorn to the top and now you have a fall festive cupcake!!! 🙂
The next day- I needed to deliver a few of them to friends. Just dropping by to say hello to them– and wanted an easy way to take them with me and look cute.
Thanks to Lizard and Ladybug – and her inspirational cupcake cup holders.
I had only the small clear cups and LOVE how they turned out.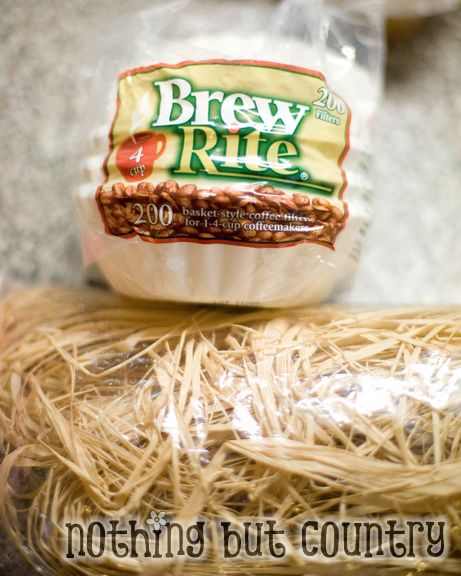 I used white coffee filters and raffia for mine.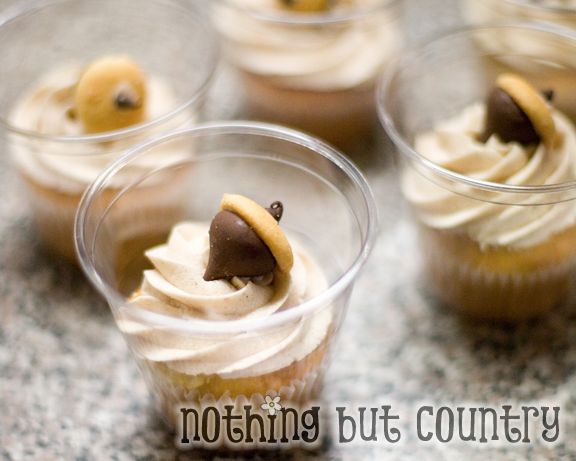 Drop 1 cupcake into each of the 9 oz cups.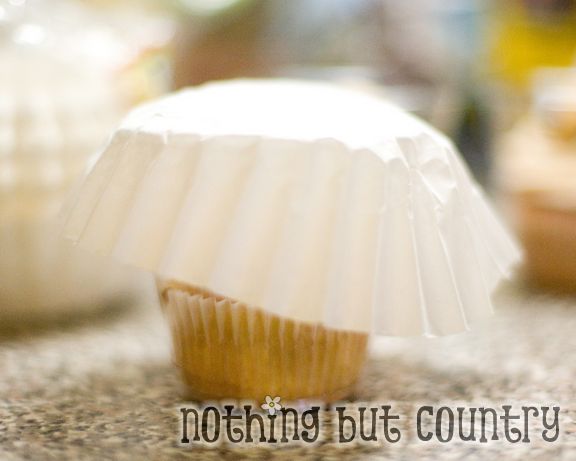 Coffee filter on top…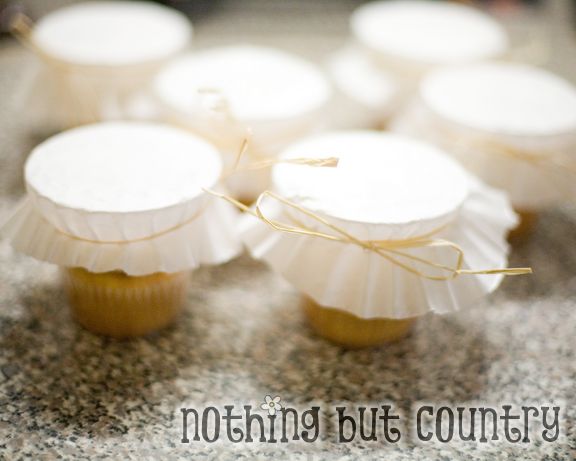 Tie on a piece of raffia and you now have a cute way to take your cupcakes to friends unharmed. What I forgot to take a photo of the cups fit into my cupcake baking pan. So I put them all back into the pan and carried the pan to the car so it didnt slide around all my cupcakes when I drove to all my friends homes to give them a few each 🙂
Love how they all turned out!!
I think I am going to make some for my daughters class 🙂 She loved having the acorns on the top- and I have so many mini wafers left that need to be used up. 🙂
Happy Baking!!