Did you know today is national S'mores day.
When I think of S'mores I remember these S'more brownies Chad made for us to take over to a friends house. And like any S'mores I eat, I love my marshmallows very toasty. Well– this recipe we got them toasty. He caught them on fire in the oven  having them too close to the broiler. HAHAH
So here is a photo of our (it was very tasty) creation. Share with you.
HAPPY NATIONAL S'MORES DAY!!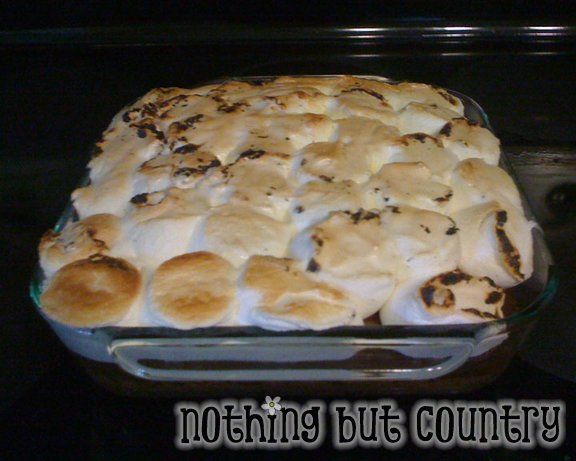 *sorry for the poor photo– this was taken 2 years ago- but still incredibly yummy*
S'more Brownies
Cooks 1 hour
Prep 20 minutes
Oven – 325 degrees
Ingredients
Crust:
8 tablespoons butter, melted
1 1/2 cups crushed graham cracker  crumbs
2 tablespoons sugar
Brownie :
1 box of Duncan Hines triple chunk brownie mix
1 1/2 teaspoons pure vanilla  extract
follow instructions on box
Topping:
1 bag of thin Hershey's candy bars
1 bag of  large marshmallows
Directions
Position a rack in the lower third of the oven and heat oven to 325 degrees F. Line an 8 by-8-inch square baking pan with foil so it hangs over the edges by about 1 inch.
For the crust: Lightly butter the foil with some of the melted butter.
Stir the rest of the butter together with the crumbs, sugar, in a medium bowl.
Press the crumb mixture evenly over the bottom of the pan. Bake until golden brown, about 20 minutes.
Meanwhile, make the brownie.
Pour batter into the prepared pan. Bake until the top is crispy and a toothpick inserted into the middle comes out mostly clean, with a few crumbs, about 40 to 45 minutes.
Remove from the oven and carefully position a rack on the lowest rack from the broiler and preheat on low.
Layer the Hershey's candy on top then the marshmallows across the top and toast under the broiler until golden, (keep an eye on it, it can go quick), about 30 to 40 seconds.
Cool on a rack, gently removing the brownies from the pan using the aluminum flaps.
Carefully separate any marshmallow from the foil and fold away. Cut into 12 (2-inch) squares. Enjoy!