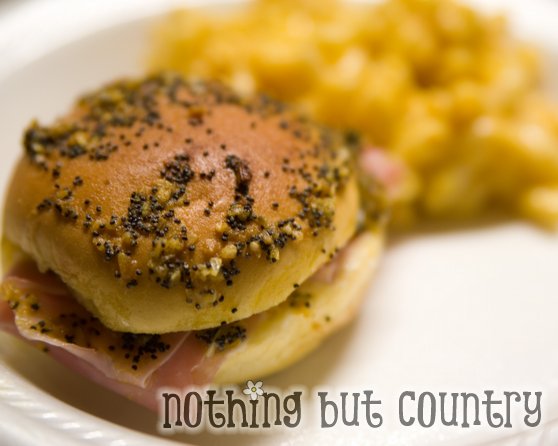 These were SOOO GOOD we ate them for 3 different meals. This is a great summer meal. Easy to make- and extremely delicious.
I found this winning  dinner on Pintest.com (Are you on pinterest?? If not you are missing out!!)  I saw it and knew this is something my family would LOVE. And it was!!
We found the recipe here – The Girl Who Ate Everything Blog.
Like all of the recipes we seem not to follow it EXACTLY but pretty darn close.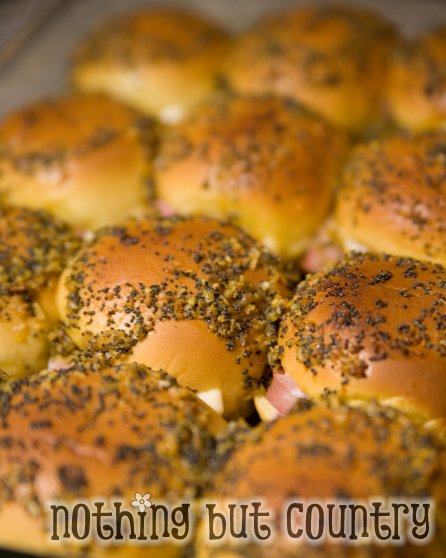 CHECK out that yumminess of the poppy seed sauce!!  This seriously was one of those close your eyes and chew kind of dinners. I loved every bite of it.
We ate it a 2nd night and then for lunch the next day.  This recipe is now saved in our recipe box to make again soon.
Ham & Swiss Sliders
350 Degrees
12 slider rolls
12  pieces good honey ham (deli section cut thick)
12  small slices Swiss cheese
1/3 cup mayonnaise
1/3 cup miracle whip
Mix together mayonnaise and miracle whip.
Split open your slider roll and spread onto both inside sides.
Add 1 piece of Swiss and 1 piece of ham inside.
Close the sliders and place them into a 9×13 lightly greased baking dish.
Be sure to place them together closely.
Poppy seed sauce (you probably could half this…I had plenty extra)
1 T poppyseeds
1 1/2 T yellow mustard
1 stick butter, melted
1 T minced onion (the dehydrated kind)
1/2 tsp. Worcestershire sauce
Whisk together all the poppy seed ingredients together.
Pour evenly over all of the slider sandwiches.
Do not soak them you may have extra sauce left over
Allow to stand for 10 minutes.
Cover with aluminum foil and bake 350 degrees for 12-15 minutes or until cheese is melted.
Uncover and bake for 2 additional minutes.
Serve immediately
Hope you family enjoys this sandwich as much as we did!!