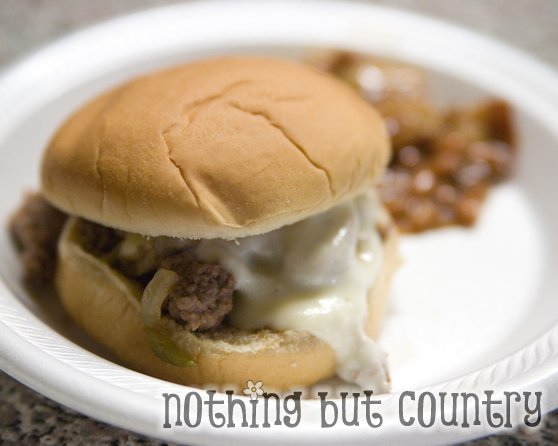 We got the recipe from  – A Taste of Home Cooking website.
We loved it. We will be making this again!! YUM!!
Served it with a side of baked beans and had a very easy dinner. Tasted just like a cheesesteak but much easier.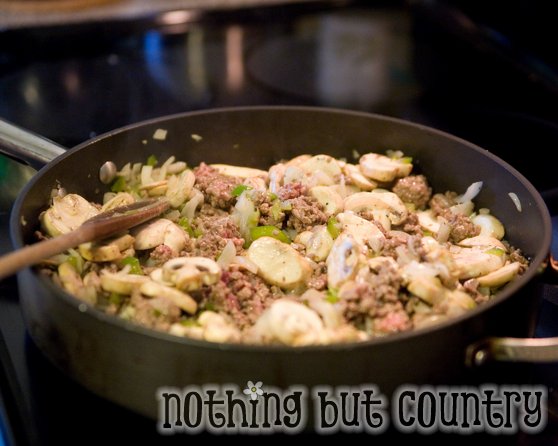 Only difference with our version is we threw in a bunch of mushrooms we cooked up in the recipe. YUMMMMM. We love mushrooms too.
So glad I found this recipe. A new favorite and wanted to let others know we give it 2 thumbs up for yumminess and 2 thumbs up for how easy it was to make.
Only difference we may do next time – instead of making the cheese sauce. Just putting on a slice of provolone cheese directly on to the hot sloppy joe.  I don't think it really needs to have a sauce. It was yummy but make it even easier and less pans to clean.
Here is our recipe adapted from A Taste of Home's. This is how we did ours.
Philly Cheesesteak Sloppy Joes
1 tablespoon olive oil
1.5 pounds ground beef
2 small or 1 large onions chopped
1 small green pepper, chopped
1 package of fresh mushrooms (already sliced)
1/4 cup steak sauce
1 cup beef stock
Salt and ground black pepper
8 hamburger buns
1 tablespoon butter
1 tablespoon flour
1 cup milk
1 cup provolone, shredded
In large skillet over medium-high heat add the oil and then brown the ground beef, about 5-6 minutes. Add the onion, mushroom and green pepper and cook another 3-4 minutes, until the vegetables start to get tender. Stir in the steak sauce and beef stock, season with salt and pepper, bring up to a bubble and cook about 2 minutes.
While the meat is cooking, melt the butter in a medium-size pot over medium-high heat. Stir in the flour and cook about 1 minute. Whisk in milk, bring up to a bubble and let thicken, about 2 minutes. Turn off heat and stir the cheese.
To serve, place a scoopful of the meat mixture onto the buns, then top with the cheese sauce and replace the top of the bun.