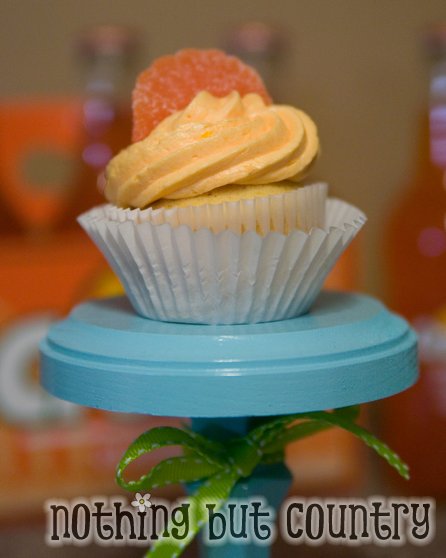 I don't know about you- but for me Orange Soda reminds me of Summertime. Orange Crush and even the orange creamsicles. YUMM!!!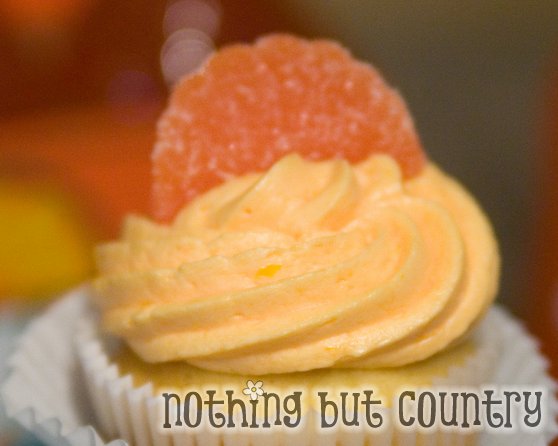 My other favorite was the orange sliced candies eaten during the summer.  Available all year round but growing up- going to my grandmothers home in N. Florida- that is when we indulged in all the yummies.  So I been on a cupcake kick lately.  This is what we came up with and really enjoy.
Brought the cupcakes to my book club friends and was given the thumbs up.!
Of course once they realized I used 1 lb of butter in total- they called me Paula Dean. LOL
This recipe I love because the cupcake is creamy/orangey/ and more pound cake like. YUM RIGHT???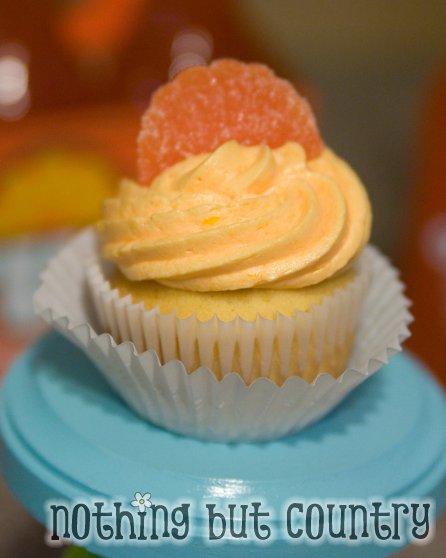 It makes about 33 cupcakes. I might split it in 1/2 next time. I think it can easily be cut in 1/2 to make less.
Orange Crush Soda Cupcakes
350 degrees
13 – 15 minutes (convection oven)
CUPCAKE
1 cup butter
2 cup sugar
4 eggs
4 cup sifted all-purpose flour
1 tsp. vanilla
1/2 tsp. baking soda
1 bottle of Orange Crush Soda (12 oz)
1 TBS fresh orange zest
Butter is best at room temperature.  Cream together your butter and sugar.
One at a time, add in your eggs and beat for a minute more.
Add in your sifted flour and baking soda, and alternate 1 cup of flour and some of your soda. Till you have added and blended it all together well.
Mix in your orange zest and vanilla last.
Pour into your cupcake liners. We use an icecream scoop that scrapes the icecream out. One hefty scoop per cupcake filled it 3/4 of the way.
Bake for 13-15 minutes (convection oven) And 19-23 minutes regular oven. But watch them. They will not need to get golden brown. Just till toothpick inserted and removed is clean.
Cool completely before you add your frosting/icing.
FROSTING
1 cup butter
4 cups powdered sugar
1/8 cup fresh orange juice
1 TBS orange zest
1 tsp vanilla
(Approx) 1/8 cup Orange Crush Soda
Gummy Orange Slices
Butter at room temperature beat your butter till nicely whipped.
Add in slowly your 4 cups of powder sugar alternating with your 1/8 cup of fresh orange juice.
Add in your orange zest and Vanilla.
If your frosting is too thick, I added approx. 1/8 cup of Orange Crush Soda to the frosting. Adding a little at a time till I got the consistency I wanted.
Pipe frosting on your cooled cupcakes.
Garnish with orange slice candy.
HAPPY SUMMER!!