Welcome to our linky party for your creative creations.
I love all the ideas that are out there. Everyone is so creative. I would like to feature some Creative Creations every Tuesday to help inspire everyone and myself.
"If you have an apple and I have an apple and we exchange apples then you and I will still each have one apple. But if you have an idea and I have an idea and we exchange these ideas, then each of us will have two ideas." George Bernard Shaw"
This is our 1st linky party. 🙂 Hope I am doing it right 😉 Jumping the bandwagon because it is so much fun to share with everyone. I love blog hopping!! I would love to visit your site.
Link up your party. We will leave this party open till Saturday night. Then next Tuesday we will feature some of our favorite creations on the blog with another link party.
Directions:
Link up to your specific post, not to your whole blog. (You need to click on the title of your post and it will open its own page, copy that link for your link up)
Link up to your crafts, recipes, DIY projects etc. (Please no etsy shops or giveaways please)
Please don't link up repeat projects.
Grab our button below – you can post it on your actual post, on the side bar- anywhere as long as it is on your site. Not required- but appreciated.
Try to visit a few people from the linky party. It's the nice thing to do. And leave comments whenever possible. Share some blog love.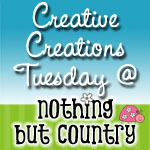 Lets get this party started!