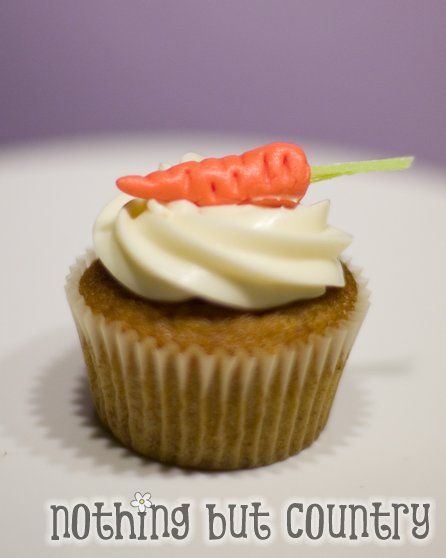 I don't make a lot of cupcakes. However I got some new tips and wanted to try it out. I am super pleased. I been reading about cupcakes on my friends blog. ( From Failcakes to Cupcakes) She inspired me to try.. and I love how they turned out.
I posted the other day how I made fondant and fondant carrots. My family LOVED them too. I was beaming proud of them. 🙂 ( HOW TO MAKE FONDANT CARROTS )
They were SOOOO DELICIOUS!!!! So moist. The recipe is my mom's. She has made it all my life.
This recipe is for a 3 layer carrot cake using a 8-9 inch round pans. However it will make 30 cupcakes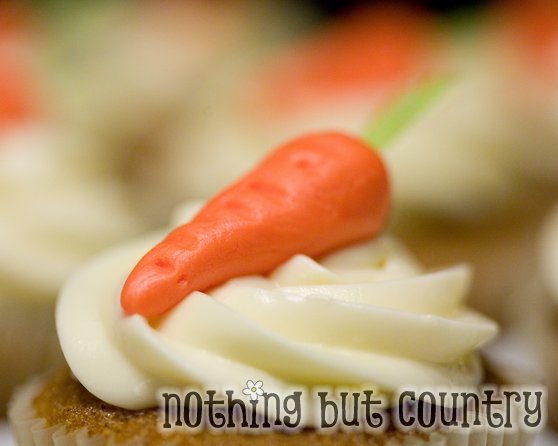 Carrot Cake Cupcakes
Makes: 30
Cupcake Ingredients:
2 cups plain flour, sifted
3 cups carrots, grated
2 cups sugar
1 ½ cups vegetable oil
4 eggs, beaten
3 teaspoons baking powder
2 teaspoons cinnamon
½ teaspoon baking soda
1 teaspoon salt
1 cup Pecans, chopped (optional and I did not use)
Ingredients for Frosting:
8 oz. Cream cheese
5 tblsp.  butter or margarine
2 ½ cups  Confectioners Sugar, sifted
2 teaspoons vanilla
To make cake:
Preheat oven to 350 degrees.
Cream sugar and oil, then add beaten eggs and continue to beat well.
Sift all dry ingredients together and then fold into creamed mixture.
Blend in grated carrots and pecans (optional) and pour into cupcake liners 1/2 to 2/3 full.
Bake approx. 13-17 minutes, until toothpick comes out clean
Let cool completely on racks, then apply Cream Cheese frosting.
To make frosting:
Thoroughly cream together butter or margarine, and cream cheese.
Blend in well sifted confectioners sugar, and vanilla.
Pipe on frosting on cupcakes