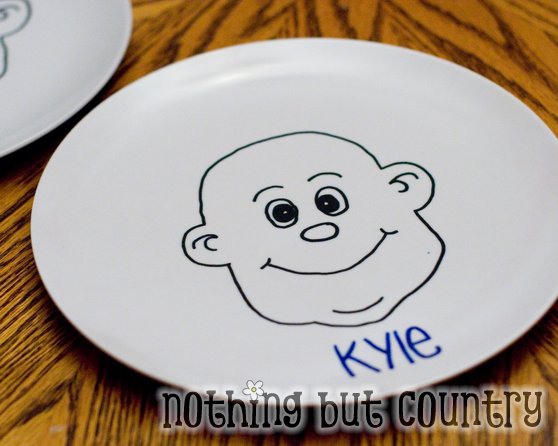 For Birthday and Christmas gifts– I loved making these plates. I ordered a kit from HERE.  You draw on the papers they send to you- and decorate with your own washable markers and mail it in.
These plates are amazing!! They are not porcelain so they do not break if your kids drop it. They wash beautifully and they do not fade. I made one of these plates when I was  in pre-k and I still eat off of it!!
I really wish I remembered what website I found the download for this face pattern. If anyone knows- please let me know I will give credit for them. I FOUND IT!! The Idea Room – AS SEEN HERE!  Visit that link for their wonderful face plate template. I used a light box and traced the face on the plate paper, along with tracing the names of all the kidlets I make plates for. In my favorite font.
They come back in a few weeks and they look amazing. And parents always love getting these plates.
My kidlets love putting their food in all fun ways. Adding hair with their mac & cheese, or their beans as  beard or mustache. 🙂  It keeps them very happy. Even my older kidlet loves it.
It is also great to do the kit with Scouts, Pre-K, Girlscouts, Church activities. The kit for larger groups is FREE, just pay shipping. They send you the paper, and an envelope to mail them back. Since I am a scout leader I ordered a kit.
Very inexpensive for a gift that will last a very very long time!! I did a few extra plates- I will feature those ideas this week as well.