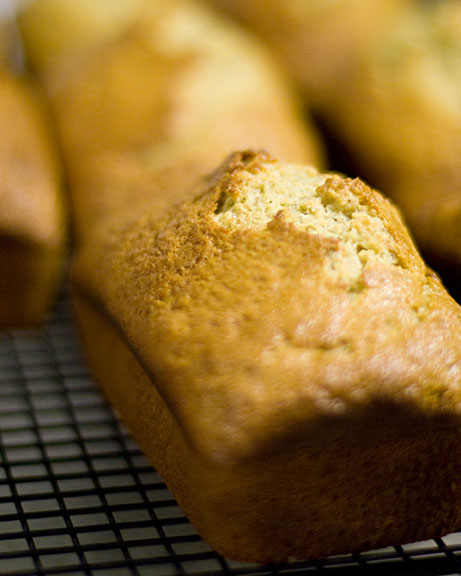 This recipe is created completely by Chad. He's made this bread for a few years now and has tweaked it many times over till he is absolutely happy. This is on the sweet side for banana bread, exactly how he likes it! My children love it hot with a little spread of plain cream cheese. Absolutely delicious!
Chad's Banana Bread
( 1 loaf)
350 degrees F
1 4oz Cinnamon Applesauce (or 1/2 cup)
1 tblsp vanilla extract
3/4 tsp Cinnamon
1 3/4 cups all-purpose flour
1 cup sugar
2 tsp baking powder
1/2 tsp baking soda
1/4 tsp salt
1 cup mashed rip banana (we use 4 ripe big ones!! = more banana)
1/3 cup butter/margarine
2 tblsp milk
2 eggs
1/4 cup nuts (optional and never used by Chad)
In a large mixer bowl combine 1 cup of the flour, sugar, baking powder, baking soda, salt, cinnamon. Add mashed bananas, margarine, milk, applesauce and vanilla extract. Beat with an electric mixer on low speed till blended, then on high speed for 2 minutes. Add eggs and remaining flour, beat till blended. Stir in nuts. (optional)
Pour batter into greased loaf pan. Bake in a 350 degree oven for 55 to 60 minutes or till toothpick inserted near the center comes out clan.
Cool for 10 minutes on wire rack. Remove from pan. Cool thoroughly on a wire rack. Store overnight before slicing. Makes 1 loaf (16 servings)
***We do not put it in a single loaf pan. We always double this recipe and use the 1/4 loaf size pan (pictured here) and make 8 mini loaves – bake 25-30 minutes.