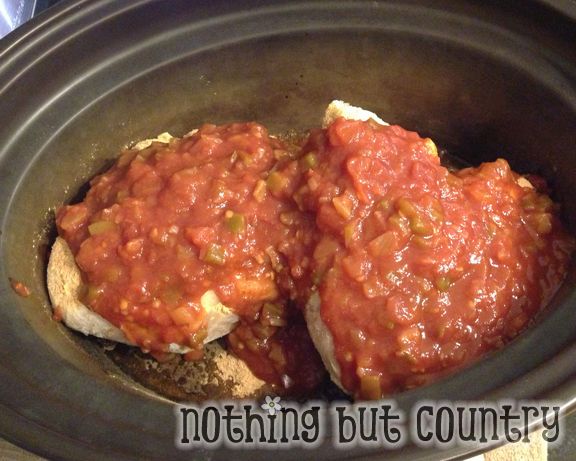 This is one of the easiest recipes ever!!  We have made it quite a few times. So tender and flavorful and only takes minutes to make!
I use frozen boneless skinless chicken breasts. You can use up to 6 breasts in this recipe however 4 makes more than enough for our family of 4 with lots of leftovers!
Set your crockpot to low this will cook in 6-8 hours (depending on how hot your crockpot cooks)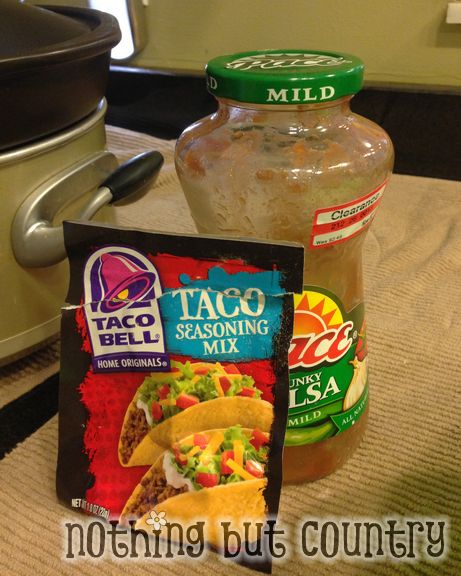 All you need to add is 1 container of salsa and 1 taco seasoning mix.  (Took a photo after I already added to the chicken)
Do not need to mix. Sprinkle the taco seasoning over the frozen chicken. Then pour on all of the salsa. This is a medium size 16 oz salsa. We prefer mild by Pace.
Put the lid on and cook for 6-8 hours on low.
Once it is done and you use a fork to shred it apart. It will break apart VERY VERY easily like this….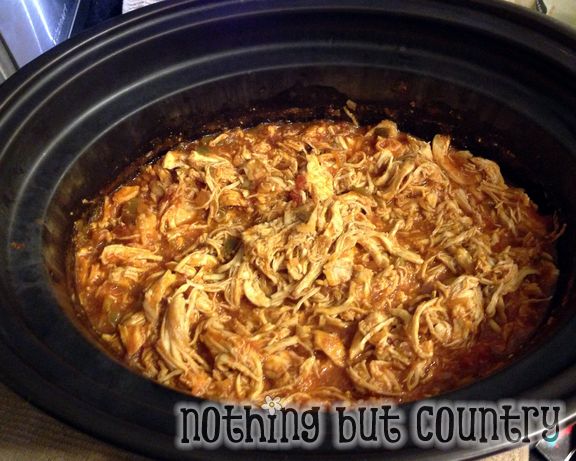 It makes the juiciest chicken taco meat ever!
I wish I got another photo of the taco put together but it was so good we eat it much too quickly.
We simply top our tacos with lettuce, tomatoes, sour cream, cheese and other toppings of our choice. We use soft taco/small tortillas.
This dinner is sooo very easy!
3 ingredients is all it requires to make this (other than toppings)
This is in our regular dinner rotation and I often make it on a night I am really busy all day or we have to run to scouts that night.
Hope you enjoy this as much as we do!
Ingredients:
4-6 boneless skinless chicken breasts
16 oz Salsa (We love Pace Mild)
1 envelope of taco seasoning your choice
Directions:
-Set crockpot to low
-Add in chicken, sprinkle on taco seasoning and pour entire jar of salsa on top.
-Cook on low 6-8 hours
-Use a fork and shred chicken once done.
-Add to your taco and top with your favorite toppings
ENJOY!