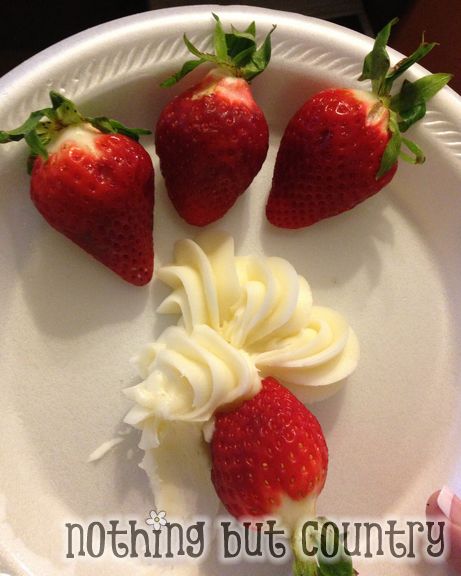 This is not like earth shattering dessert. HOWEVER it was a "DUH" moment for us.
I had left over cream cheese frosting from making cupcakes the week before and if I have frosting lest over I always save in the fridge.
I decided one night for desert to dip strawberries in them. OH MY HEAVENS!!! DESLISH!!!!!  LOVED IT. The kids did too. I felt only half guilty for eating it. After all half of this dessert IS healthy after all… RIGHT?!?
Here is the recipe I used for my frosting–
Cream Cheese Frosting
Ingredients:
1 stick of butter
1 package 8 oz cream cheese
3 cups of confectioners' sugar
2 tablespoon of whipping cream (or less)
Butter and cream cheese to room temperature.
Beat butter and cream cheese together for 30 seconds on high or until well whipped and creamy
Mix in your whipping cream for a few seconds
Mixing 1 cup at a time add in your confectioners sugar and mix till well incorporated.
Frost or add your frosting to a piping bag and pipe onto your cupcakes.
**Add your whipping cream slowly till you get the consistency you want/thickness**