My family loved these. And I am not even a pepper person and I really enjoyed this!
We were doing a trial run before the big game this weekend (Superbowl) And glad we did- and can't wait to make this this weekend.
We have a garden full of peppers. Many of our jalapeno peppers ripened so nicely they turned red on some parts. Making them super tasty and sweet.
We had 14-16 jalapenos that we picked.
Wash them and slice them open. Then remove the spine and seeds.
**WORD OF ADVICE** Either use gloves or remove the centers with a spoon. DO NOT use your fingers and nails. It takes forever to get jalapeno oil off your hands.. I may or may not have learned a spicy lesson!! They do wicked things to your eyes/face and even taste buds if you touch your face or lick your fingers later…. trust me!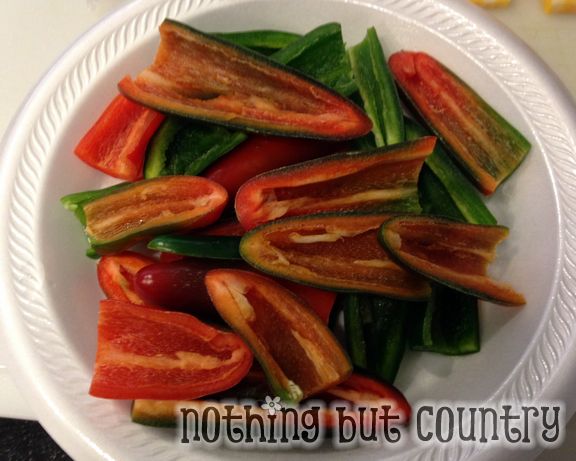 All cut in half and gutted and washed…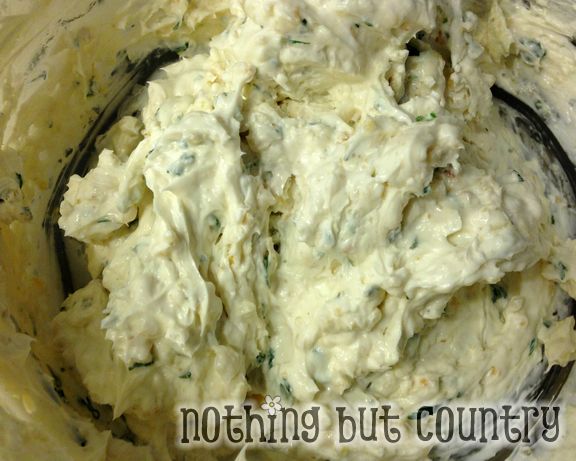 Melt the cream cheese or get it to room temperature in a bowl and add in all the ingredients.  (cream cheese, onion, cliantro, cumin, garlic salt and pepper) Mix it well so it is a thick mixture.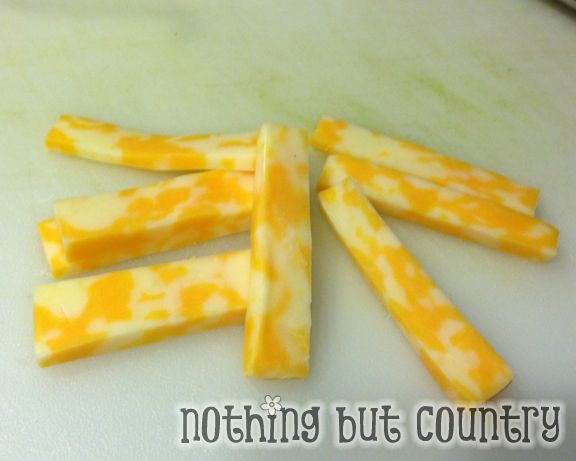 Cut up Colby jack cheese into spears no wider than the width of your peppers.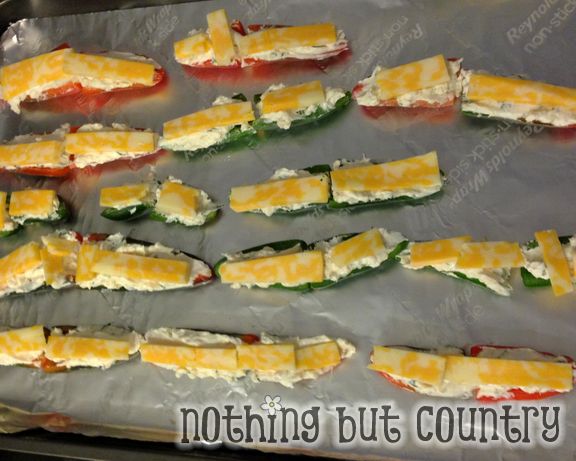 Using a spoon, fill each of the halves with this yummy cheesy mixture.  Place them on a cooking sheet with foil.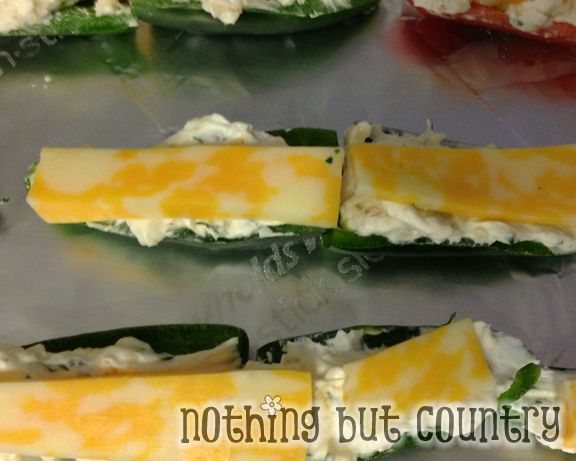 Place cheese spears on top of each stuffed jalapeno half. YUM YUM!!!
Bake in a 375 degree oven for 12-15 minutes.
Allow them to cool and enjoy!!
These were wonderful!!! So cheesy and delish!!
My husband asked next time to add some Tabasco pepper sauce to the mixture to add more heat. I just may do that in our 2nd batch 🙂
Stuffed Cheese Jalapeno Poppers
Ingredients:
14-16 jalapenos, cut in half seeds and spine removed
8 oz cream cheese room temperature
3 oz Colby Jack cheese
1/4 cup onion, minced
1/4 cup cilantro, minced
1 teaspoon Garlic Salt
1 1/2 teaspoon cumin
1 teaspoon pepper
Directions:
Cover your baking sheet with foil (I like to use the non stick kind), and preheat your oven to 375°
Mix all of your ingredients together (except the Jalapenos and cheese spears)
Spoon in your filling into each pepper half. Place one of your cheese spears on the top of each pepper.
Bake for 12-15 minutes.