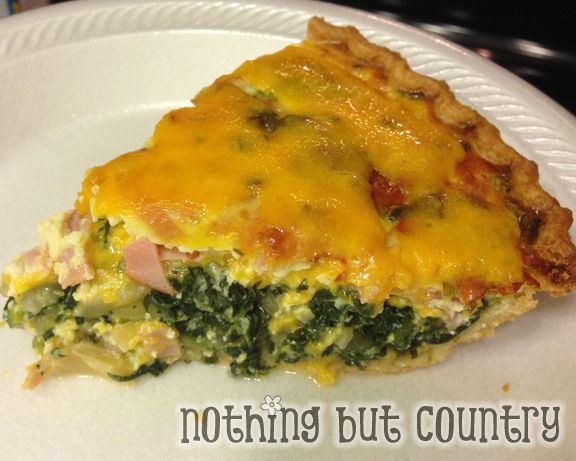 This dinner came about with whatever I could in my fridge. I wasn't up for making a run to the grocery store and it came out sooooo incredibly yummy – we will be adding this to our dinner rotations!
I have never made a Quiche before. Can you believe it? And it was so easy I am not sure why I didn't try it earlier. My kids LOVED it and I got veggies in them with no complaints. I even got quite a bit of protein in my diet as well and I was very happy about that!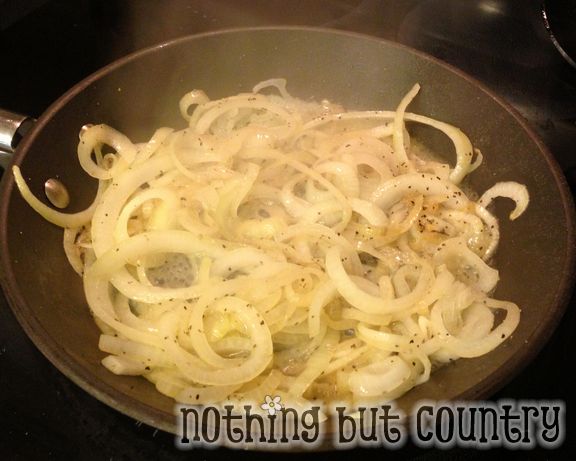 Sautee your onions till translucent. Then add in your salt/pepper and garlic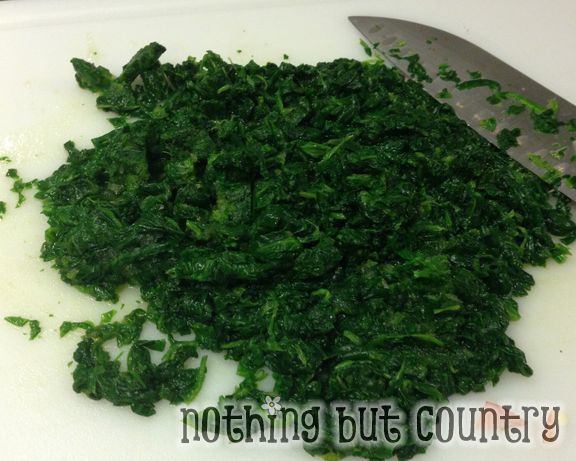 The frozen spinach we had in the freezer was full leaf spinach so I chopped it p fine. However I know you can buy chopped spinach already for you. Both works! Then add your spinach to your onion mixture in the pan.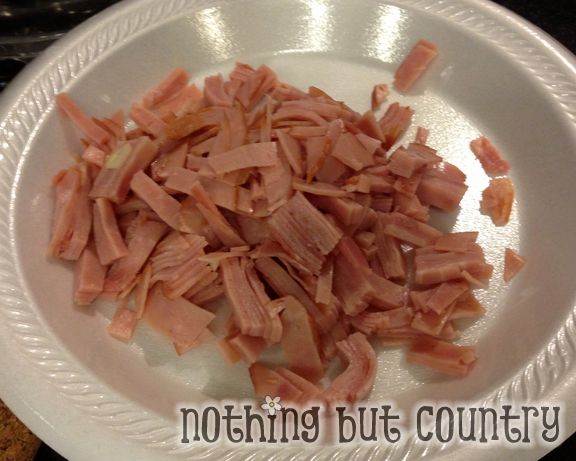 You will also need to chop approximately 1 cup of ham. I only had deli lunch meat on hand and I used that. YUM!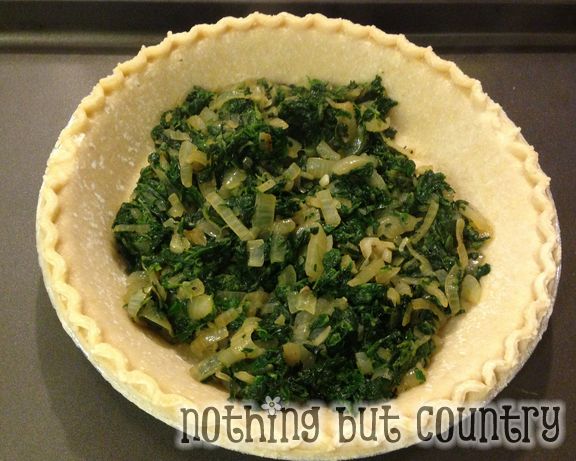 Once you cook the onion/garlic/Spinach mixture. Add it to the bottom of your 9 inch deep dish frozen pie crust.

I didn't have a block of cheese or any shredded cheddar. I did have cheddar slices. You may use 1 cup of shredded cheddar or I used 3 slices of cheddar

Add the next layer of ham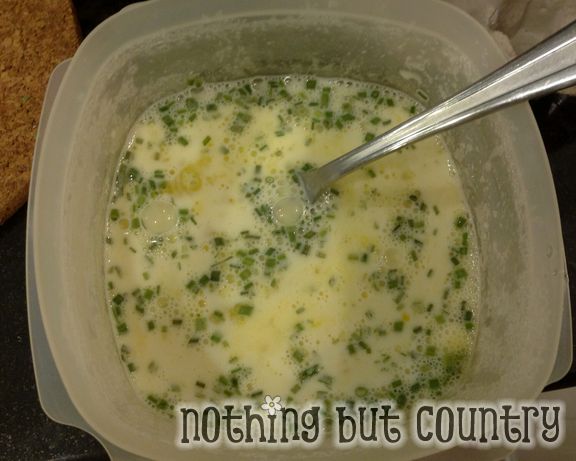 In a bowl I mixed my chives, milk and eggs till the eggs were lightly beaten.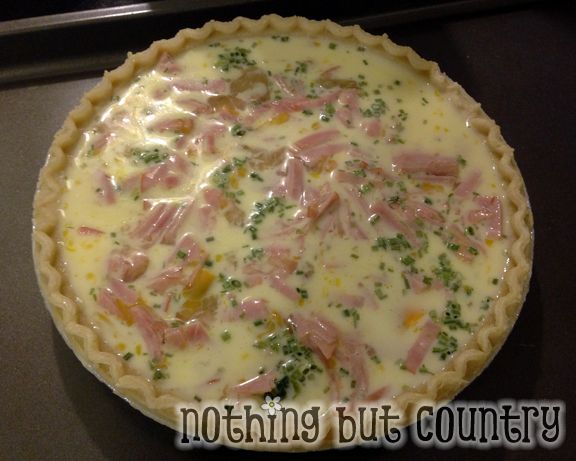 Pour the egg mixture over all the layers in your pie crust.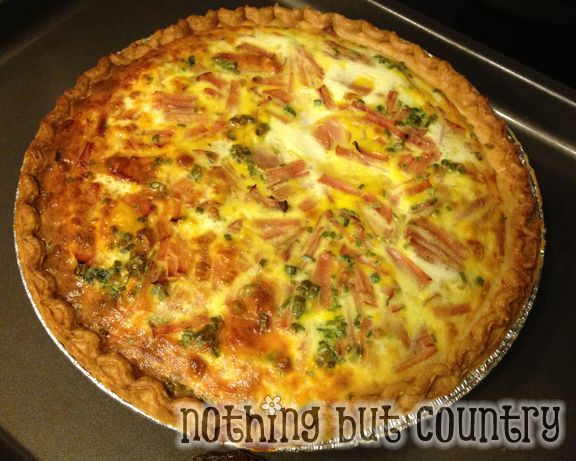 Bake your Quiche. I baked it on a cooking sheet in case of any spills.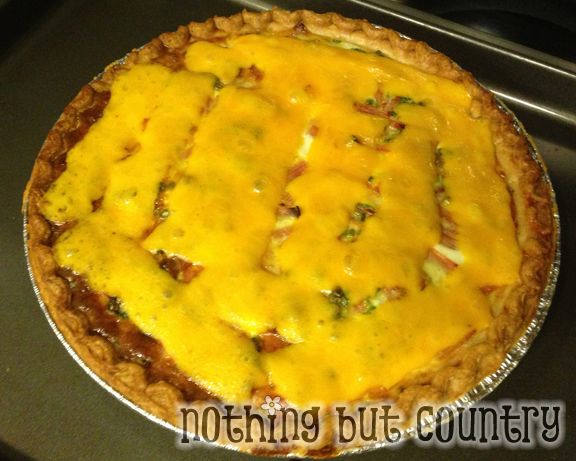 I removed the quiche 2 minutes early and added 3 more slices of cheddar. (you may use another cup of shredded cheddar) Return it to the oven till cheese is melted.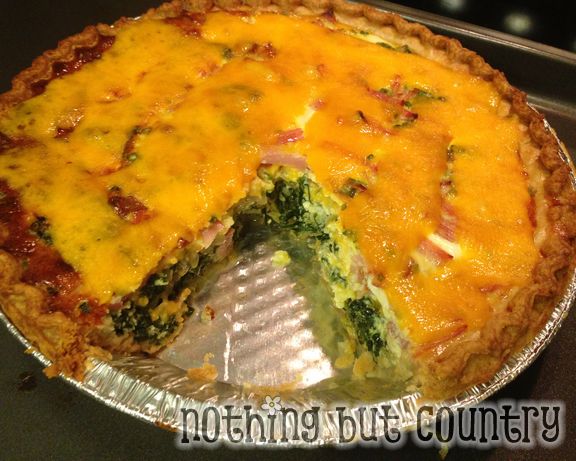 Allow the quiche to cool then cut & enjoy!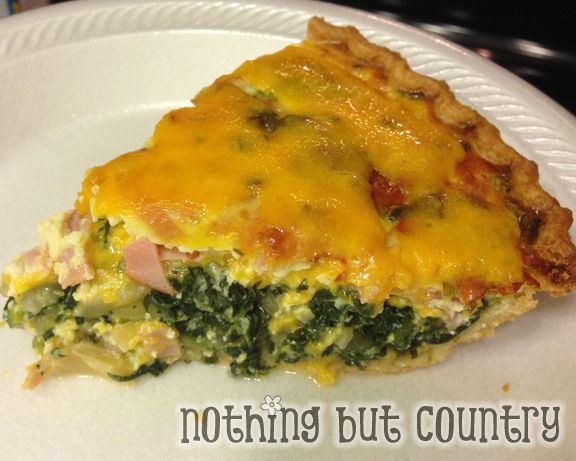 My kids LOVED IT. I still can't believe how yummy it was!! You can substitute the ham for bacon or use other types of cheeses you have on hand.  I am going to try other combinations soon!!
ENJOY!!
Spinach Ham & Cheese Quiche
Ingredients:
1 tablespoon extra virgin olive oil
salt/pepper to taste
1 medium – large Vidalia onion
1 tablespoon minced garlic (more or less based on your taste)
1 package frozen chopped spinach (thawed and drained)
1 cup chopped ham (I used lunch meat I had on hand)
2 cups cheddar cheese shredded (I only had cheddar slices and used 6)
3 eggs
2/3 cup milk
1 tablespoon chives
9 inch deep dish frozen pie crust
Directions:
-Preheat oven to 350 degrees
-In a frying pan – Sautee onions in olive oil till they sweat and almost translucent.
-Add in your salt & pepper & garlic to cook another minute more
-Add in your drained thawed chopped spinach cook for 2-3 minutes
-Place your onion/spinach mixture into the bottom of your frozen pie crust
-Add 1/2 of your cheese. I had slices so I used 3 slices
-Add your next layer of ham
-In a separate bowl, mix well your eggs, milk and chives. Pour over all the layers in your pie crust.
-Bake 350 degree oven for 30 -40 minutes till the eggs have fully cooked and no longer runny and nice and golden brown.
-Remove and add on remaining cheese and allow to bake for 2 minutes more till cheese is melted.
-Allow Quiche to cool for a few minutes to set. Serve warm!