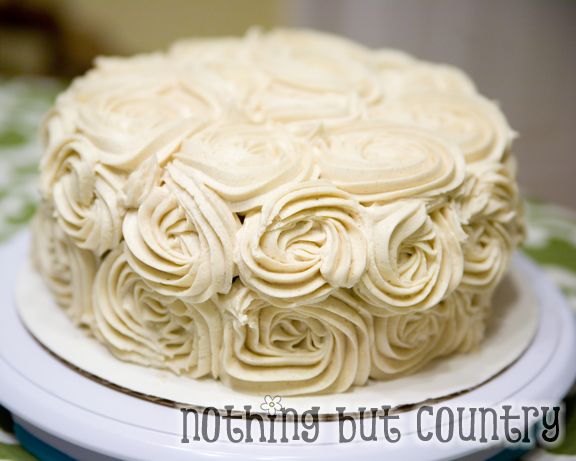 I am by no means a professional. In fact I have just now tried making my own cakes. I have always baked but never tried to make them look pretty. 🙂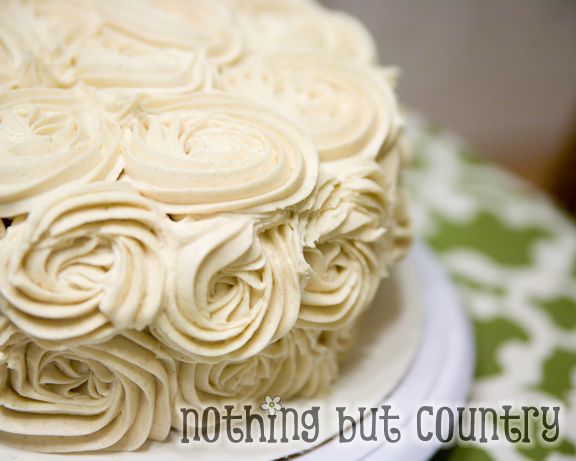 This is my 1st attempt to my favorite cake over at I Am Baker.  I love this cake. Mine is no where as pretty as hers. AND she even has a video tutorial on her blog on how she did it.
My family is still proud of my efforts as am I. So I am pretty sure I am going to work on making more cakes like this till I perfect my roses 🙂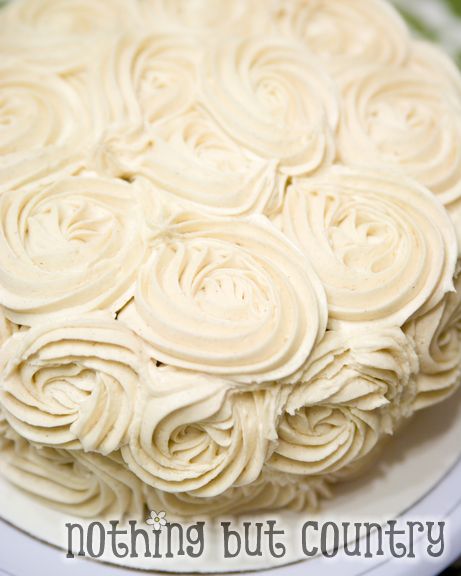 I was so sad to cut it. But I knew it couldn't stay looking pretty forever on the cake stand.  Especially with my children and hubby eyeballing this cake like vultures 🙂
This cake I did not make from scratch. That is my next try. Start working on cakes from scratch. This one was all too easy. I had intended to make a cake filled with raspberry however I didn't make it in that direction.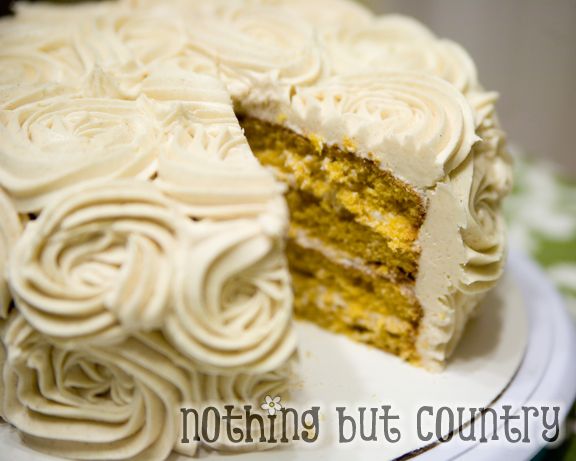 It looks just as pretty cut too.
One warning- alot of buttercream is used and makes a thick layer. If you are not fond of lots of yummy icing this is NOT a cake for you 🙂
Pumpkin Spiced Cake with Pumpkin Spiced Buttercream
Cake:
Duncan Hines Yellow Moist Cake Mix
1 box of pumpkin spiced Jello pudding mix
3 eggs
1 cup water
1/2 cup oil
-Make cake according to cake mix directions.
-Mix in 1 box of pumpkin spiced pudding mix (not made just dump in the powder)
-Bake cake as directed. I created 2 – 8 inch cakes
-allow cake to cool
Icing:
8 cups 10x powder sugar
4 sticks of room temp butter (2 cups)
1 Tablespoon Meringue powder
4-5 Tablespoons of whipping cream (however I didn't have and used almond milk)
2 teaspoons vanilla
2 teaspoons or more (depends on your taste) Pumpkin Spice (I used almost a tablespoon )
-Standing mixer- mix the butter, sugar, meringue powder and half of your whipping cream on low till incorporated.
-Turning your mixing up to medium add in vanilla & pumpkin spice
-Continue to mix up to 3 minutes- adding more whipping cream or milk till you get the consistency you desire.
That's it. That's my recipe. It is a very yummy cake 🙂  Adding pudding to the cake mix makes it very moist and a great flavor 🙂
Enjoy!! Happy Fall!!