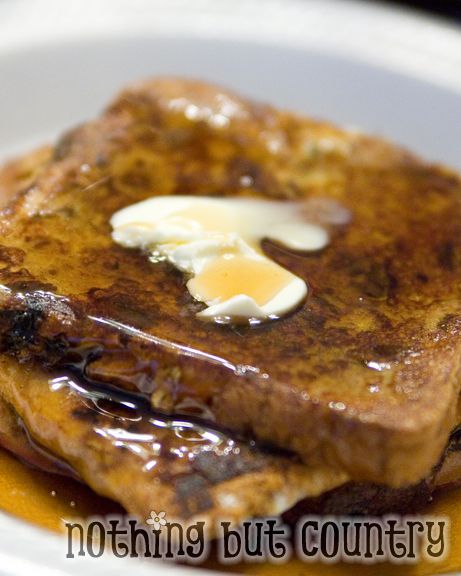 Wanted to make something a little bit more special for the sweet hubby for Father's day breakfast. Since we don't have alot of time in the morning on Sunday we did this a day early.  YUM YUM!!! Instead of plain ole' ordinary French Toast — I decided it kick it up a notch.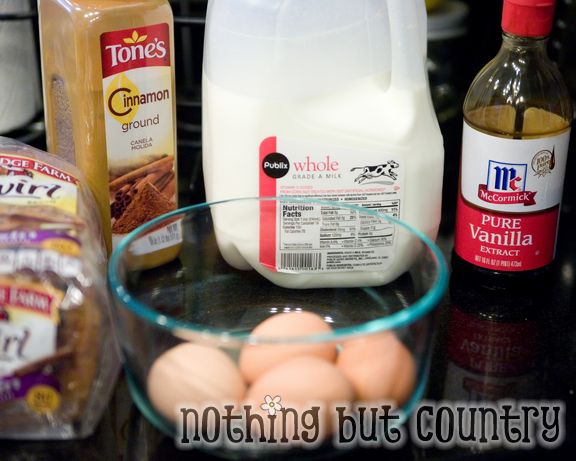 '
This recipe will make a full loaf of bread. You can half this if you need to. (recipe is at the end of this post)
You will need –  eggs (fresh from our wonderful hens), milk, vanilla, Raisin Cinnamon Swirl Bread and Cinnamon.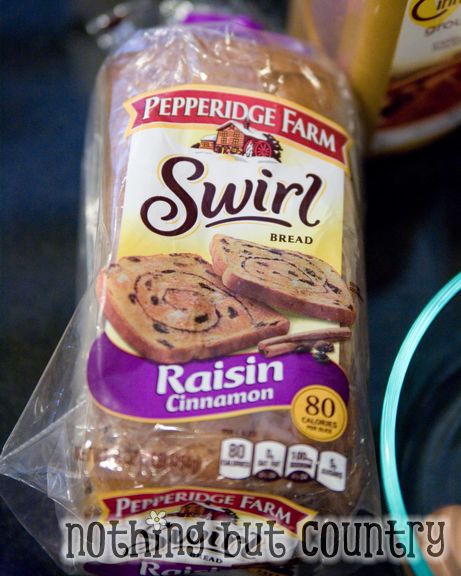 We love Pepperidge Farm Raisin Cinnamon Swirl bread. We do not buy it often however it was on sale at Publix recently for buy 1 get 1 free. So we took advantage of the sale 🙂 YUM!!
This photo doesn't do our fresh eggs justice. However the yolks in our fresh eggs are so dark and vibrant from our hens. They taste FAR better than store-bought. If you ever get a chance to eat fresh farm eggs– try it. You will be hooked.
Break your eggs into your bowl.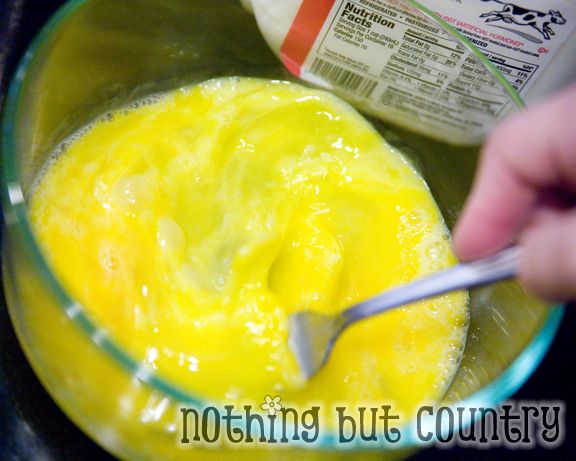 Whisk them with a fork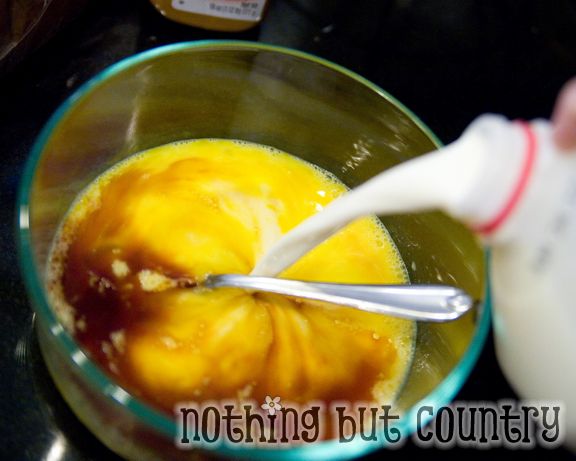 Add in your vanilla, milk & cinnamon then mix well.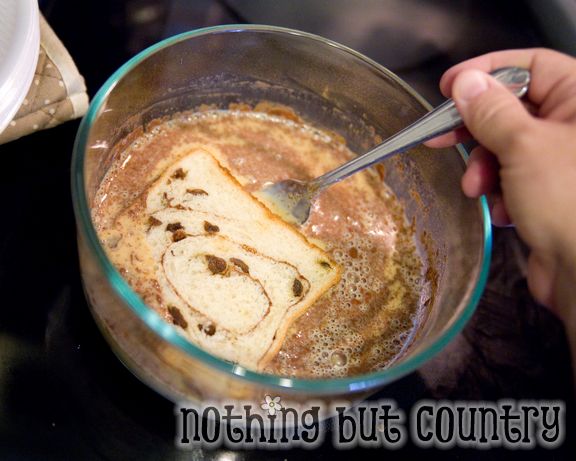 Have your skillet medium hot, and if you need to spray it with non stick spray you may need to do so.
Start dunking in each piece of bread one at a time.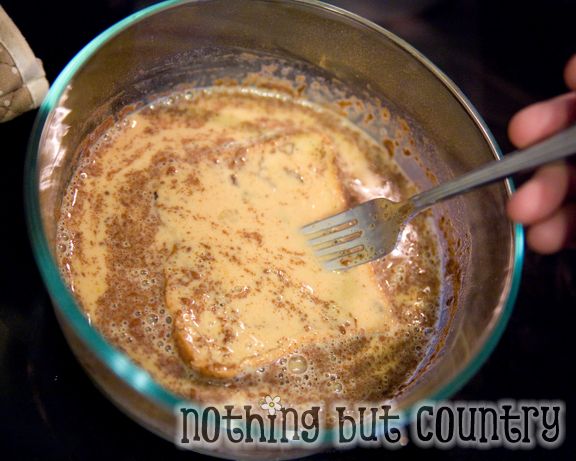 Flip your bread over so it is coated with your mixture.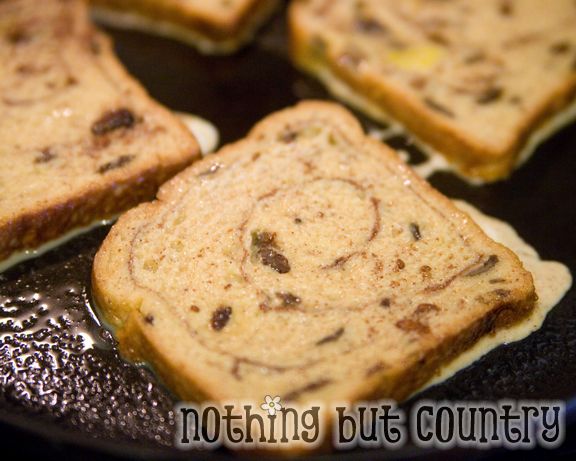 Cook your bread slices till golden brown on both sides.  MMMMMMMMmmm…… they smell soooooo good!!!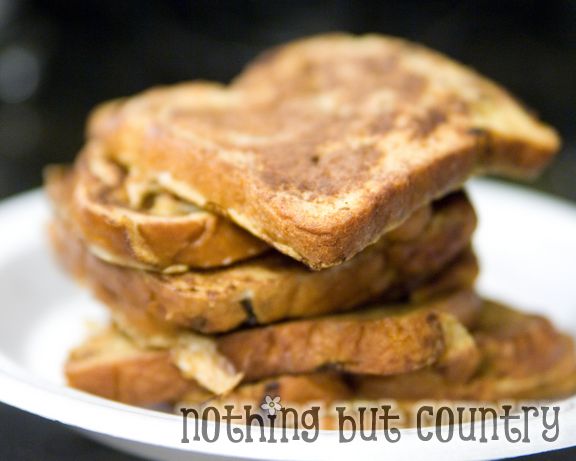 Nice big stack of french toast ready for my kidlets and hubby and I to enjoy. 🙂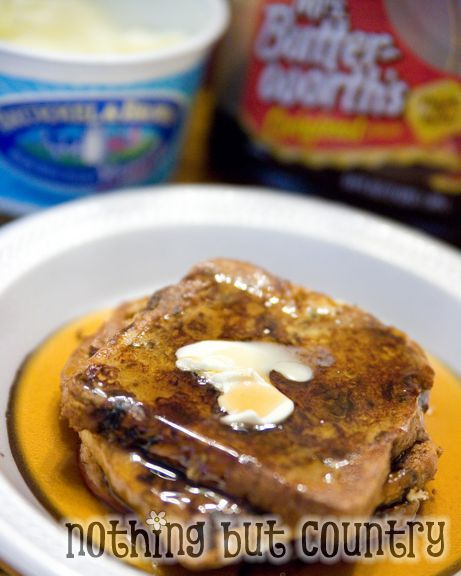 YUM YUM!!!
This is such a yummy breakfast. Definitely a treat for everyone in the family!! Very simple to do but using different bread makes all the difference in the world.
ENJOY!!!
Raisin Cinnamon Swirl Bread French Toast
Makes 1 full loaf
4 Eggs
1 1/2 cup of milk
3 tblsp Vanilla
1 tblsp Cinnamon
1 loaf of Pepperidge Farm Raisin Cinnamon Swirl Bread
Mix eggs, milk, vanilla and cinnamon well in a bowl.
In a skillet over heat with non stick cooking spray- dunk 1 piece of bread a  time coating on both sides and cook on skillet till golden brown on each side. (Making sure that the egg is completely cooked on the bread)
Serve immediately warm with your choice of butter &/or Syrup 🙂
Enjoy!