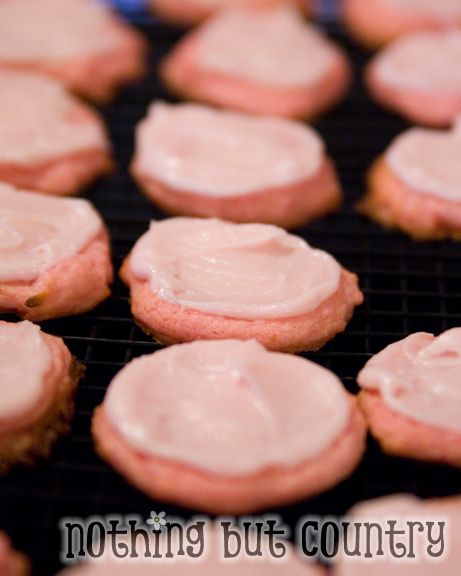 I made these a few weeks ago. I really meant to post about them.
They were quite delicious.  What I did do- was read the comments on the blog I got the recipe from- a few mentioned cutting back on the pink lemonade powder. I did that and they were great. I can't imagine using a full 1/2 cup of mix. Talk about pucker power if I would have done that – hahha
The recipe cam from this blog – EAT AT HOME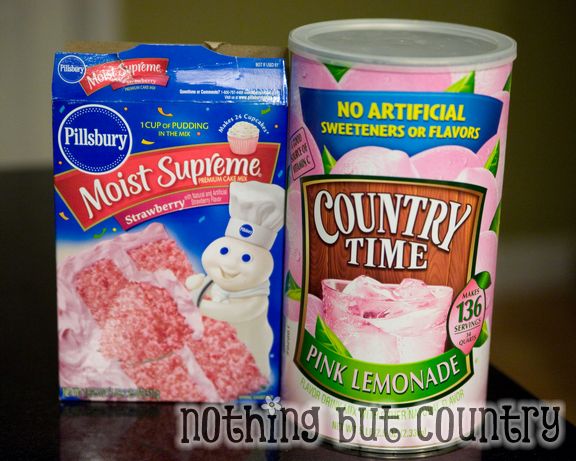 We are BIG pink lemonade drinkers at our house so we have this on hand all the time 🙂 So this was perfect to get to use some of it up 🙂
Strawberry Pink Lemonade Cookies
Cookies-
Strawberry cake mix
1 stick butter, softened
2 eggs
1 tsp. vanilla
1 Tbs. water
1/4 cup pink lemonade mix
Add all of your above ingredients into your mixing bowl and mix well. Drop by a heaping teaspoon onto your cookie sheet. I chose to grease my cookie sheet.   Bake at 350 degrees for 8-10 minutes.
Frosting-
1 1/2 cups powdered sugar
3 Tbs. pink lemonade mix
3 Tbs. soft room temperature butter
1-3 Tbs. water
Stir the powdered sugar and lemonade mix together in a small bowl.  Stir in the soft butter.  Add in your milk. You probably won't need all of it. Mix it up by hand to watch the consistency that is perfect to spread.  Frost cooled cookies.
This is what my frosting looked like. I probably only used 2 tbs of water.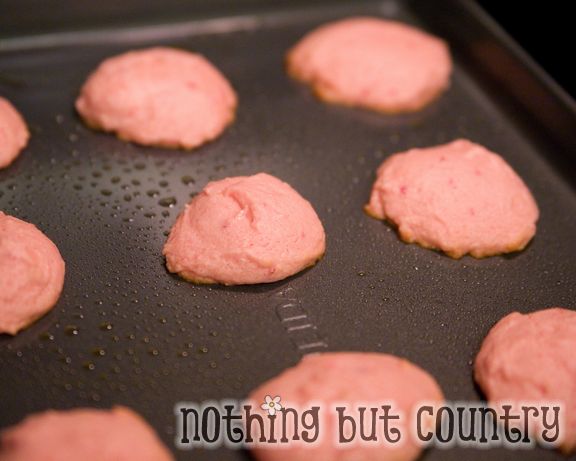 My cookies were a bit puffed up… so…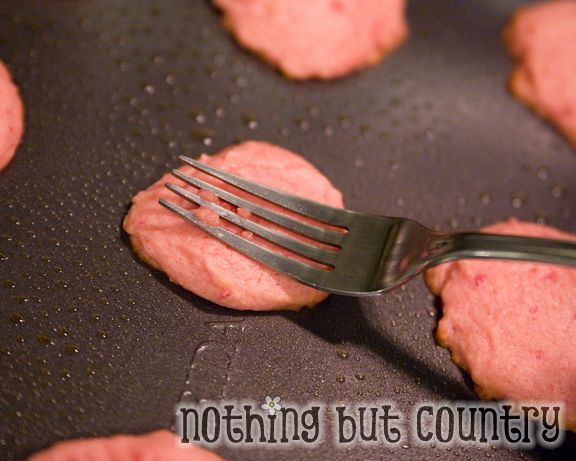 I used my fork to flatten them down while they were hot.  And once cooled- frosted them 🙂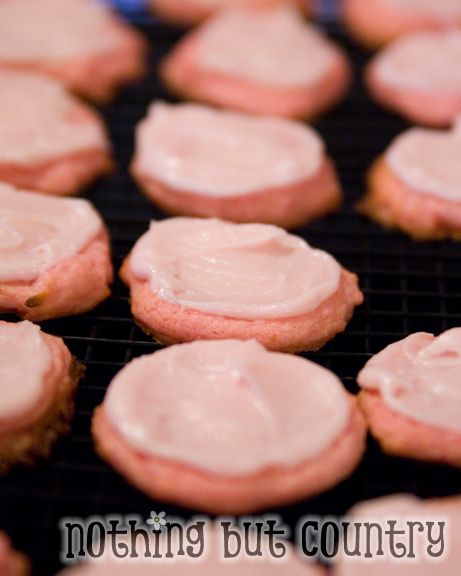 I will definitely make these again. They were so easy!! And yummy and I love the pink color too!!
I even packaged some up to give to a girlfriend for her birthday. (which is the real reason I made them to begin with– but our family enjoyed having the extras too hahah)