I am behind posting this. However we did conference with our kids along with another family. So really in total we just had 4. Ranging in ages 3-12.  We haven't ever really had our kiddos watch conference and we want to change that. So we decided to have a conference party. That got the younger 3 excited. The 12 year old knew what we were up to.
We still had fun. They girls asked when can we do this again. So YAY for us 2 moms for this conference.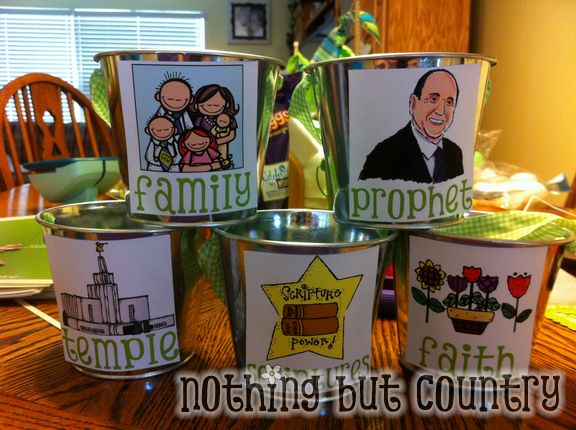 5 buckets purchased from the $1.00 area of target. We filled them with 5 different candies.  And attached signs on the front. Most of the cute graphics came from Melonheadz LDS Illistrations.
We did the words – Family, Prophet, Temple, Scriptures & Faith.
Every time they heard the word in the talks they could take 1 candy out of that bucket. That was a hit. Even when they were laying down they were at least paying attention enough to hear words. WOOHOO definitely a great game.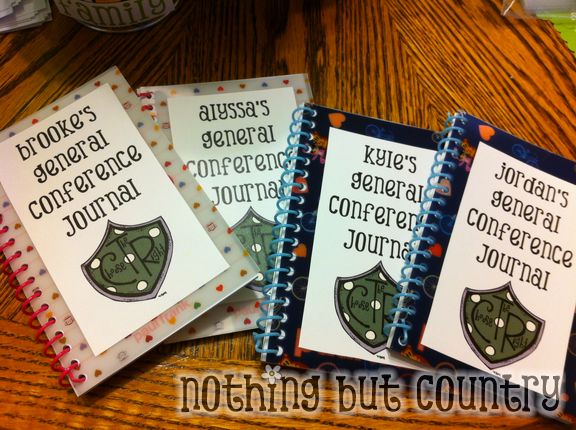 Also from the 1.00 section of Target I found cute little paper journals. They actually used them to take notes or drew what they saw at the conference. 🙂 Again using cute graphics from Melonheadz and glued on labels to the front of the journals.
I made individual conference packets. From many different sources. I don't remember where. I just searched in Pinterest for "conference packets" and Then based on their age I would print off pages that looked like something they would like to do. So I used about 5 different websites- each packet was different except for the 2 girls. They are the same age. But for the 3 yr old and the 12 yr old I had more age appropriate activities to do during conference. Word searches etc. They loved that as well.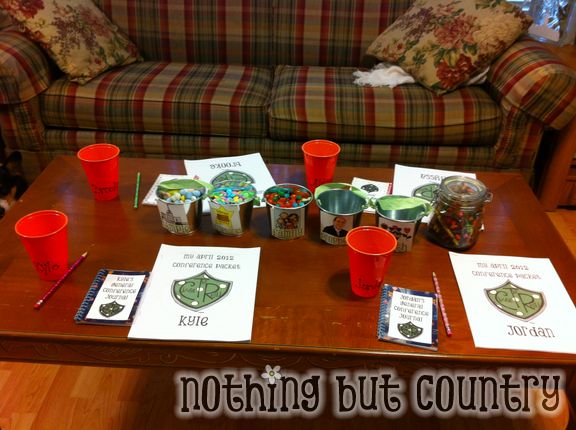 Table all set for them. I put their names on a cup to collect their candies in as they heard the words. Crayons were on the table to work on their packets. They brought pillows to sit on around the table to watch conference. The rule was they had to basically keep quiet and busy and stay in the same room with us. We didn't want to set the bar too high as this was the 1st conference we asked them to sit thru. We really should have started earlier for them. But best to start somewhere right?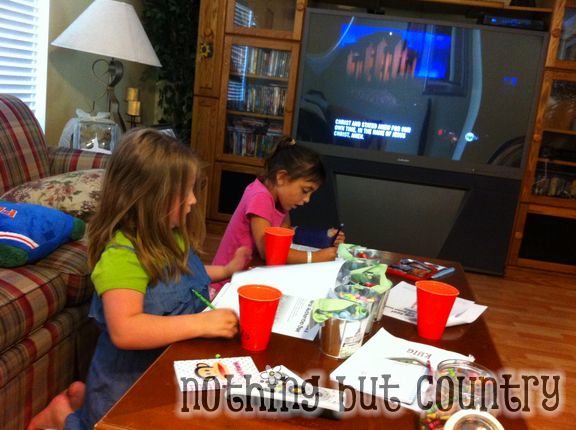 Here are 2 of the girls busy with their packets and listening to the Mormon Tabernacle Choir 🙂  The boys were there too. Just not in the photo. They were laying out on the ground comfortable but listening. Even the 3 yr old did very well. 🙂
So we will be doing this "conference party" again in October 🙂 I will call this  a successful event 🙂