Any excuse to dress up the table and have a fancier/funner (is that a word?) dinner– I am all on it!
I love my Silhouette machine. I use it all the time to cut out things in a snap.
For this dinner I used it for the Frog Bags, Lily Pads & Flower place mat & Frogs on a straw.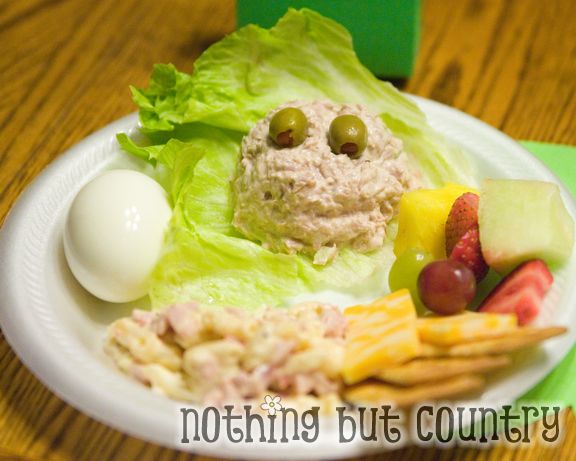 Dinner was easy enough. We actually eat this a few times a year. Its been very warm here in Florida- my mom called this dinner "salad plates". So we had Tuna Salad, Macaroni Salad, Fruit Salad, Crackers/Cheese & Boiled Egg.  Pretty healthy and everyone enjoys it. To make this FROGGY- shaped the tuna on a bed of lettuce like a lily pad and added 2 olives  for eyes. Very simple!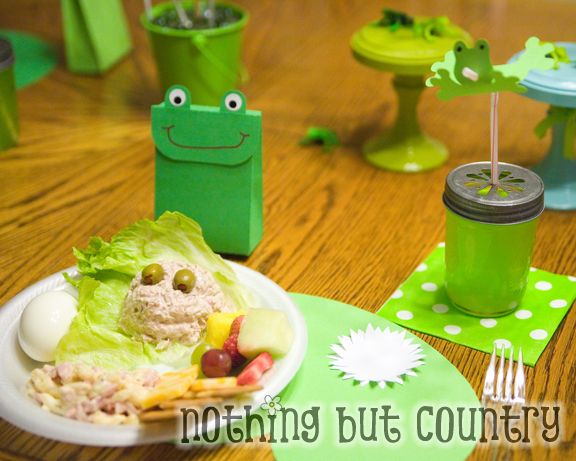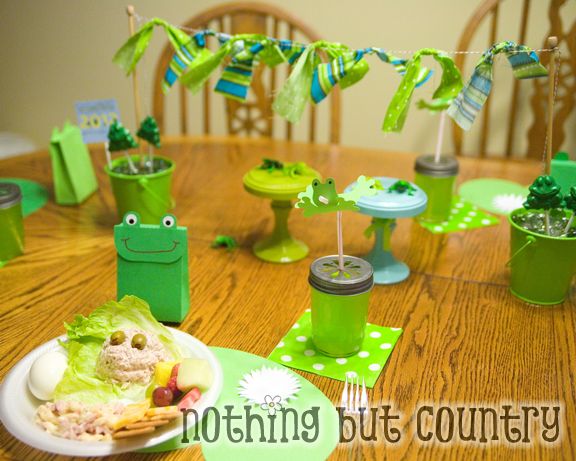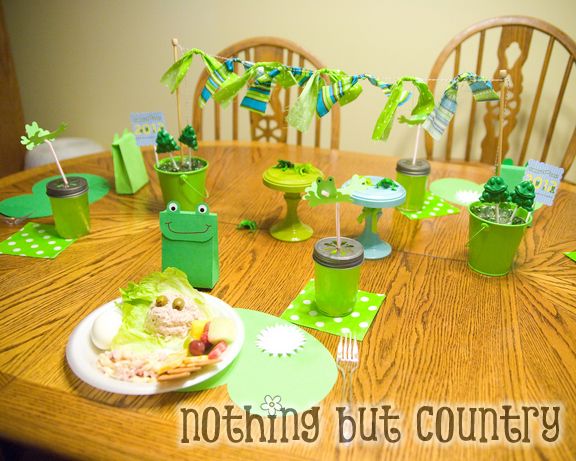 Lily Pad place mats were just shapes I created in Silhouette machine to cut out on a full piece of green cardstock. Then I cut out 2 star burst shapes in white and layered them / glued on for the place mats.
Frog Straws. Also created in Silhouette. I used the PDF from the Fly-Catching Frog on FamilyFun website – HERE. The PDF frog shape I traced in Silhouette, made the frog 3 1/2 inches tall and put 2 circles for the straw holes where the pattern indicates. Drew in the eyes and now I have cute 3D frogs on my straw 🙂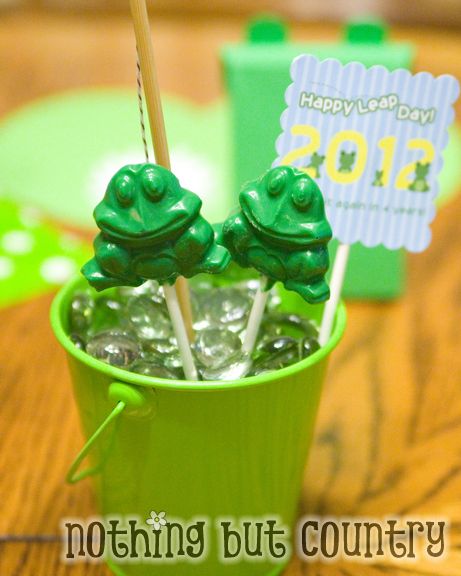 My bunting was just sort of last minute. I had little green buckets. The bottoms have styrofoam wedged in it. Then glass/green rocks for weight to fill the top. The stick is actually my knitting needle 🙂 Tied on twine and then scraps left over from my daughters puppy party were still on hand and tied it on. Cute center piece.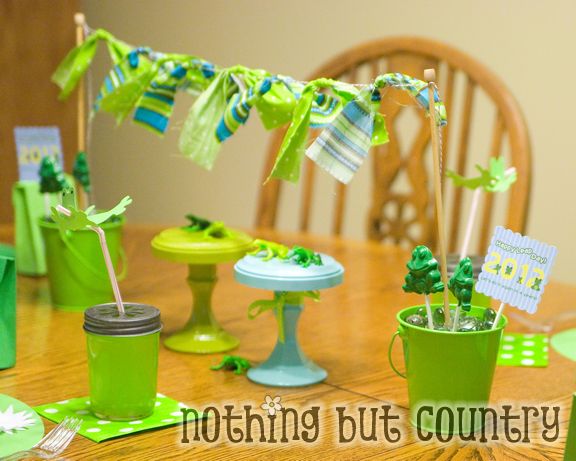 Better view of the bunting 🙂    (The green drink is a new powerade flavor I found in the grocery store in the mason jars)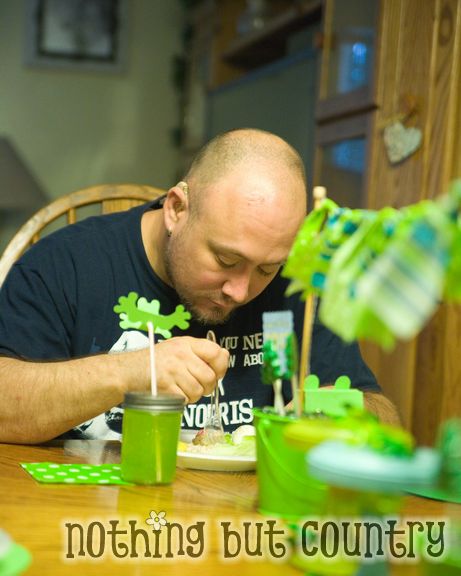 My hubby enjoying dinner. He is looking mighty fine!! I am so proud of him. He has lost over 20+ lbs in 7 weeks. He is really looking sharp!! *LOVE*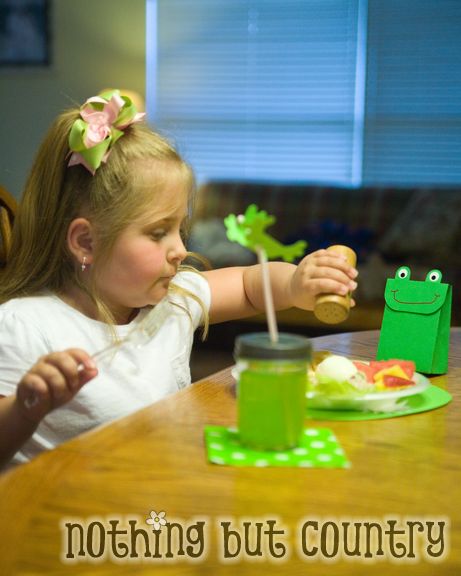 My one cutie patootie. I swear I thought I got a photo of my son. 🙁 Bummed out I didn't. The kids love having themed dinners.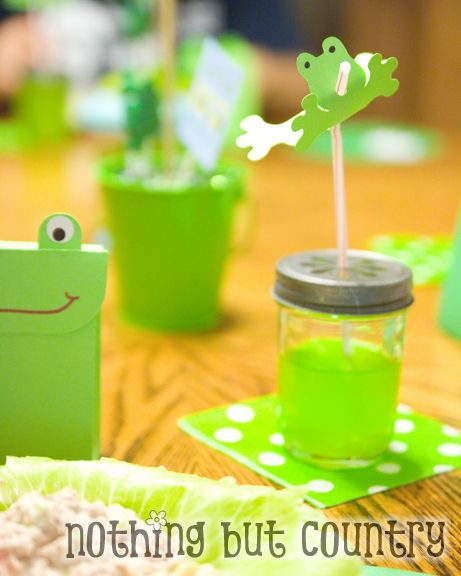 Napkins left over from my daughters party. Nothing goes to waste in my house 🙂
Mason jar's for glasses- and screw on lids for the top.  I got the lids from Candle Science – HERE  They have them in gold too. 🙂  Who knew it was a candle lid.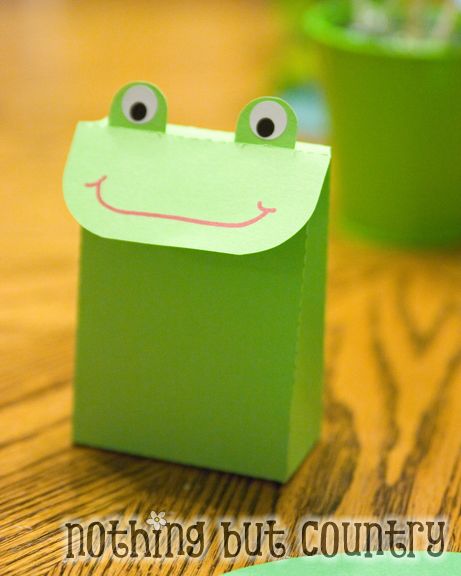 Frog Bags – are from Mr Printables – HERE  Again- I could have cut them all out by hand but I traced the PDF shape in Silhouette program and allowed it to cut it out for me. MUCH faster- on green paper. Used vinyl circles at 1/2 inch in white and 1/4 inch in black also cut on the Silhouette. Drew on the mouths. Put treats in it for the kids 🙂  Leap year only happens every 4 years 🙂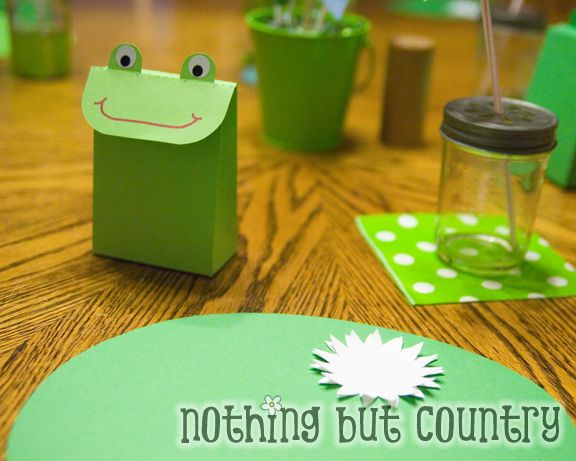 (You can see the lily pad better here, the 2nd star burst I added i curled up the edges.)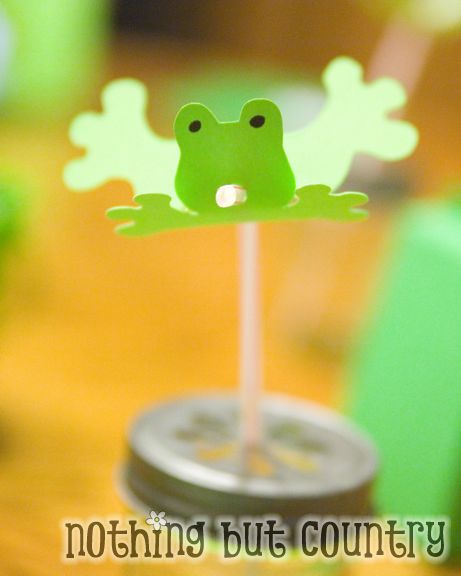 One more photo of that cute frog ha ha.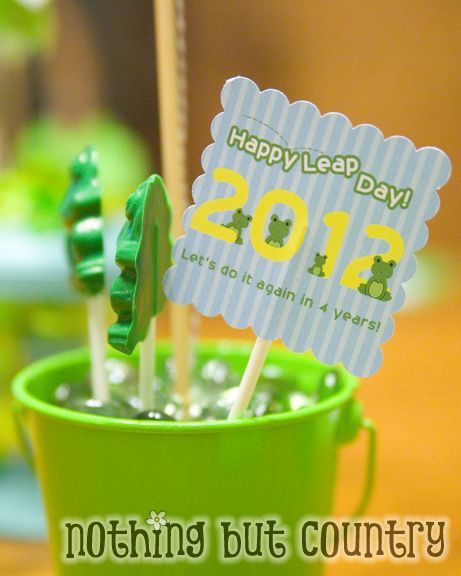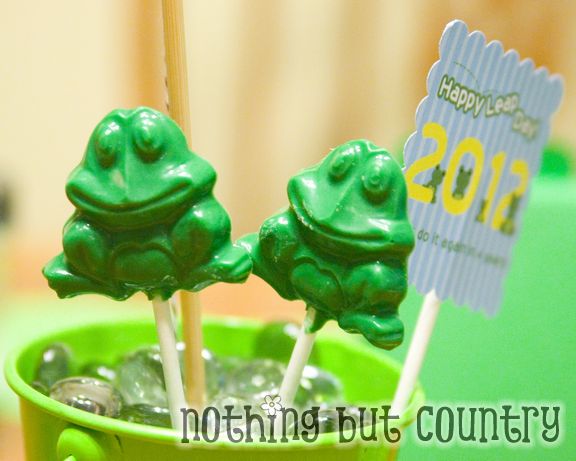 I had the frog molds left from my daughter's birthday 2 years ago.  I was happy to reuse them again to make candy frogs.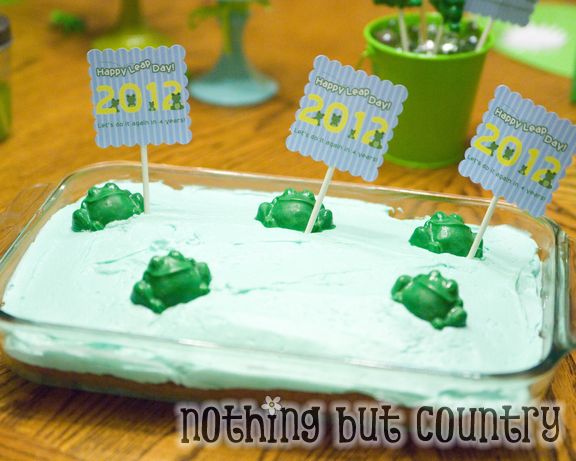 No dinner is complete with out dessert. Again- used the other candy molds I had from the birthday party- made 5 frogs to swim on our cake. Some of them holding a leap year sign 🙂   Cherry Chip Cake with homemade butter cream frosting.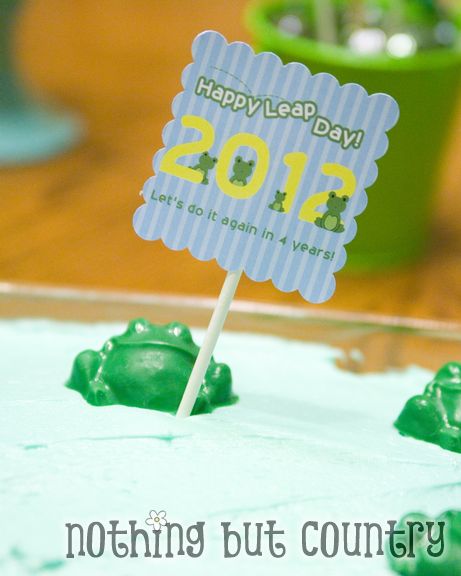 Frogs almost look like they are protesting something.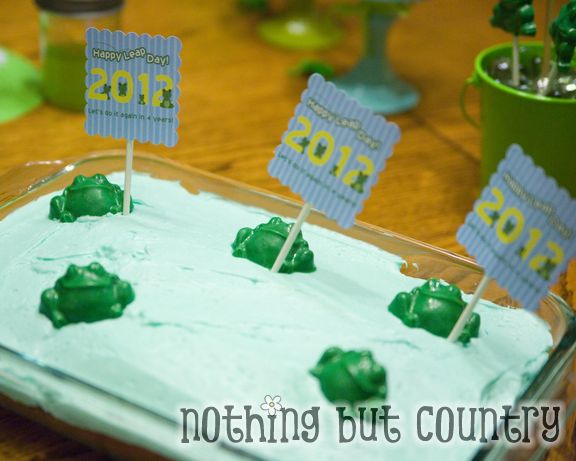 seriously this party was thrown together last-minute.  I hope to get a little bit more organized now that we have moved and I can locate all my supplies 🙂
HAPPY LEAP DAY EVERYONE!!