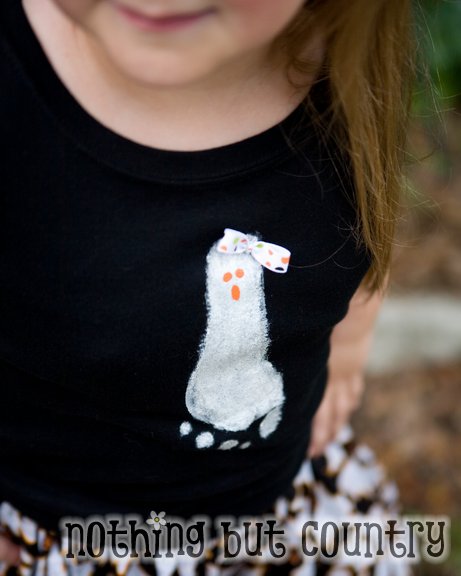 Halloween is just around the corner. Believe it or not. I know it's still SO HOT outside, but I like to get a head start on my Halloween craft making so it doesn't run up too closely to Thanksgiving and Christmas.  My favorite time of the year is here for getting creative!!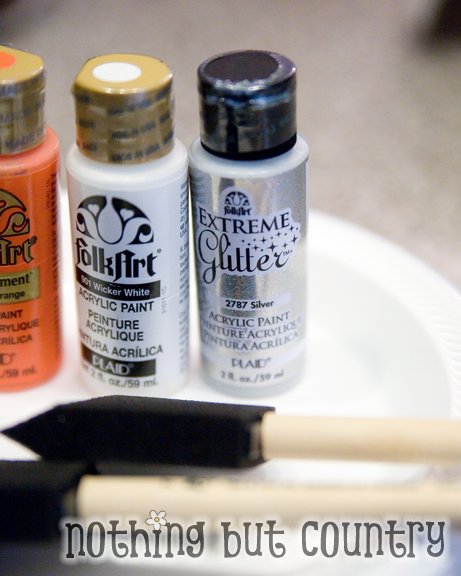 JoAnn's now carries this amazing glitter paint we spotted. Had to get some to try out! It's called FolkArt Extreme Glitter by Plaid. They come in many amazing colors. I have been waiting for glitter paint! I knew I wanted to make another shirt with my daughter- and picked up the color Silver.
I also used their FolkArt paints in White & Orange for this shirt.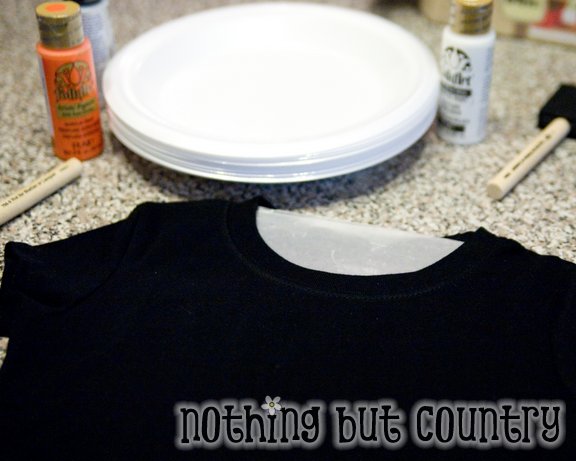 I purchased a black fitted girls shirt from Target.I love their fitted shirts.  However a regular T-Shirt would work just as great. I put a piece of wax paper inside of the shirt in case any paint may bleed through.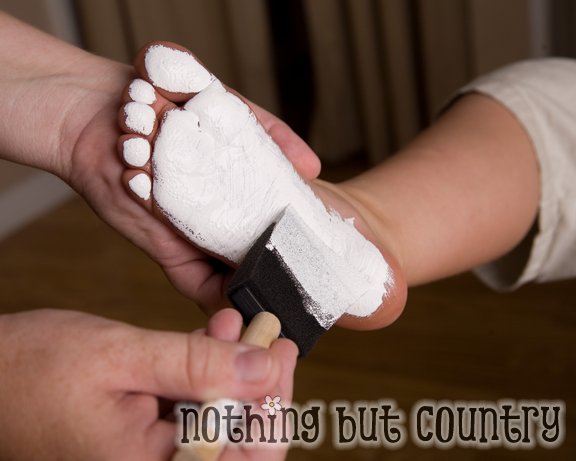 Using a sponge brush I painted my daughters (clean) foot with white FolkArt paint. I made sure I coated it very heavily.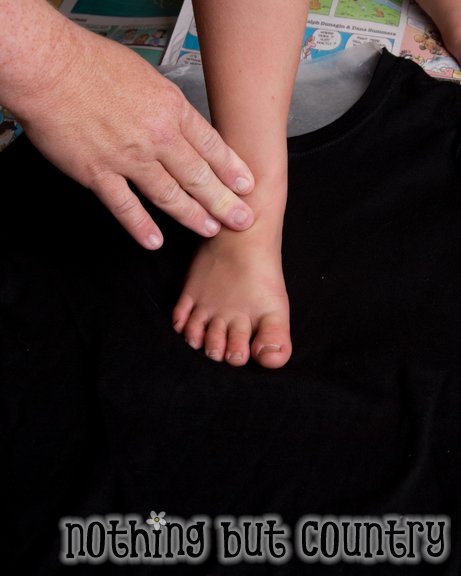 I placed the shirt on the ground and after I painted her foot (she was in a sitting position) had her carefully place her foot on the shirt (turning the shirt upside down to her) So the toes face downward and helped her press the foot in heavily.
We used newspaper as well to protect the floor. Carefully lifted her foot up and now we had her foot print. She totally LOVED having her foot painted. Using baby wipes- to remove/clean her foot worked great. Easy clean up!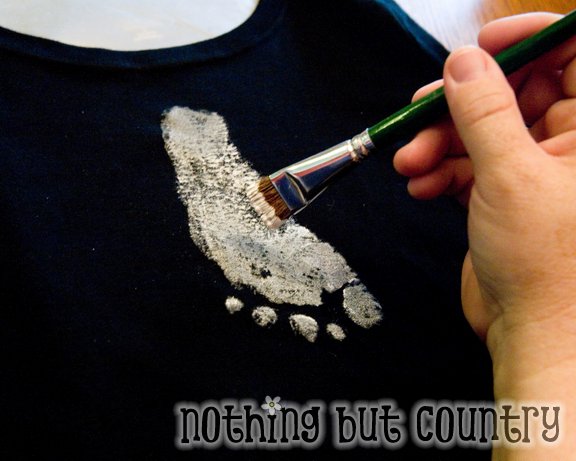 I then used one of my Donna Dewberry brushes by Plaid that I call the scruffy brush. (Maybe that is the official name too?) But any paint brush would work really. I used more of the white to help fill in areas on the foot print that I wanted more white paint to cover on the "ghost".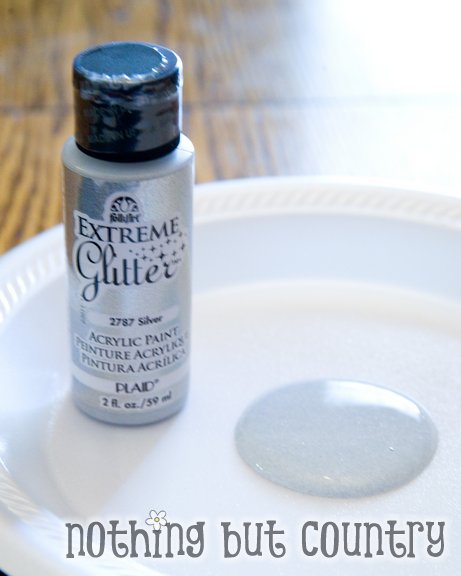 Now for the GLITTER.  My daughter and I LOVEEE anything glittery so this was the exciting step.
We waited a few minutes for the white of the ghost to dry.  We helped it along by using a blow dryer to speed up the drying process. We may be crafty but we are NOT very patient. HAHA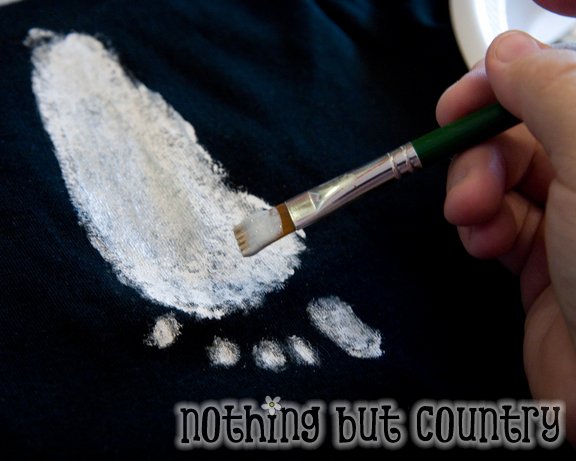 Using another paint brush we painted on the FolkArt Extreme Glitter silver paint all over the ghost. It goes on dull when it is wet, but soon as it dries it is SUPER sparkly and ever so pretty. We wanted our ghost to SHINE like the top of the Chrysler Building  (gotta love Annie). We put on 2-3 more coats.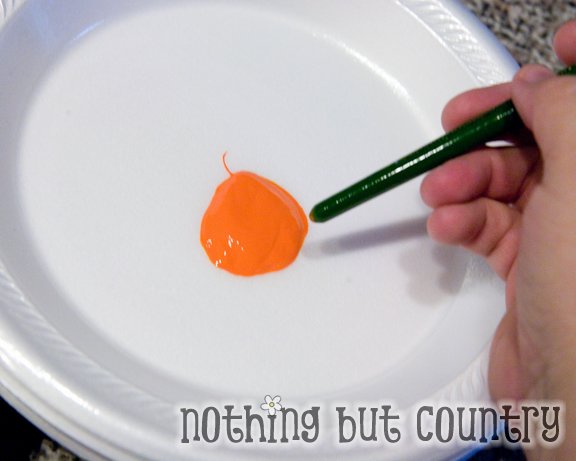 Using our blow dryer again– dried our shirt.  We put Orange FolkArt paint on our plate and using the back of our brush, we dipped the end in the orange paint.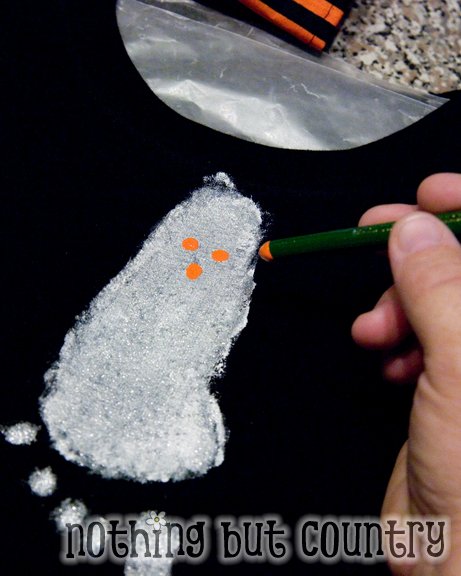 We added our eyes and ghost mouth.  Very simple. Dip and dot 🙂
DRIED our shirt again…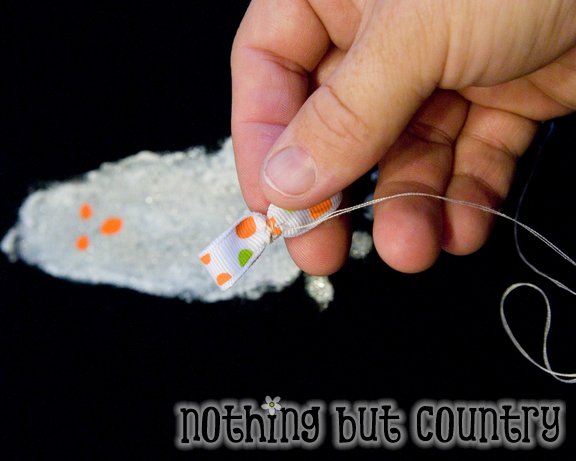 My daughter wanted to make sure her ghost was a "GIRL" ghost, I took some ribbon and made a loop and using my white thread to wrap it in the middle formed a bow.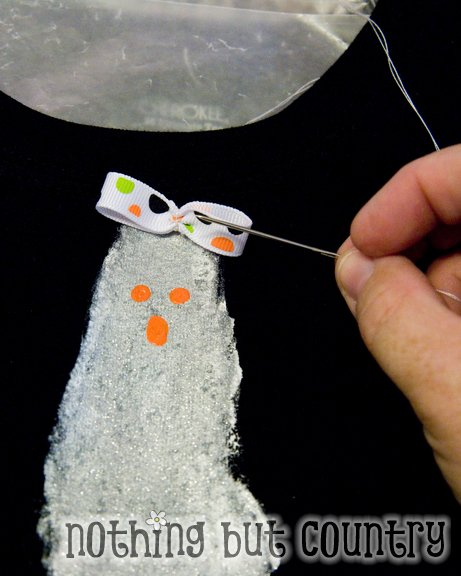 Did a simple hand stitch and sewed on the bow in the ghost "hairline"
Looks like a GIRL GHOST to me! 🙂  (see all the pretty silver glitter?)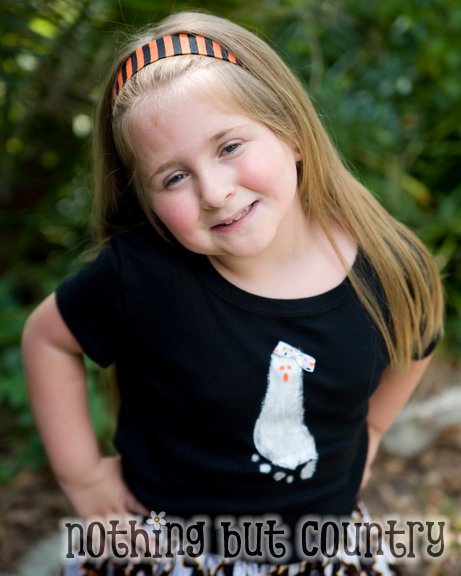 She is SO SO SO proud to wear her ghost shirt. She wore it already today to back to school open house. Never to early in MY book to start celebrating Halloween!
—
Now on to the good stuff (well the Ghost shirt is pretty cool too)
Plaid is offering ONE of our readers 5 of their new FolkArt Extreme Glitter paints!!! Isn't that awesome??  I am so excited!!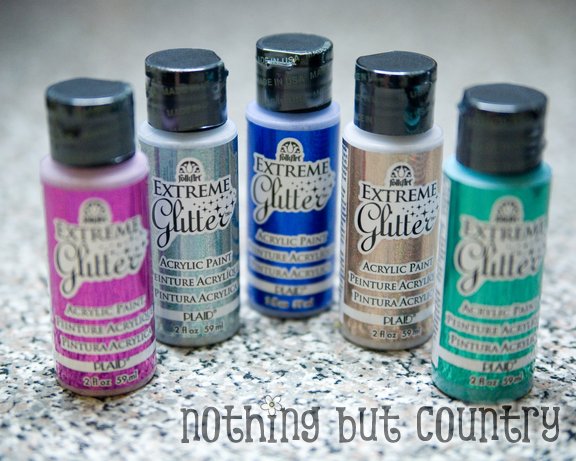 ***GIVEAWAY OVER****
One winner will be randomly chosen and will receive all 5 of these FolkArt Extreme Glitter paints as shown above!!! The prize pack is valued at around $15, and features the following new colors,
Aqua
Confetti
Royal Blue
Champagne
Fuchsia
There are SOOOOO many fun projects you can make with these new paints!!! I have a huge list of ideas especially for Christmas coming up with these glitter paints!!
So how can one of our readers win this fun prize pack?
Rules:
–Continental U.S.A. resident entries only (sorry)
–Giveaway ends August 19th, 2011 at 9:00pm EST.
–Winner will be announced in a new post on August 20, 2011
–Winner will be selected by using random.org
–Winner must contact us with in 5 days of announcement (August 25th) to claim their prize.
–Winner will receive 5 FolkArt Extreme Glitter paint colors- Aqua, Confetti, Royal Blue, Champagne & Fuchsia pictured above this post.
Required Entry:
-Comment here and tell us what creative creation you would make if you won these FolkArt Extreme Glitter paints? And be sure to stop by and visit Plaid at http://www.plaidonline.com
Additional Entries: (leave a separate comment for each entry once completed)
–Join Plaid Crafts on Facebook
–Join Nothing But Country on Facebook
–Tweet about this giveaway: I'm tweeting for a chance to win some amazing FolkArt Extreme Glitter Paints by Plaid @nothingbcountry http://bit.ly/rlv5DB
–Google Friend Connect – Nothing But Country (found on the right column "connect to us")
–Subscribe to Nothing But Country via RSS or email
6 ways to enter and a chance to win this giveaway.
GOOD LUCK!!!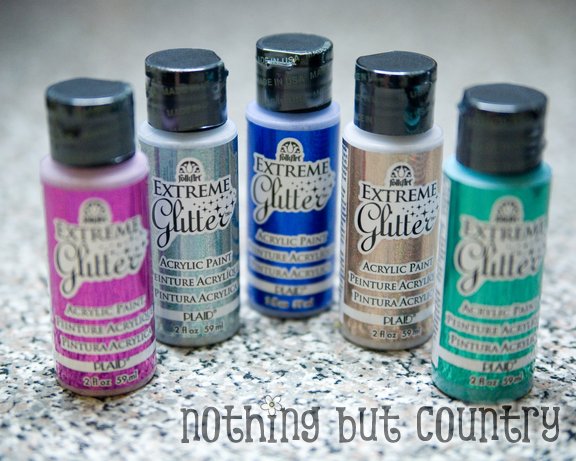 Disclosure: I am not being compensated for this post. All opinions are 100% mine. The 5 paint pack was kindly provided by Plaid for one random winner chosen in our giveaway. All materials used in this craft I shared were my own.