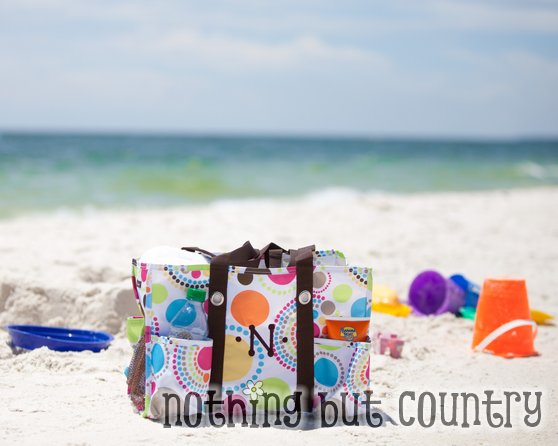 I am SUPER excited about this giveaway!!
Sarah Parris' Thirthy-One gifted us one of these amazing Organizing Utility Totes.  I couldn't WAIT to hit the beach. But before I even made it to the beach this bag was a life saver in so many ways.
We had to make a very quick last-minute trip out-of-town. I had 3 hours to pack a family, 2 dogs, and not knowing when we would be back. I grabbed my new tote and filled it with DVD's, portable DVD player, head sets, crayons, markers. You name it– to keep my kidlets occupied in the long car trip ahead. It was so nice to have a tote big enough and sturdy enough to carry all that in it!!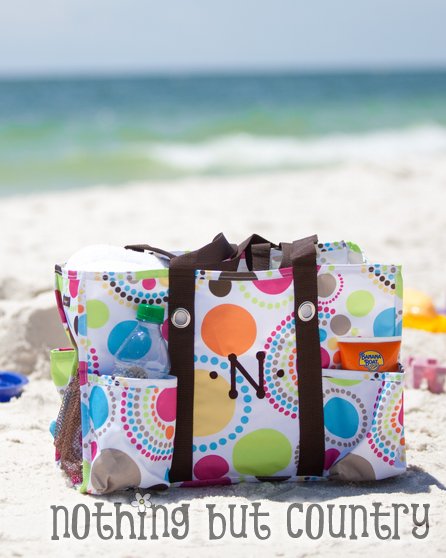 We used it also to go to the beach. It held all of our towels for 4 people, sun screen, water etc.  No need to take 2 or 3 bags. AND it is in my favorite colors of Pink/Blue & Lime green.  MAJOR PLUS.
Isn't it pretty??
I loved it sooo very much I asked Sarah if we could offer this same bag to one of our lucky readers?
Not only did she say YES (Sarah is amazing!!)
She is offering all of our readers 20% off till August 5th!! (15% off when you order- and then when the sale ends and all  the orders are collected she will take off an additional 5%)   TWENTY PERCENT!!! That is awesome. THANK YOU SARAH!!! I can't wait to pick out another bag!!  — CHECK OUT THE CATALOG HERE!!
WOOOO-HOOOO!!!!!!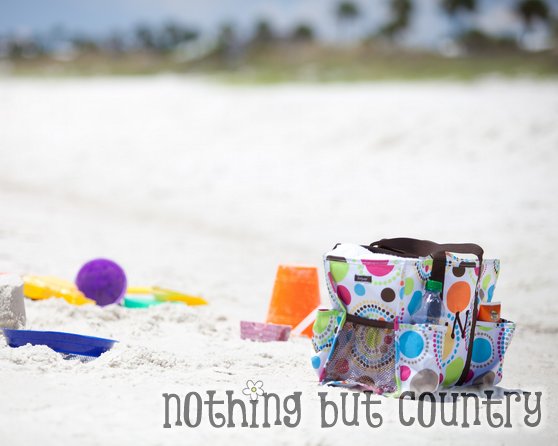 Can you see all the amazing pockets it has???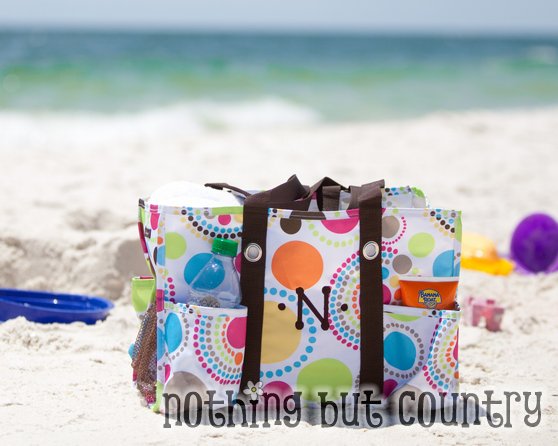 Yes– we were a bit obsessed in taking pictures of our new favorite bag. I just love all the colors!!!
OK– so the details on how you can enter for a chance to win this tote?
(The winner's bag will be non-personalized)
GLAD YOU ASKED!! I am totally excited!!
Rules:
–Continental U.S.A. resident entries only (sorry)
–Giveaway ends August 5th, 2011 at 9:00pm EST.
–Winner will be announced in a new post on August 6, 2011
–Winner will be selected by using random.org
–Winner must contact us with in 5 days of announcement (August 11th) to claim their prize.
–Winner will receive the non-personalized Organizing Utility Tote – same style pictured on this post.
Required Entry:
— Check out Sarah Parris' online catalog HERE and in the comments section of this post let us know which is your favorite item in the catalog.
Additional Entries: (leave a separate comment for each entry)
–Join Sarah Parris' Thirty-one on Facebook
–Join Nothing But Country on Facebook
–Tweet about this giveaway: I'm tweeting for a chance to win an Organizing Utility Tote by Sarah Parris' Thirty-one @nothingbcountry http://bit.ly/pnkf3z
–Google Friend Connect – Nothing But Country (found on the right column "connect to us")
–Subscribe to Nothing But Country via RSS or email
6 ways to enter and a chance to win this tote giveaway.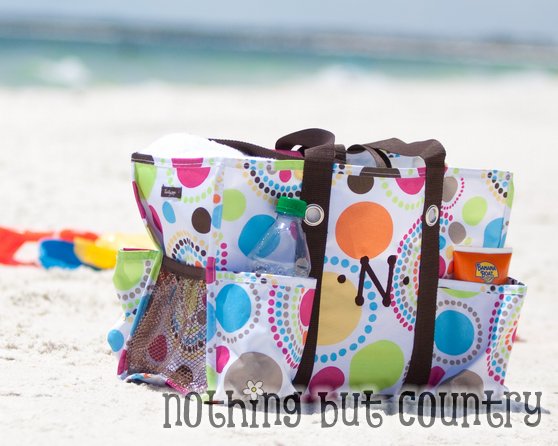 I can't wait to announce the winner!!!!
And don't forget– all of our Nothing But Country readers will receive 20% off of your Sarah Parris' Thirthy-one order by August 5th, 2011 HERE AT THE CATALOG.
Now that we are back from the beach- I plan to use this bag as my cubscout bag. Being a cubscout leader I have so much I have to bring with me each week- now I can do it in style!!
Disclosure: I am not being compensated for this post or for any sales made through the above links. I was gifted the utility tote and love it and wanted to share and offer a chance to win to one lucky reader and offer a discount to our readers too.