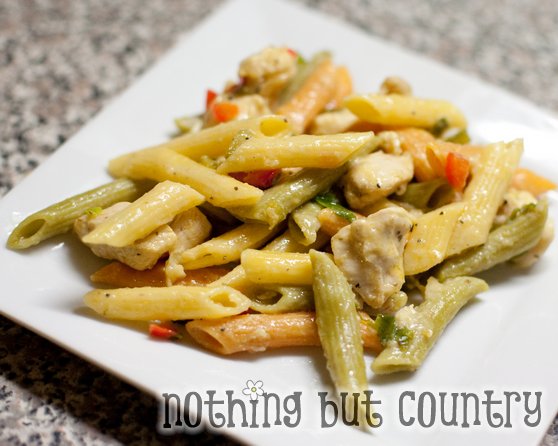 Lemon Garlic Pepper Chicken Pasta- say that 4 times really fast. HA!!
This dish was amazing. The family ate 2nd helpings (including the kidlets) and then the left overs were negotiated for lunch 🙂
This makes enough for at least 8-10 servings. So you can feed guest on just 3 chicken breasts and they are sooooo good.
Chad is the chef in this house. He just gets in there and uses up what we have and makes it up as he goes depending on what we have on hand. We had to document this after we tasted it so we know how to do it again.  Of course to share with you too. We will be making this very very soon again.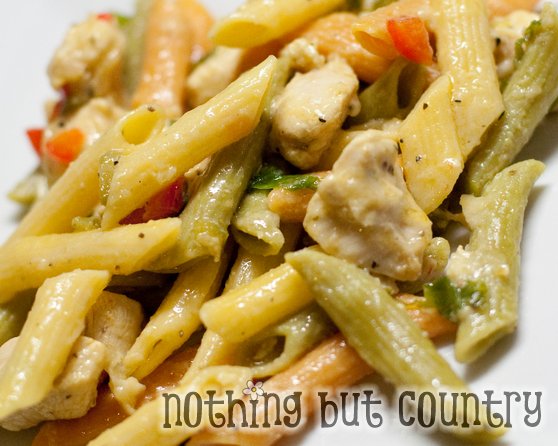 Check out how yummy this looks!!!
Lemon Garlic Pepper Chicken Pasta
Serves 8-10
Ingredients:
1-1 1/2 lbs of boneless skinless chicken breasts (we used 3)
1 1/2 tablespoon EVOO (extra virgin olive oil)
1 tablespoon lemon juice
1-2 teaspoons Garlic Powder (we love garlic so we used 2)
Salt/Pepper to taste
2 teaspoon lemon herb seasoning by McCormick
1/2 red pepper diced
1/2 green pepper diced
3 green onions diced
1 cup grated/shredded fresh Parmesan cheese
1 box penne pasta cooked to al dente (we used multi veggie penne pasta)
Directions:
In a large pot- boil your pasta till al dente
Chop up red and green peppers and green onions, set to the side
Chop/cube up your chicken breasts and put them in a large gallon size ziptop bag
Add into the zip top bag your EVOO, Garlic Powder, Salt, Pepper, Lemon & Herb Seasoning and Lemon Juice.
Marinade your chicken in this mixture for approximately 20 minutes (longer is better)
Squeeze your chicken in the zip top bag to help coat your chicken.
In a large skillet, with a small amount of EVOO, cook your red and green peppers, on medium/high heat for 2-3 minutes.
Add in to your skillet the entire content of the ziptop bag. Marinade and chicken.
Cook chicken till done but tender. 2 minutes before chicken is done add in your green onions.
Pour your entire chicken and pepper mixture into the large pot of cooked penne pasta (that you have already drained)
Add in 1 cup of fresh grated/shredded Parmesan cheese. Mix to coat your pasta.
We adding a splash more of lemon and EVOO to coat the pasta a bit more. Not needed but we wanted it just a tad bit more wet.
Dish your pasta, and garnish with more Parmesan cheese if you choose.
DIG IN & ENJOY!