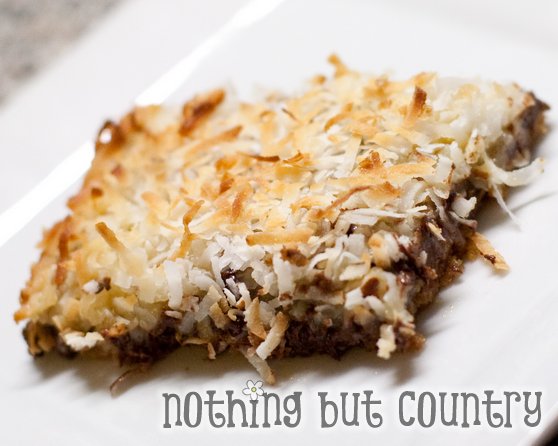 I grew up in the south all my life. I have had these amazing "Magic Cookie Bars" growing up.
This past weekend my beautiful 88 yr old Grandmother passed away. We got to see her just before she left us. Once she passed– if your from the south– comfort = FOOD.
Food started pouring in to my Uncles home. Family started coming in from all over, many were already living in the same town all their lives. HUNDREDS of people. That's what I know family to be. LOTS of FAMILY.
My husband is not from a "Southern" family. They do things differently so this was a new experience for him and my kids. I was actually excited they got to see what its like to have TONS of family. Cousins were in abundance to play with outside on the farm.
This is just one dessert (of SO VERY MANY) that Chad bit into and this particular one he said "This is just TERRIBLE!! I am going to have to finish it off to save the family from this terrible dessert". HAHAHA!
Magic Cookie Bars – recipe can be found from Eagle Brand Condensed Milk.
I am FLOORED he never tasted this insanely DELICIOUS dessert.  He helped himself to a 2nd and 3rd piece.
He quickly walked up to my Aunt and inquired where to find the recipe. When she said on the back of the Eagle Brand Condensed Milk can he was HOOKED.
We have only been back home less than 24 hours and he made them. He wants the world and our readers to know- if you have not tried this desert you are missing out.
The best part is- the simplicity is wonderful. Took us 10 minutes to put it together.
My mother in law had never heard of it either. Nor my Father in law.  Clearly it must be a southern thing? But they are hooked as well.  Soon as they cooled we sent them home with extras.
So– just in case no one else has EVER heard of this– he wants to make doubly sure he did his part and made sure I blogged about his new favorite dessert 🙂
Check out that delicious cookie bar!! YYUUUUMMMMMYYYY!!!!
Just in case you missed the link above– be sure to download the recipe for yourself HERE.