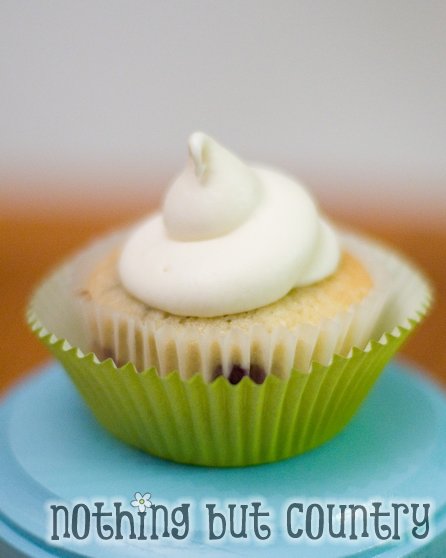 Feels like summer time here in Central Florida. One of the many favorite flavors of summer is the blueberry. At leas it is for me 🙂
I love blueberries and every year I get a huge 5 lb bag ordered from the farmer. YUM!
Since Chad and I have been in cupcake mode lately we wanted to try our hand at a blueberry cupcake. Using cupcake recipe with blueberries. Not to be confused with a muffin. 🙂 My kids still call it a muffin. We correct them – CUPCAKE.  So we have the MUFFIN vs CUPCAKE war in our house. Parents are always right, RIGHT?
CUPCAKE it is.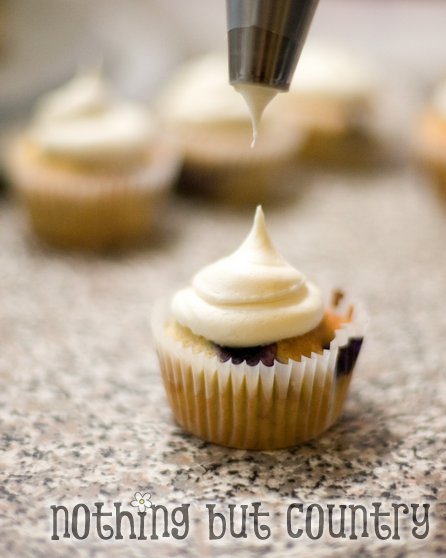 We frosted it with a yummy cream cheese frosting. Trying to keep it on the lighter side. Lots of cupcakes I love to load up with a big swirl of frosting- but this one I wanted to tame it a bit so I can enjoy the yummy blueberry flavors too.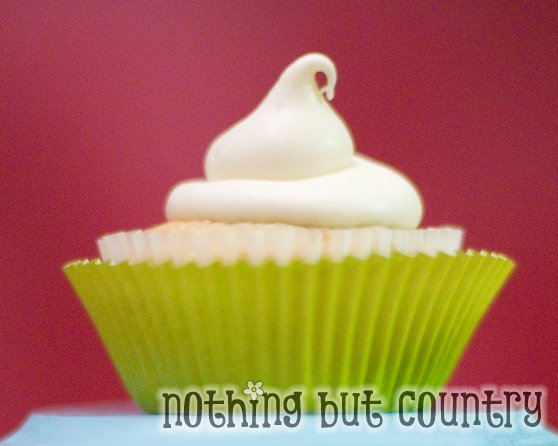 This one is so cute.. with the little flip at the top. Cupcakes make us happy. We need more people to invite us places so we can keep creating and having an excuse to bake more.
This cupcake really is very moist and wonderful.
Blueberry Cupcake with Cream Cheese Frosting
Makes 30 cupcakes
(You can divide the recipe in 1/2 with no issues)
Cupcake:
Ingredients
2 sticks unsalted butter
4 large eggs
2 cups granulated sugar
3 cups all-purpose flour
1 teaspoon salt
2 teaspoon baking powder
2/3 cup milk
4 teaspoons vanilla extract
3 cups blueberries (fresh or frozen)
Directions
Allow your eggs and butter to get to room temperature. (Very important)
Preheat your oven to 350 degrees F. Add your cupcake liners to your medium cupcake pans.
Cream your butter and sugar together on medium speed until it is nice and fluffy. Approximately 3-5 minutes.
Add your eggs to the cream mixture and mix well.
Sift your flour, salt and baking powder together in a separate bowl.
Beat in your dry ingredients into the  creamed mixture slowly. Alternate with adding your milk. Mix for 3-4 minutes.
Fold in your blue berries and vanilla.
Fill your cupcake liners 2/3 to 3/4 full with your blueberry batter.
Bake for 20-22 minutes till your toothpick comes out clear from the center.
Allow your cupcakes to cool before frosting.
Frosting:
Ingredients
1- 8 ounce package of cream cheese
6 tablespoons of unsalted butter
3 1/2 cups of confectioner's sugar
1 teaspoon vanilla extract
Directions
Make sure your cream cheese and butter are room temperature (very important)
In a medium bowl cream together well the cream cheese and butter until smooth.
Slowly add sifted confectioner's sugar and continue to cream your mixture until all the lumps are gone.
Add vanilla and mix until fully integrated.
Do not over beat the frosting.