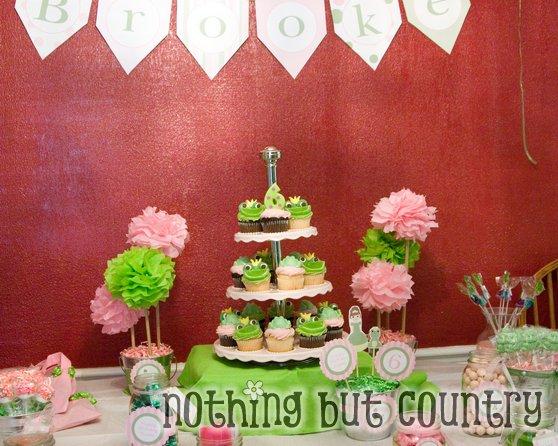 Our candy table 🙂 Lots of Pink and Green Candies in various jars I had. Mason Jars, lock lid jars etc. I love to collect jars so creating this tble was fun.
We used pink or green starburst, or strawberry whopper candy, andes mint candies, lollipops in green and pink on long sticks found at our local party store.
We created our own Frog Lollipops. Using a candy mold and candy melts.  Then individually bagged them. They were very adorable. We stood them up in a pail with craft foam to help them stand upright.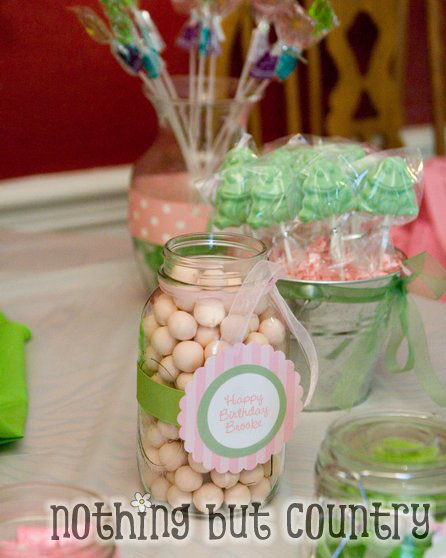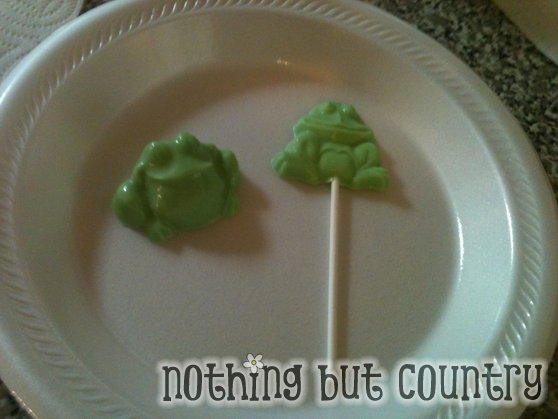 The big frogs we put on top of cupcakes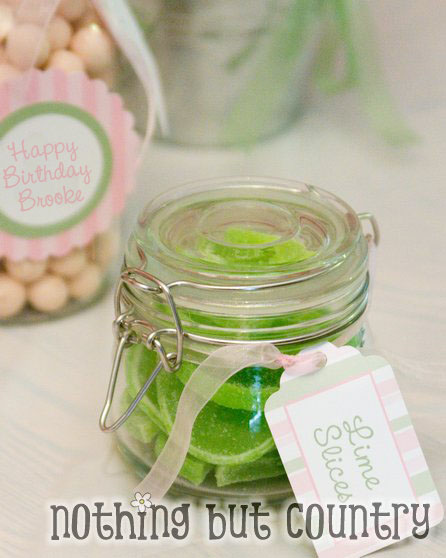 Left over lime slices we had from the prince frog cupcakes we featured over the weekend. Found here
Tags were used by punching out with this fun punch – Uchida Clever Lever Xtra Giga Craft Punch, Merchandise Tag, 3-1/8-Inch-by-2-1/8-Inch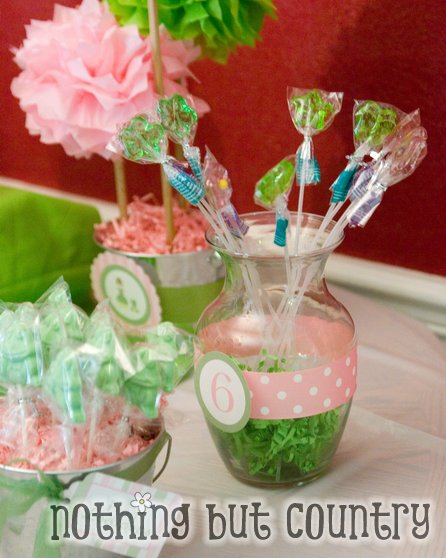 Using paper filling in green and a vase we had on hand for holding our lollipops. A piece of ribbon and punched out the number 6 and it was an easy addition to the candy table.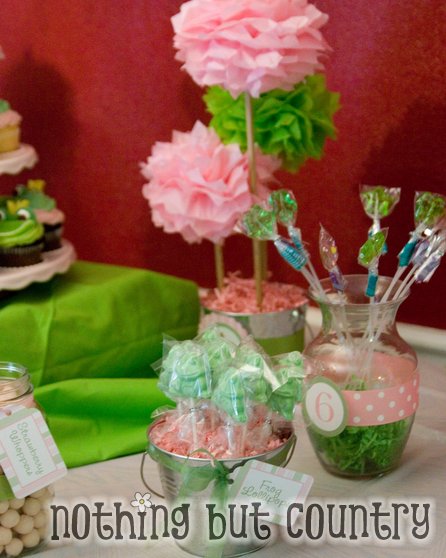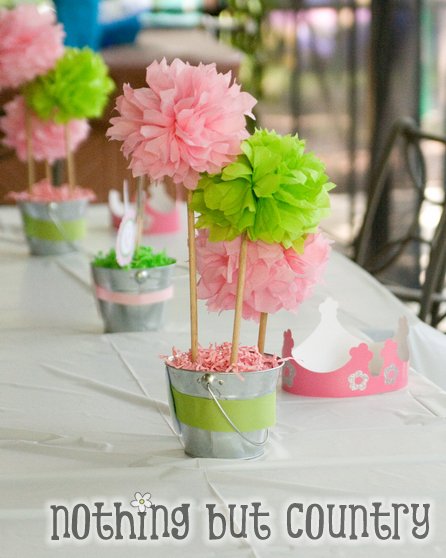 The adorable centerpieces – instructions were found HERE and HERE. By Frog Prince Paperie- Part 1 and Part 2 of the instructions. Very easy to assemble. I got my tin pails from Target in the 1.00 section. I always hit up target and buy up pails etc. Never know when I will need them and I was so glad to have purchased them in the spring- and had them for a fall party.
Since it was a pool party. We had it on the porch as well.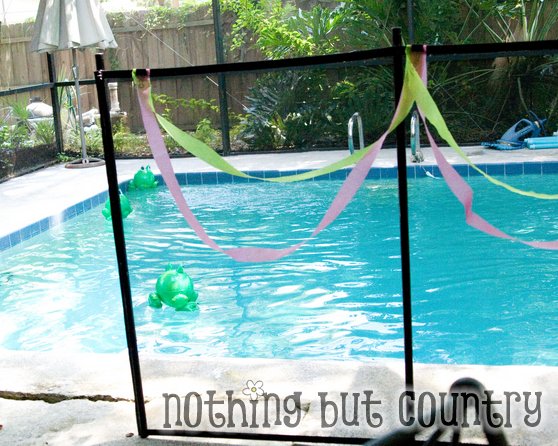 Pool area decorated and added some of those frogs we included in their goodie bags to float int he pool with them. Here is the GOODIE BAG post.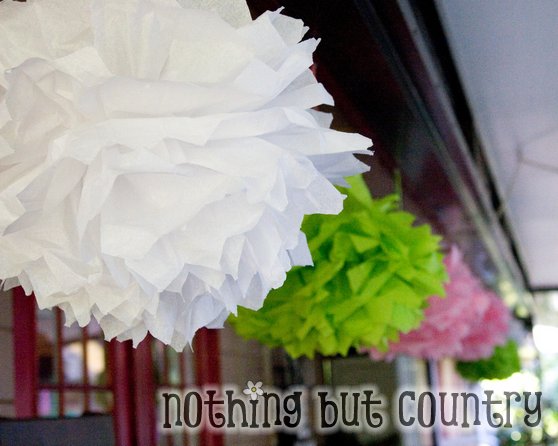 Paper Pom Pom's were made. Similar to the small ones on the table display but using a FULL pack of tissue paper and hung them on the ceiling on the porch in the party colors.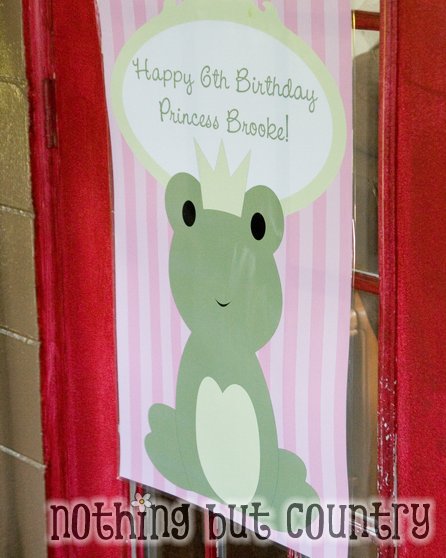 The Frog my husband embroidered on the Goodie Bags, we put on a large 24×30 poster and laminated it. The girls played pin the lips / kiss on the frog prince.
We had various finger foods. One of them we made Peanut butter and Jelly sandwiches and cut them out to look like a crown for our little princess.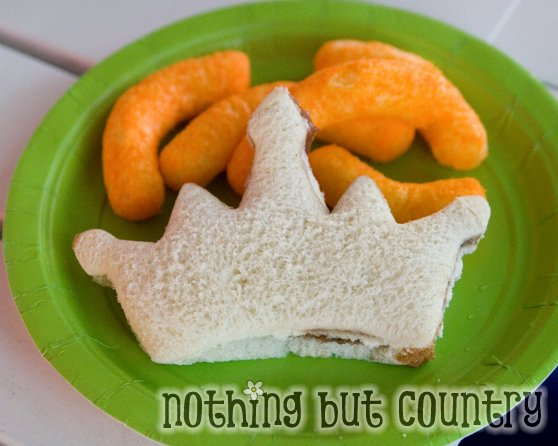 Last but not least– we also had crafts we made.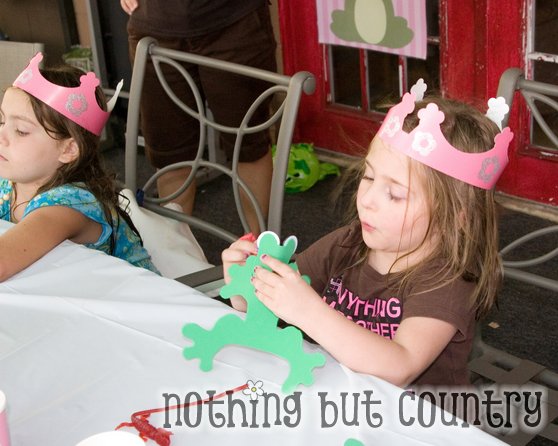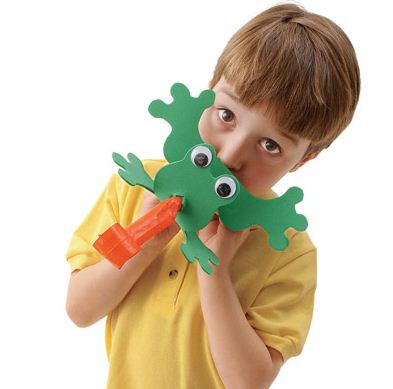 You can find this easy and fun craft at FamilyFun.com — CLICK HERE
And the cute/pink crowns the girls wore during the party– I found a pack of 12 at Joann's on clearance for 2.00
Definitely a party for a Princess. She loved very bit of it. We did other activities like Face Painting and other games, swimming and the usual party festivities. It was a great day to be a little Princess.