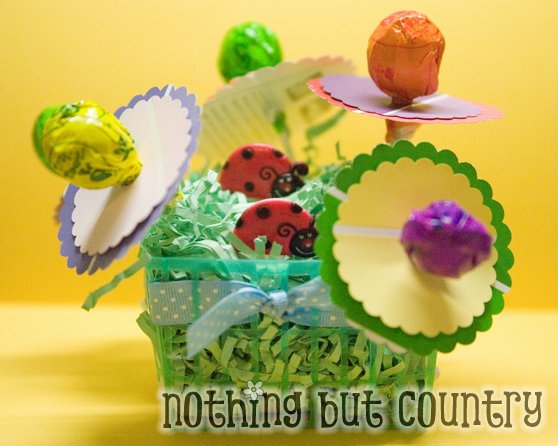 May Day Baskets- The kids and I wanted to make some flower baskets we could give away. We also wanted to be frugal and use things we already have around the house.
Were very pleased with our final project. 🙂 We only had to purchase the lollipops 🙂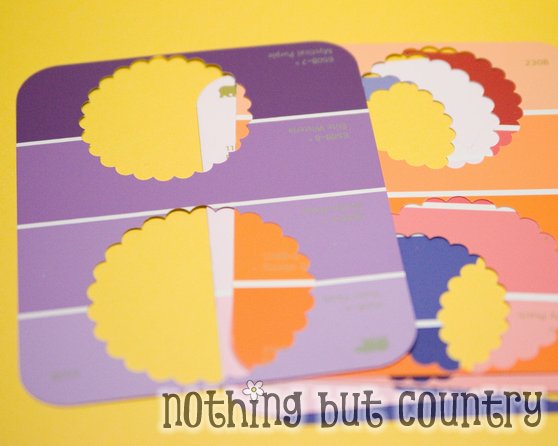 We had a few left over paint sample cards from our local home improvement store. So we punched out 2 different size scallop circles out of each card. One bigger than the other.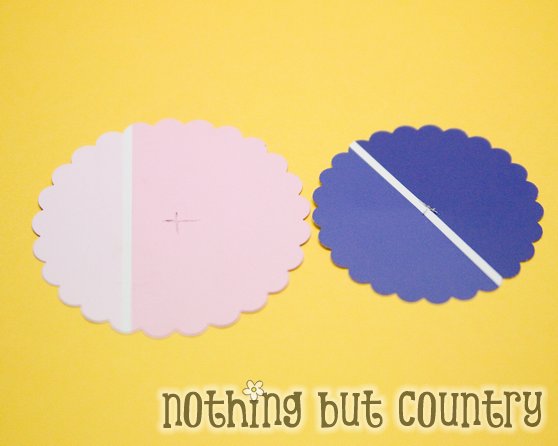 Then I did this part- used an exacto knife and cut a X in the center of each circle where the lollipop stick will go. We matched up colors to give contrast and variety.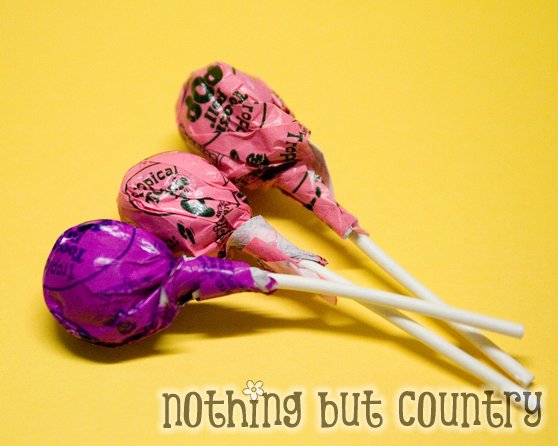 We found the pretty pastel colored lollipops in the Easter section before Easter.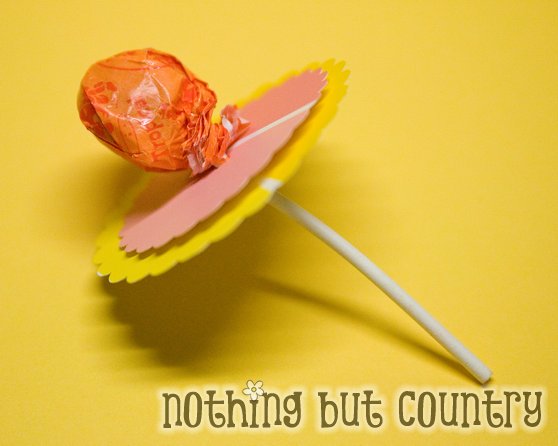 We simply stacked a small circle on top of the larger and pushed our lollipop thru the centers all the way through.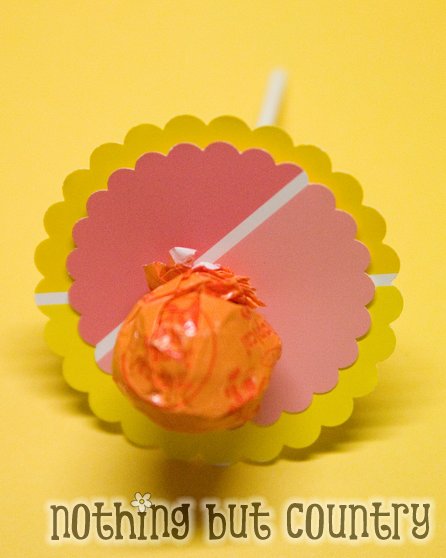 SO PRETTY!!!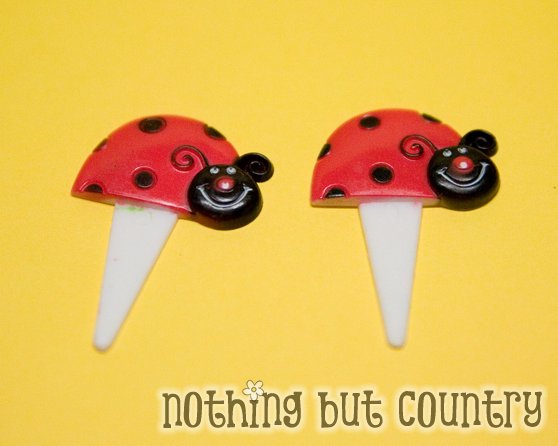 A month ago- a girlfriend had her daughter's birthday. And these ladybugs were on her cupcakes. She had so many cupcakes left over from the party, she saved me all the ladybugs because she knew I am crazy for ladybugs. I have great friends to think of things like this for me!! I LOVE THEM!!
So we used the cupcake pins for our basket.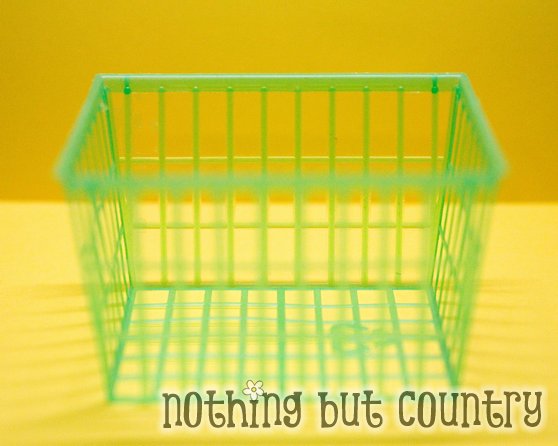 During strawberry season here in FL, we saved all our plastic baskets our strawberries came in 🙂 Never know when you might need it. 🙂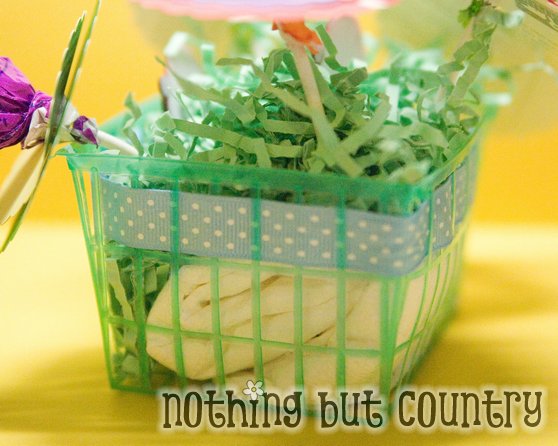 To help the flowers stand up– I didn't use the paper grass to hide the sides very well on this basket just so I could show you how we did it. The other baskets we made we completely covered all the sides.
We just rolled up tightly some kitchen paper towels and secured it with tape and put it in the bottom of our basket. Since it was folded tightly we could use our exacto knife to poke holes where we wanted to put our lollipops in.
Also- I failed to mention. We used some scrap ribbon to weave in and out on the top of the strawberry basket for decoration.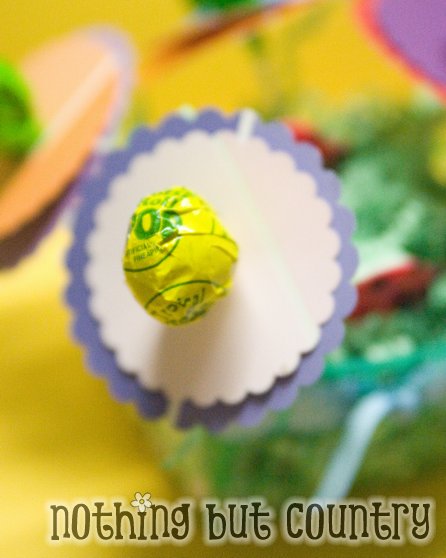 We took our paper grass then and covered all the sides and the top to hide our paper towel. Placed in all our lollipop flowers.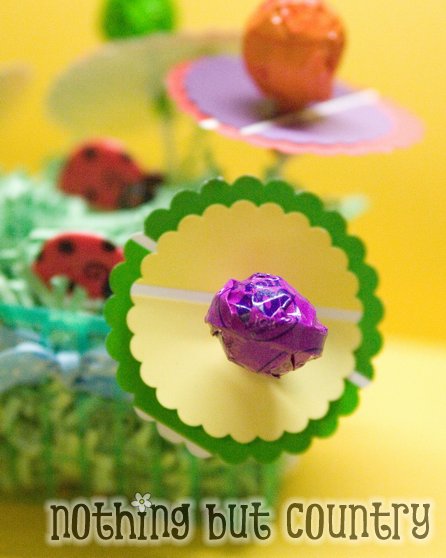 You will need to have flowers facing in all directions. Lollipops are pretty top-heavy and having one in each corner keep the basket nicely balanced. Then we stuck in a couple of cute ladybugs.
We can't wait to pass these out to people on Sunday
Love that we used items we already had in our home other than the lollipops 🙂
HAPPY MAY DAY!!