April Fool's day came and went.  I love EVERY holiday. In this house if we can we celebrate. My kid's were looking forward to the dinner. They were not sure what we had up our sleeves.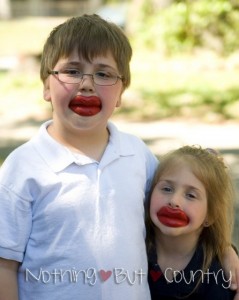 They were very surprised!! Candy Sushi – or FUSHI as we call it.  Fun Fake Sushi. 🙂
My daughter is not a Sushi fan at all. ( the real stuff ) So when I brought it out.  I got the – "AWWW MOM!!! Can I just have a corn dog instead??"
HA!
She looked closer- then added – "OHHHHHH, CHOCOLATE SUSHI??  Okay, I like this kind of sushi now!"
We love sushi in this home. Dad often makes homemade sushi –  Click here for our homemade REAL sushi recipe.
They wanted to dig in. But before they did. We had ordered out for Chinese dinner. We had it hidden away. We brought out the REAL dinner.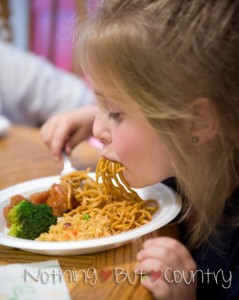 Enjoyed it, then we dove right into the FUSHI. 🙂 YUM!!
The sushi was all made with candy, rice treats we prepared, fruit roll ups and fruit by the foot. Candies included – runts, mini M&M's, Swedish fish, Rainbow colored Twizzlers, Various Little Debbie snack cakes, gummy worms/snakes, Candy Lime Slices & Marshmallows.
Pretty awesome spread?!? I was very happy with how it turned out.
I will attempt to explain how they are all made. Let's start off with the easy ones to make….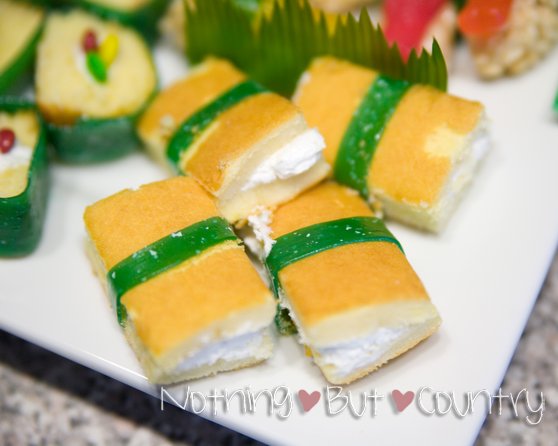 These are made from Little Debbie company snacks- Banana Twins. They come with 2 cakes in a package. I cut each cake in 1/2 giving me 4 rectangles. I used my Tropical Fruit by the Foot flavor from Target brand.  With Kitchen scissors I unrolled a piece that was long enough to wrap around 1 of the rectangles. Then I cut it in 1/2 to make it thin. I wrapped all 4 pieces. EASY RIGHT?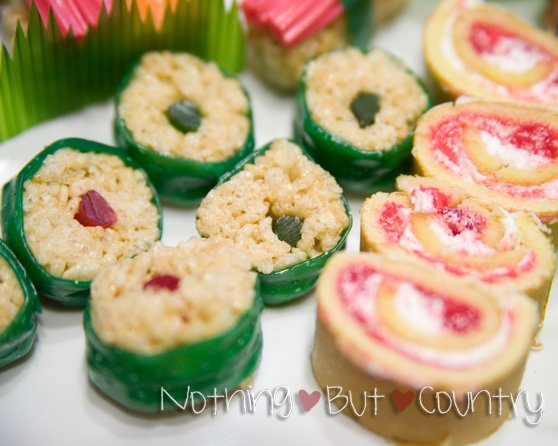 The Chocolate  sushi roll and strawberry sushi rolls are simply cut up Little Debbie Snacks.  Swiss Rolls and Strawberry. They were fun to have on the plate to look like sushi.
On to the more involved pieces. NOT hard, just involved….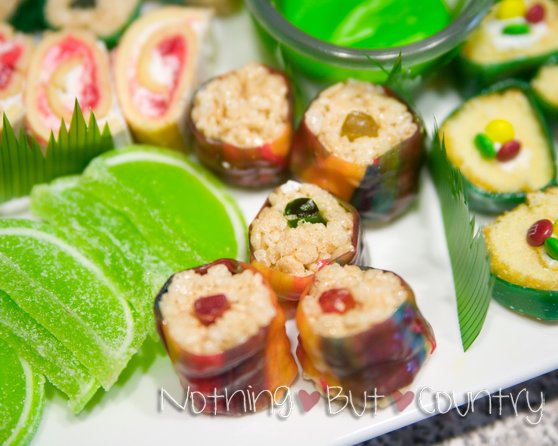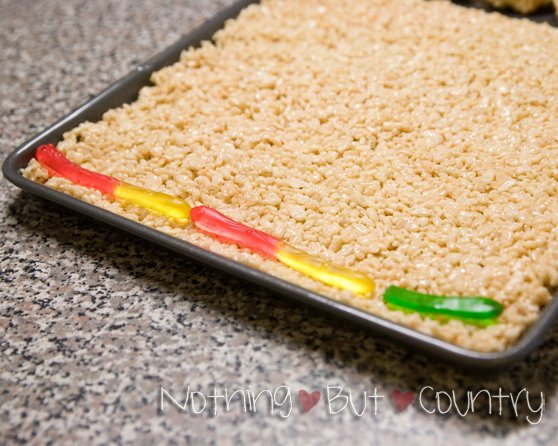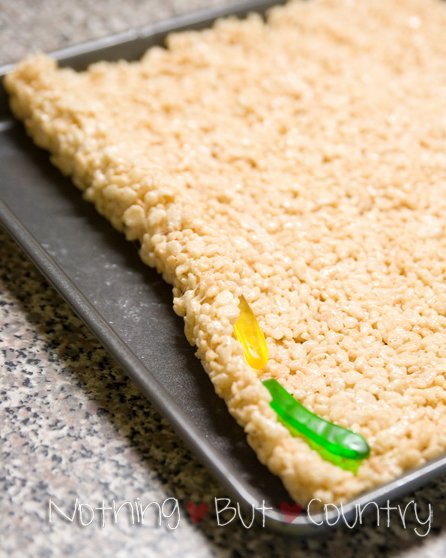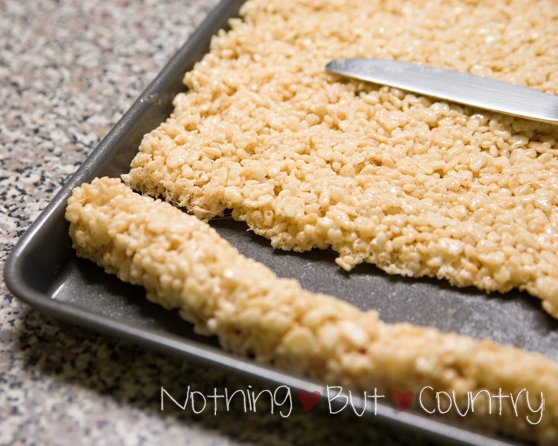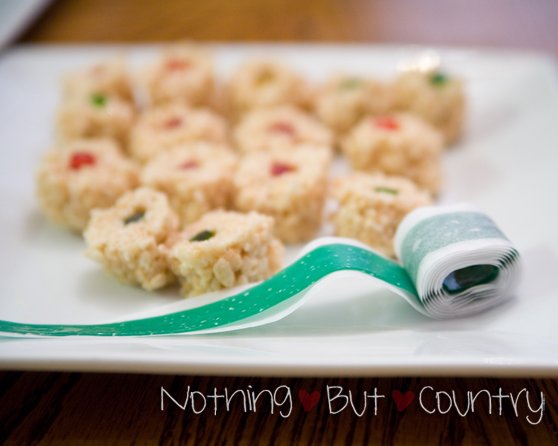 I prepared marshmallow & rice cereal treat. Spread it into a greased cookie sheet with sides.  I placed my gummy worm/snakes and rolled over the rice treat. As a sushi roll. I cut the roll out and then cut my pieces of sushi. I wrapped them using the green/blue fruit leather by the foot, or I used multi colored fruit roll up to give 2 different looking rolls.  Keep your hands clean, and dry when using fruit leather.  Just sayin'.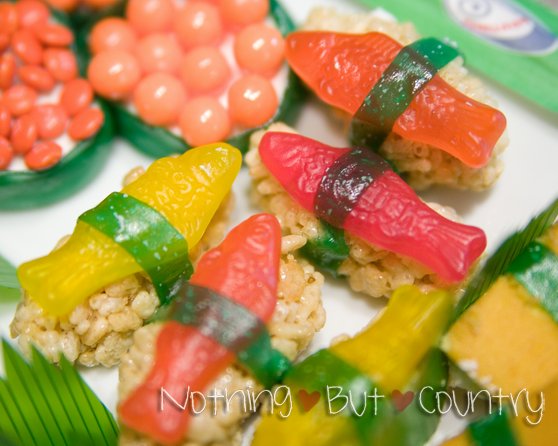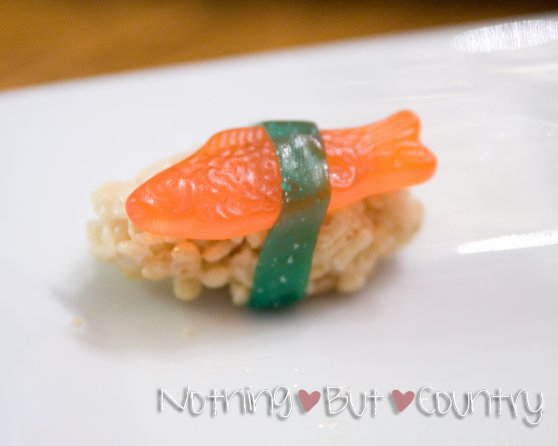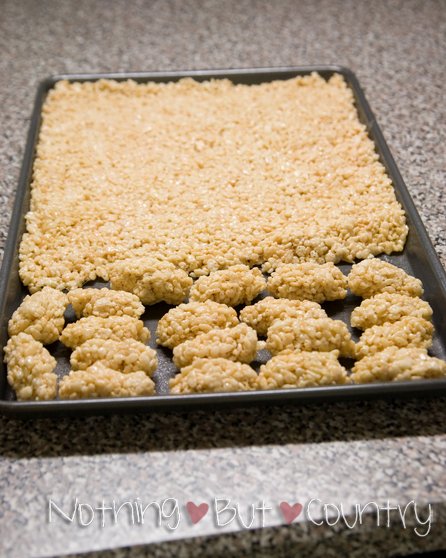 The sushi Fish rolls were pretty easy. I shaped the rice treat into sushi shape rice. Added a Swedish fish on the top and then again using the fruit leather by the foot, cut thin in 1/2 wrapped the fish on the top.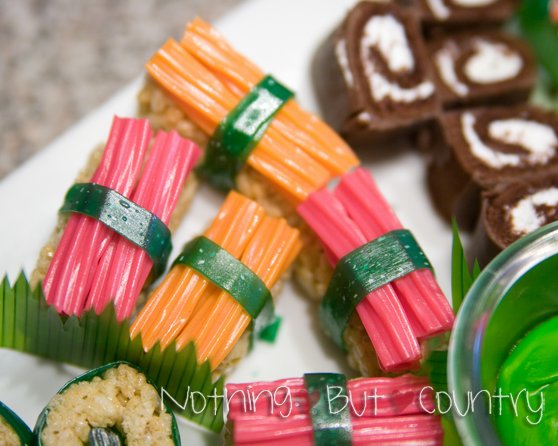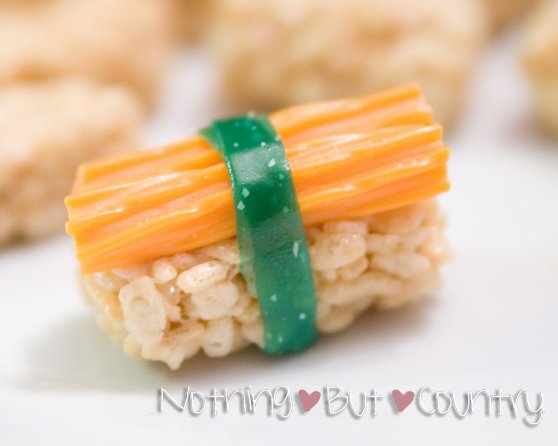 Similar method as the above fish sushi. I cut out rectangles of the rice treats. I used red and orange Twizzler candy, and cut the strips in 1/4 pieces. Then I added 2 pieces, and attached them to the top of the rectangle rice treats as I did the fish.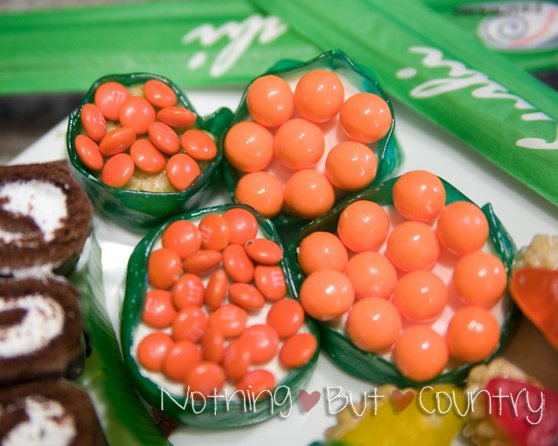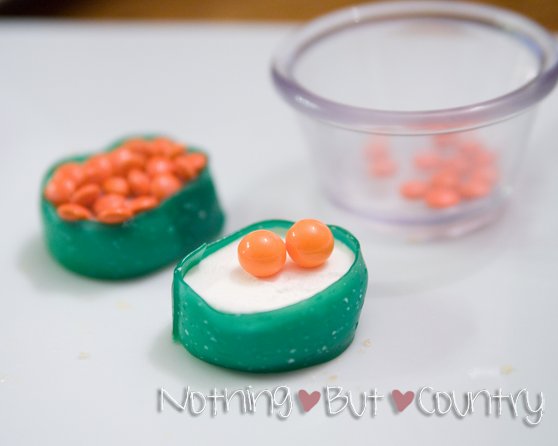 Caviar was a little trickier. I used a marshmallow and with my kitchen scissors, snipped off a piece thinner then the width of my fruit leather by the foot. I then wrapped the  marshmallow with the fruit leather making sure the I kept all the extra width of the fruit leather  on the side that I cut. Because you cut the marshmallow it is very sticky, and that helps hold on your candy. With that overage it also looks like you filled the whole piece with candy which you did not. I can't imagine a mouth full of candy only.  Caviar was made by 2 different candies. I picked all the ORANGE mini M&M's out for 2 of them, and then 2 others I made with just the orange candy's picked out from the runts.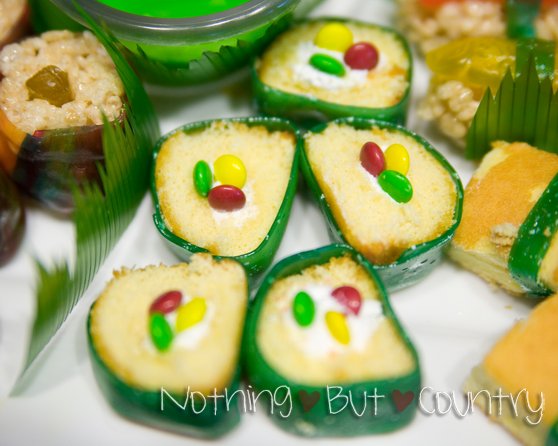 My last piece of Sushi. Cut put the Cloud Cake  into pieces that were the same as my fruit leather width. I wrapped each piece with the fruit leather, and then using the same mini M&M's- added green, yellow, red into the icing filling.  Before i started my project. I sorted all the color's of the chocolate candies to speed up the process.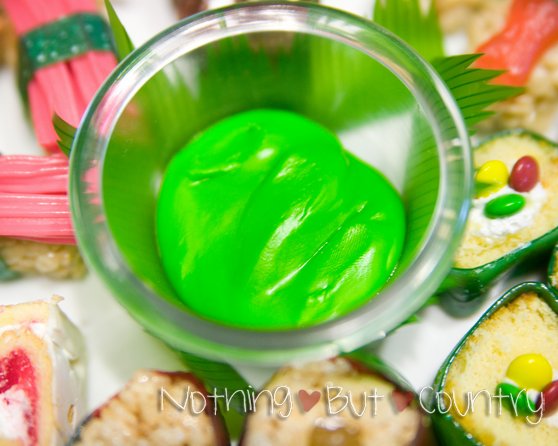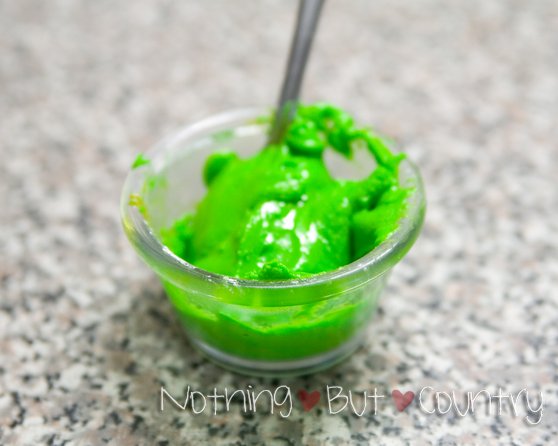 Wasabi was easy to make.  Powder sugar, very very little water, food coloring. I made a very thick paste. Dry enough that I could actually kneed it with my fingers.  Added it to the sushi for a fun effect.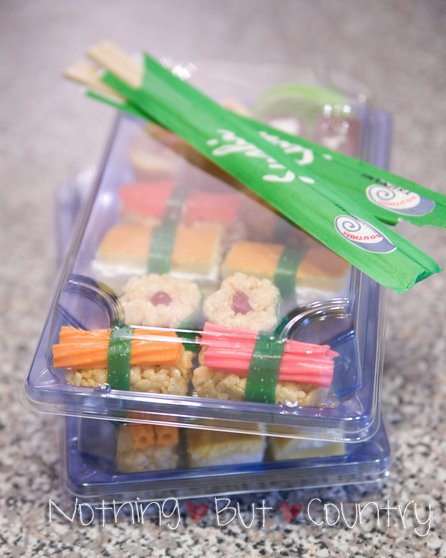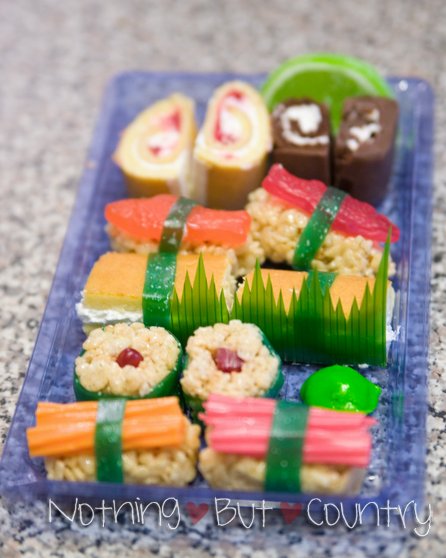 And for the Grandparents. We delivered them FUSHI SUSHI too. 🙂  We asked our local Publix if we could have a few boxes. They were more than happy to help. (THANK YOU PUBLIX!!) They gave us boxes, the cute green grass that we used in our sushi, and even gave us chop sticks. 🙂  The grandparents LOVE our April Fool's surprised we delivered to them later that evening. 🙂
Definitely a winner dessert!!
Hope you all had a wonderful April Fool's with lots of fun pranks!