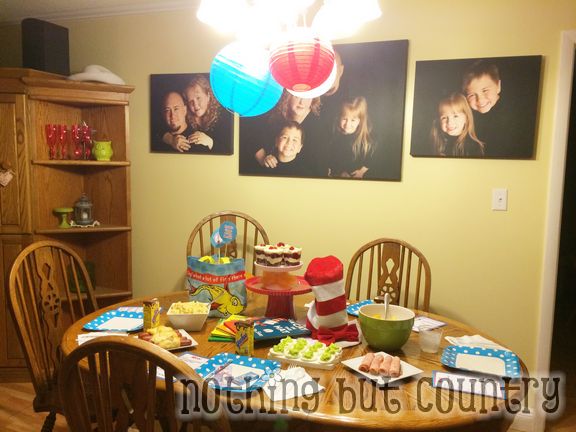 We love themed dinners in our home. And it gets easier each year actually. Because I add or make a few things each year and keep saving it for the next year. Also when I see things in the store all year long I may purchase them there. Many I found in the dollar section of Target or at the Dollar Tree. 🙂
Dr. Seuss is big in our house. Even 4 years later and my 5 yr old is now 9 and I have a teenager. They still look forward to a fun dinner. I know I can't do this when they are 18 so I will keep this up till I no longer can. I will save it- then I will use it for my grandkids 🙂
I usually plan ahead- this year I did not. However I had all of these food items on hand and used what I had in my stash. Which made it more fun for me- because I could still pull off a themed dinner (this one is not overly healthy– but it made the kids happy).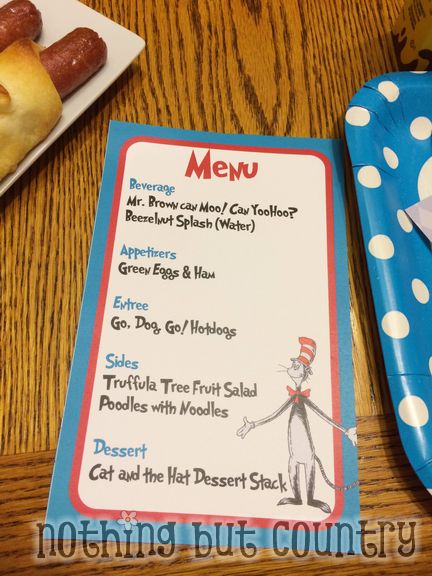 I made this cute menu in Photoshop. Based on what we had for dinner. I didn't allow them to see it till they sat down at the dinner table. 🙂 Cute and quick!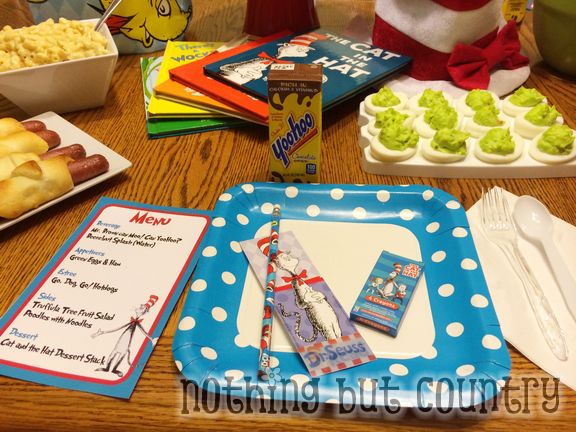 Mr. Brown can Moo! Can YooHoo drinks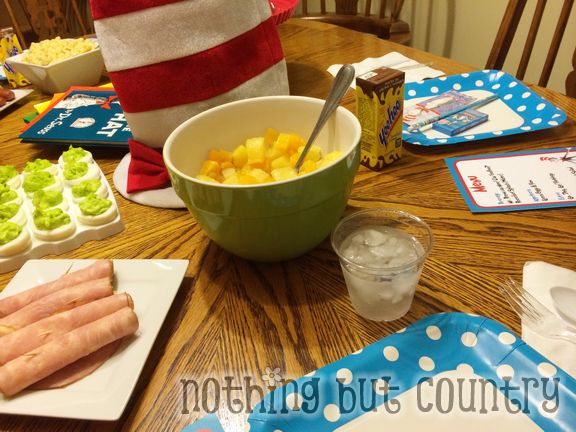 Beezlenut Splash (Water) for me
Plates I found about 2 years ago at Dollar Tree. I buy up cute cheap plates when I see them in colors I use alot. Generally Blue and Green goes with most holidays. They sold Pink and I often use that for valentines day.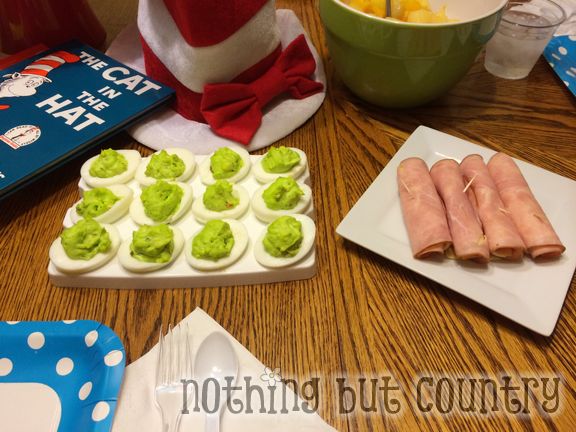 Green Eggs & Ham.  SIMPLE-  Ham lunch meat rolled up up with cheese (toothpick to secure) Deviled eggs made green 🙂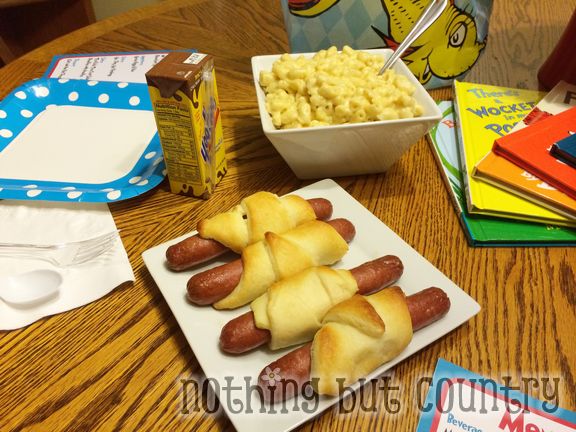 Go, Dog. Go! Hotdogs. Simple- baked pigs in a blanket. Using a can of crescent rolls.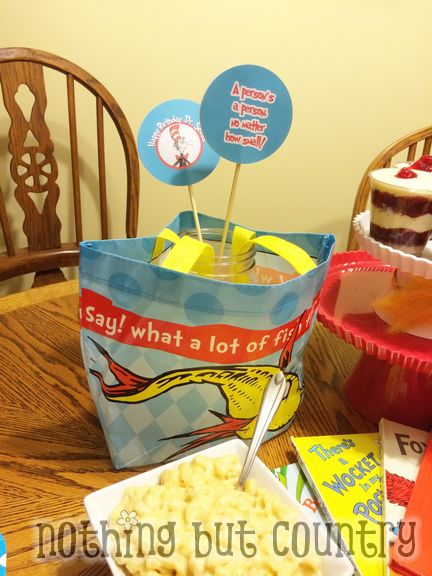 Poodles with Noodles. Made from scratch Mac & Cheese (but I don't care for the box type but you could) Mine was made with creamy havarti cheese YUM!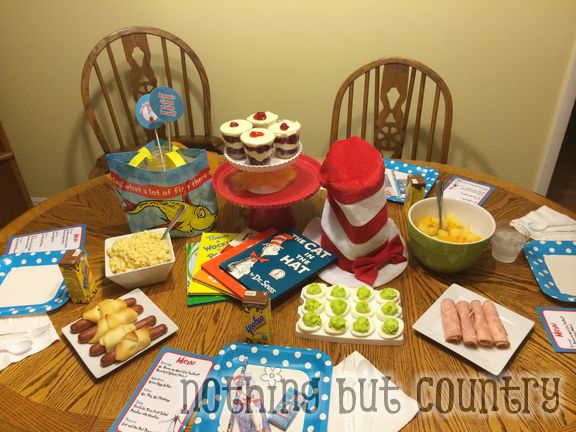 Made a fruit salad- and alot of trees have fruit so we called it Truffela Tree Fruit Salad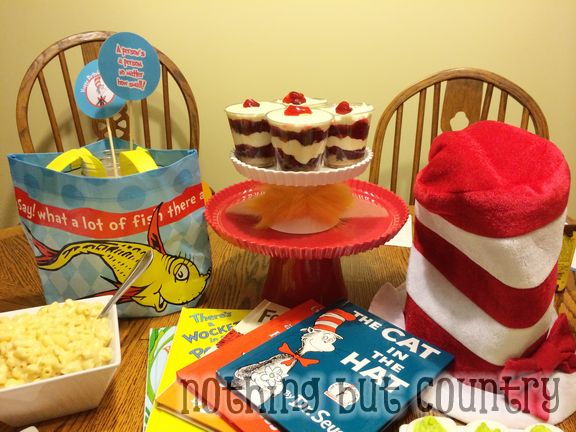 Dessert was yummy! I posted the recipe for this. CLICK HERE FOR RECIPE.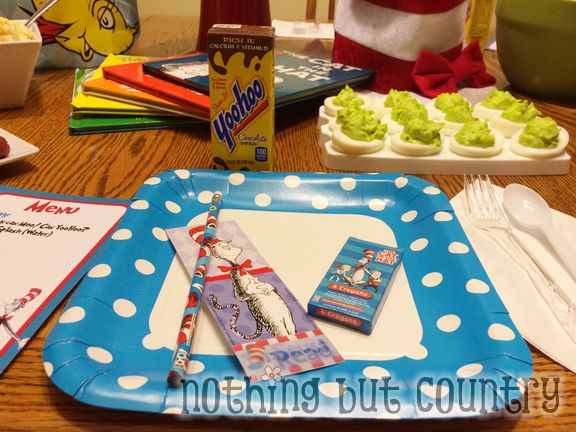 I found these great Seuss items at Target a while back. Along with the fish bag. I saved them just for this party!! 🙂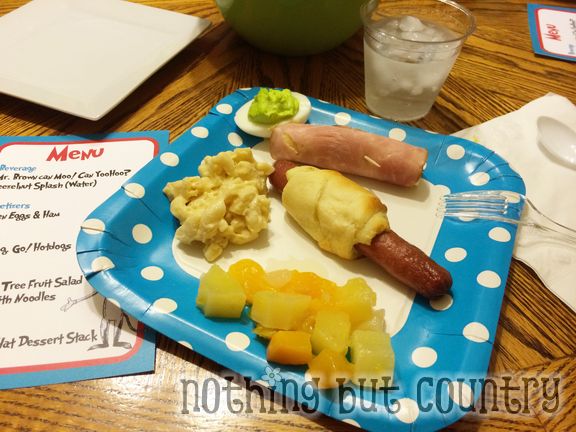 YUM YUM!!!!
We all get silly at dinner!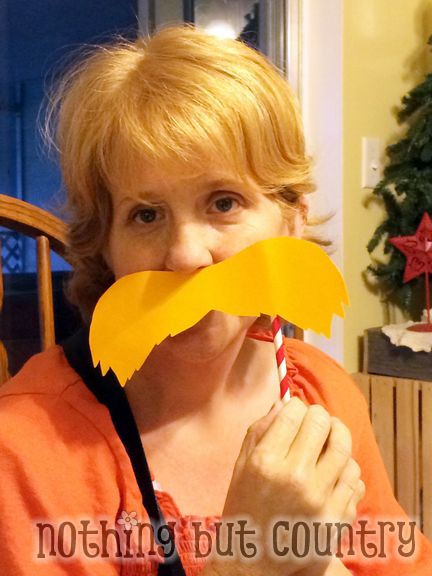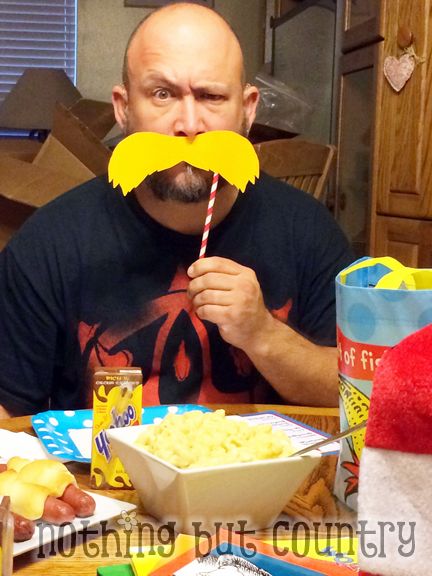 And the big guy LOVES the dessert!!