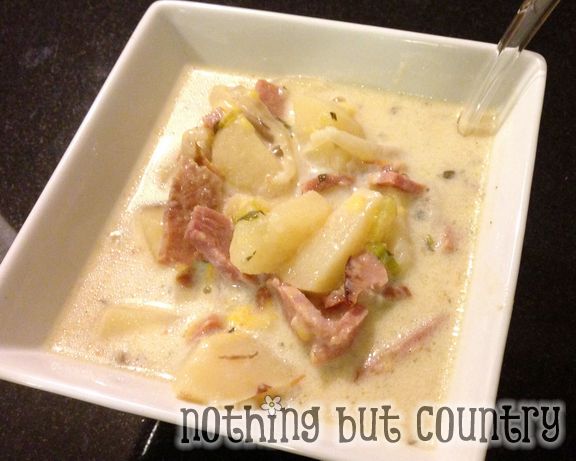 I am on a soup kick lately. I also want to use up items in my fridge. We had recently baked a spiral ham earlier in the week and wanted to use up some of the ham. You can easily buy ham steak and cut up for this recipe with no issues. Would work just as well. This soup was DELISH!! Kids were fighting to have seconds. The broth was so creamy and yummy. Another winner recipe in this house.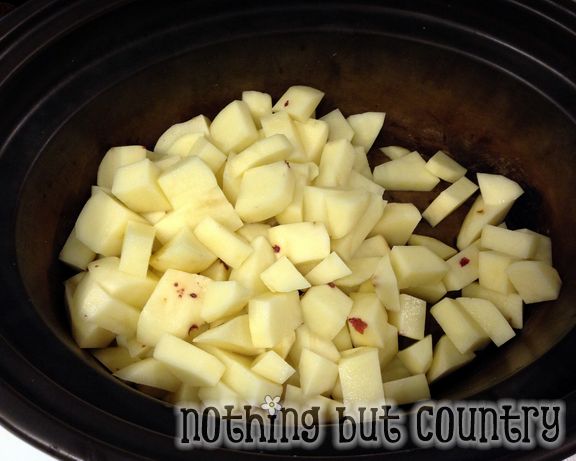 I started with 6 large red potatoes skinned and cut up into approx 1 x 1 pieces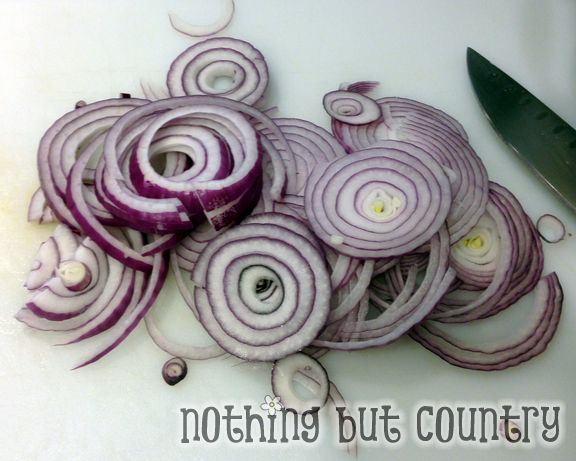 Sliced up one large red onion. You could use smaller we just love onions in this family. If you want to dice them up smaller you could. I may do that next time so I don't have larger pieces in the soup. Your choice.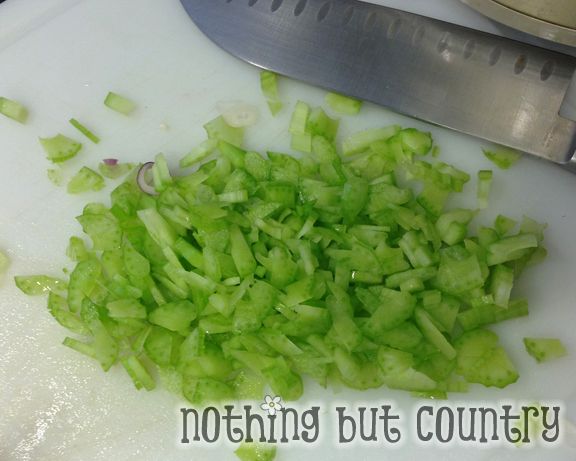 Approximately 1/2 – 1 cup of diced celery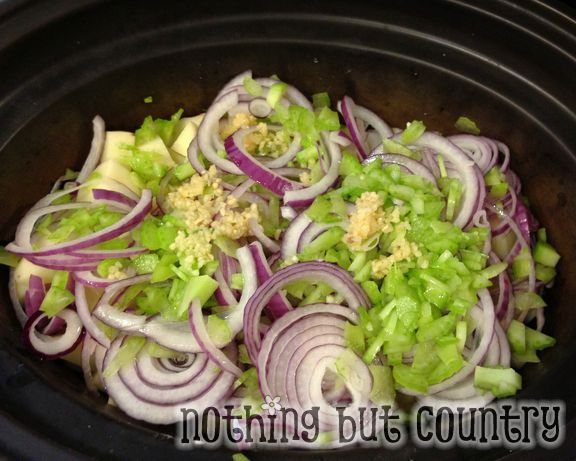 2 tablespoons of minced garlic all of these ingredients added into your crock pot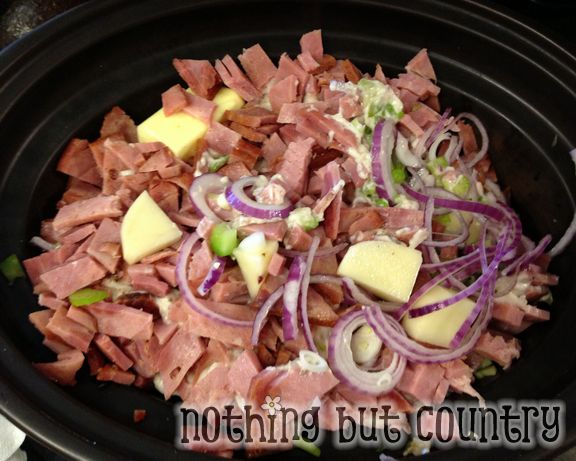 2 cups of diced ham and pour in 1 cup of chicken broth. You do not need alot. Just enough liquid to help cook all the yummy ingredients. Onions and potatoes give off quite a bit of liquid when cooking.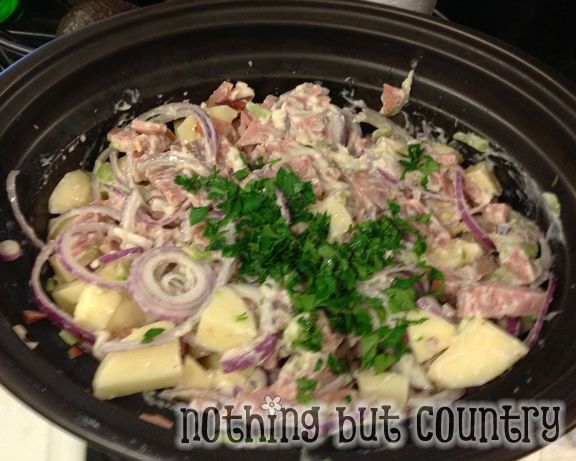 Add 2 cans of cream of mushroom soup and your parsley , salt and pepper and mix well.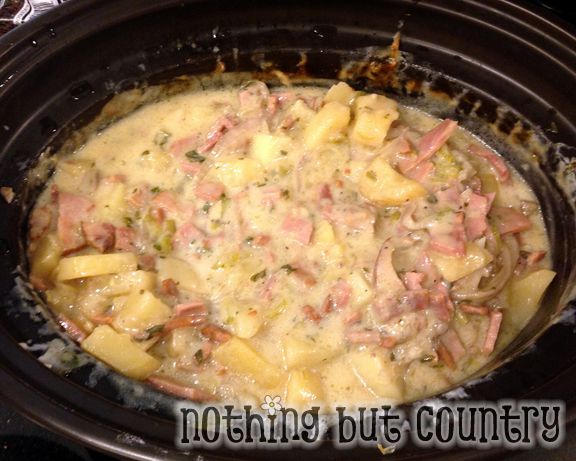 Cook on low for 4-6 hours and this is what your soup will look like. Potatoes are all tender (but not falling apart) Onions and celery are tender as well and the smell is heavenly!!
Add in your 4 cups of milk and 8 oz of colby jack cheese. (You could use cheddar as well)  Mix well and allow to cook an additional 15-20 minutes.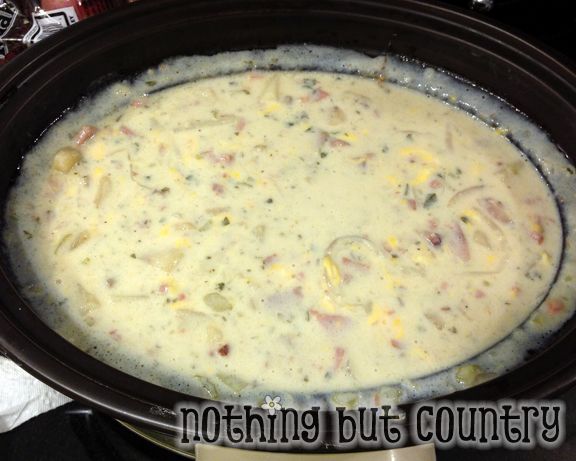 MMMMMMmmmmmmm…..  all done and ready to eat!!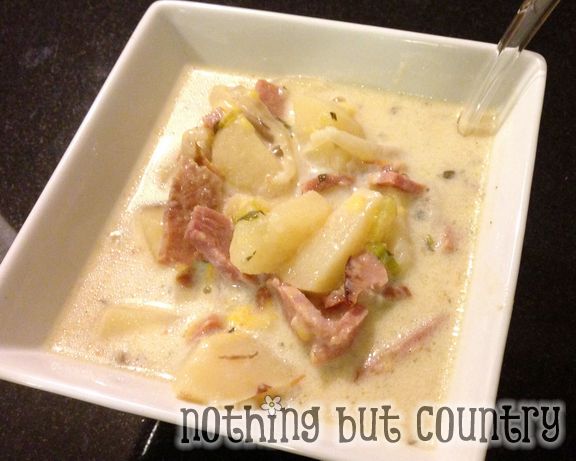 My family really enjoyed this soup. Very satisfying and plenty of meat and potatoes for the man in your house that loves meat and potato dinners.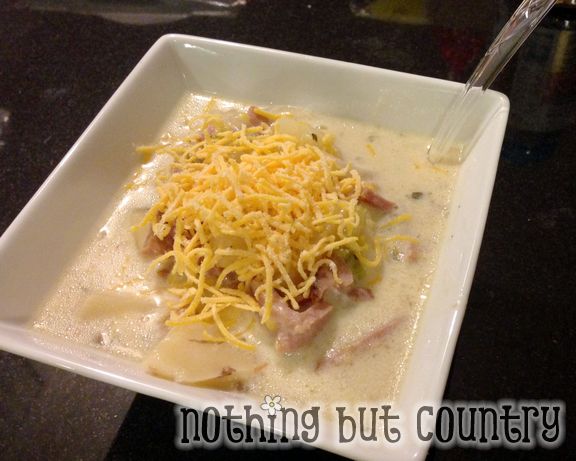 Some in my family added more cheese to the top of their soup. That is perfectly legal too. 🙂
It makes quite a bit of soup. Enough for a family of 4 to have for 2 dinners and still left overs for lunch for 2 more folks.  Approx 10 -12 servings.
Creamy Ham & Potato Soup – Crock pot / Slow Cooker
Ingredients:
6 large red potatoes cubed/cut up
1 medium/large red onion sliced
1 cup diced celery
2 cups diced ham (we made a spiral ham and cut up) Or you can use ham steak
2 tablespoon minced garlic
1 cup chicken broth
2 cans cream of mushroom soup (not large size- standard)
2-3 tablespoon chopped fresh parsley (we like lot so maybe it was 5 tblsp)
4 cups milk
8 oz shredded or cut up colby jack cheese
lots of black pepper
salt to taste
Directions:
1- Add potatoes, onion, celery, ham, garlic, chicken broth, mushroom soup, salt, pepper and parsley into your crock pot. Mix up well.
2- Cook on low 4 – 6 hours in crock pot. (My crock pot cooks fast it was done in 4 hours)
3- Once cooked, add in milk and colby jack cheese.
4- Cook till cheese is fully melted (approx 15-20 minutes more)
5- Serve as is or my family likes more cheese on the top of their soup
ENJOY!