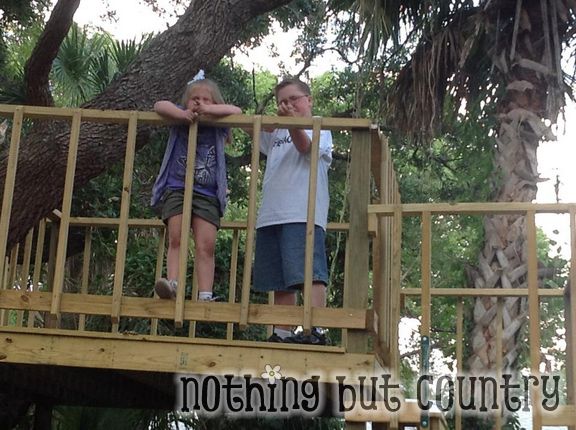 My hubby has been building like a crazy man!! We are sooo grateful too!!
We needed a place for the kids to play. Our old swing set at our other home was falling apart. However the slide, climber and handle bars were still very good condition. So we removed them and used them on our Tree house.
I'd love to say we had a plan. We did not. However we just made alot of trips to Lowe's Home Improvement store. Lowe's has everything we needed. 🙂  Their prices are great and they also will match prices and give us 10% off if its cheaper anywhere else.
Chad built the tree house sections at a time. We knew where we wanted it, and had tools and skills and put it together. We did this as a family.  My children love to go up into it and take a pillow and a good book and read in the tree house.
We attached a swing on one of the branches. Purchased chain also from Lowe's and hung the swing from the branch just outside the tree house. So they have quite the play area. It's alot of fun spending evenings outside and watching them play.
Here is how we put it together.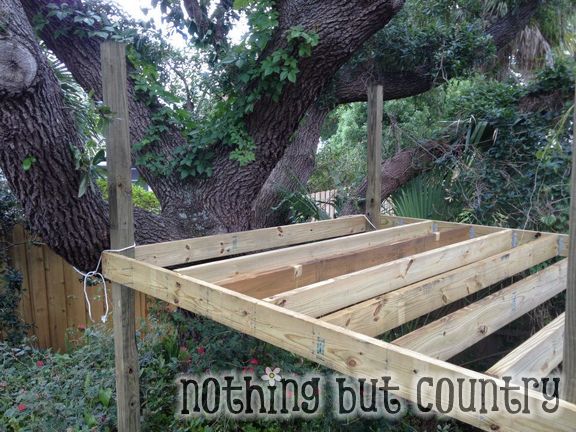 Started off with leveling 4 pressure treated posts in a corner and basically built a deck up against the tree.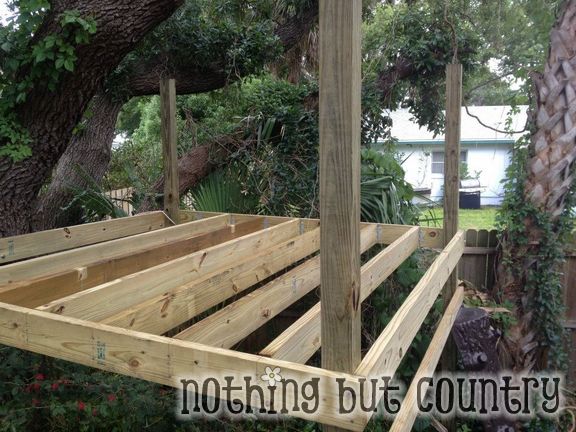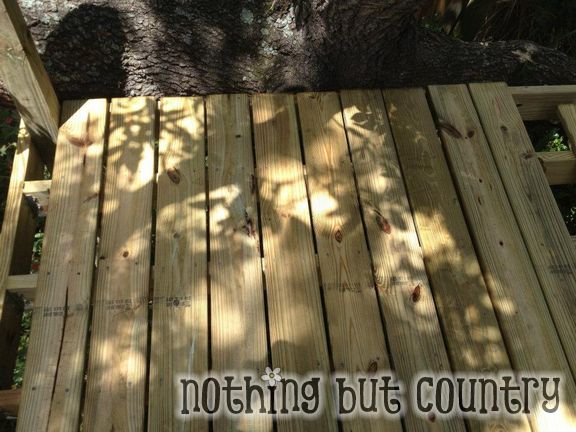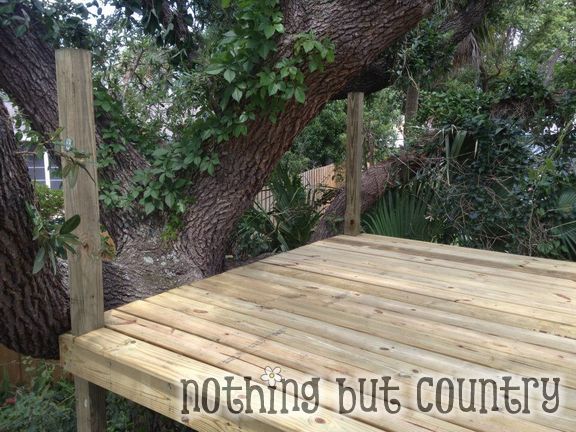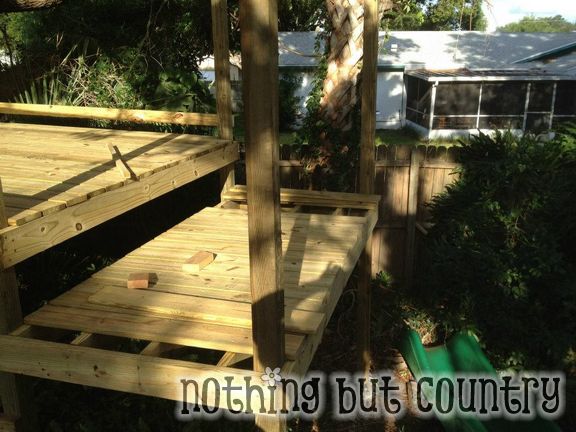 Like I mentioned– no plans we just WINGED it. We realized we having the deck of the tree house so high- we couldnt attach the slide very well with out it being so steep that the kids would go down the slide far to steeply so we made a second section/deck a bit lower down, where we could attach all the pieces to it. Simply later made a step going from level 1 to level 2. It made it seem like a split plan. People think we did it on purpose.. we did.. yeah yeah! HAHA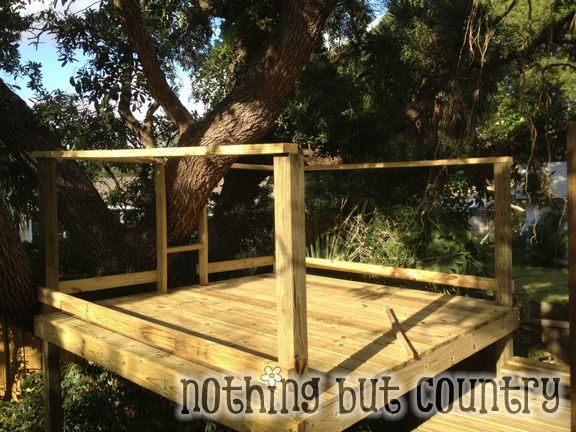 Adding railings to the tree house.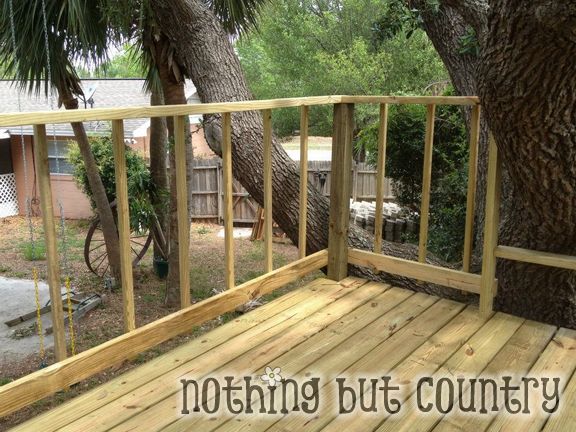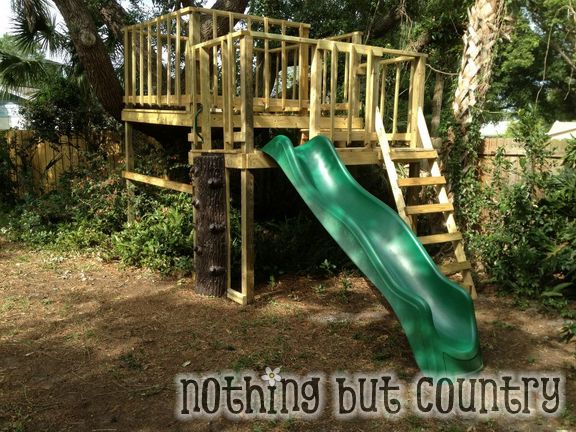 Here it is with all the pieces attached. This photo doesnt show the handles we put on it. We have handles at the top of the tree climber and at the top of the steps going up into the tree house as well.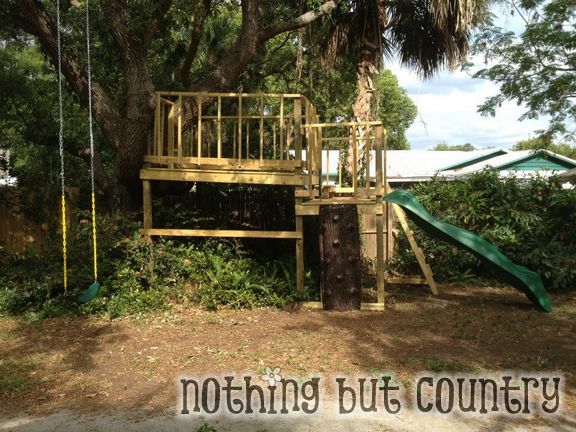 Side view. With our swing too 🙂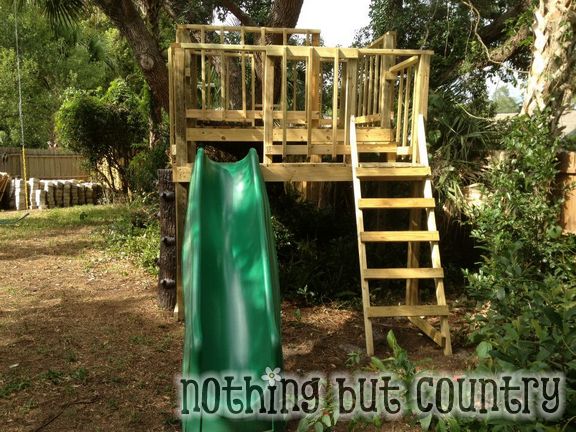 Front view- again before we added in the handles
Chad working so hard. This photo he was building a little step to go from level 1 to level 2. In case we have any younger friends over to make it easier to step up 🙂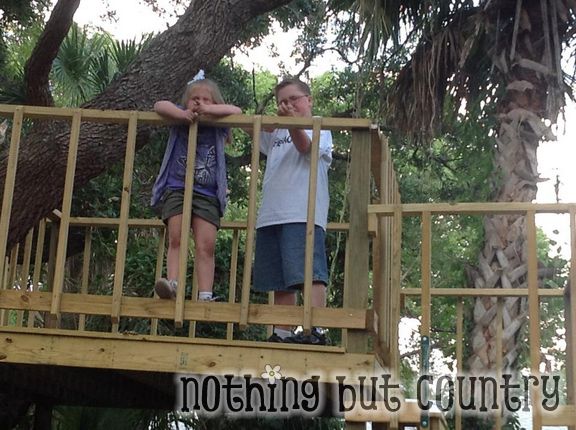 My kiddos taking a shot at me hahaha. They like to pretend all types of scenarios up there.  They love it and everyone that comes over and sees it goes WOAHHH!!! 🙂  It's pretty darn cool- built by a pretty great daddy/husband!!
**Lowe's Home Improvement did not ask me to write this post– nor were we compensated for this post– all opinions and views are solely mine. We just love them and will keep building our dream home with them!**