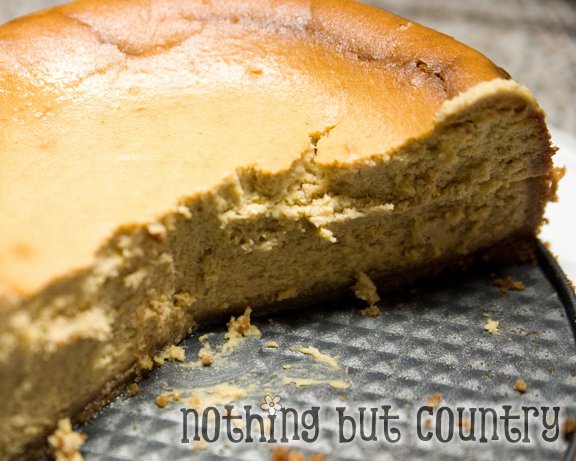 I really should have taken a photo of it nicely plated for you. However it never lasts that long. By the time it hits the plate, someone has taken it to eat.
IT IS THAT GOOD!!
We have made many different pumpkin cheesecakes over the year. This one TAKES THE CAKE 🙂 Seriously!
What I forgot to show you here, is once it is cut on the plate we drizzle hot caramel on top of it. YUMMMMM. But it is great without it too!
The recipe is pretty close to the Food Network recipe. That is where we got it, however– Chad never leaves anything as is. He realized this cheesecake had less sugar in it than most. Well– that wont do. So he upped the sugar amount. He did look to see what most cheesecakes call for- 1 1/2 – 2 cups of sugar. So he matched that. Then he added a few more spices to the cake. YUMMMMMMMYYYYY!!
Ingredients:
1 1/2 cups vanilla wafer crumbs (about 45 crushed wafers)
1 cup pecans, ground
1 stick unsalted butter, melted
2 pounds cream cheese, cubed and softened
2 cup packed light brown sugar
6 large eggs
1/2 cup heavy cream
1/2 cup all-purpose flour
Pinch of salt
1 teaspoon ground cinnamon
1 teaspoon of nutmeg
1 teaspoon pumpkin pie spice
1 teaspoon pure vanilla extract
2 cups canned pure pumpkin (we used fresh butchered pumpkin)
Directions:
Prepare the cheesecake: Preheat the oven to 350 degrees F. Combine the wafer crumbs, ground pecans and melted butter in a bowl. Press into the bottom of a 12-inch springform pan. In a food processor fitted with the metal blade, mix the cream cheese until smooth. Add the brown sugar and process until blended. Add the eggs one at a time, processing until fully incorporated, then blend in the heavy cream. Add the flour, salt, cinnamon, nutmeg, pumpkin pie spice and vanilla and blend until smooth. Add the pumpkin and blend until smooth.
Pour the filling over the crust in the pan. Bake 1 hour, 15 minutes, or until the cheesecake is just set. Remove from the oven. Use a knife to loosen the cake from the side of the pan; this will prevent it from splitting down the center. Let cool completely before slicing.
It baked so nicely!! So thick and rich. THE BEST homemade pumpkin cheesecake I have ever had!
So 2 thumbs up for this recipe with a few tweaks 🙂  ENJOY!!