We have a really YUMMY dish to share with you. Chad LOVES to bake and cook. He was inspired seeing recipes with soda in them. We have since tried biscuits with 7-up,  mountain dew in cupcakes , and now we have tried ginger ale in this fun dish.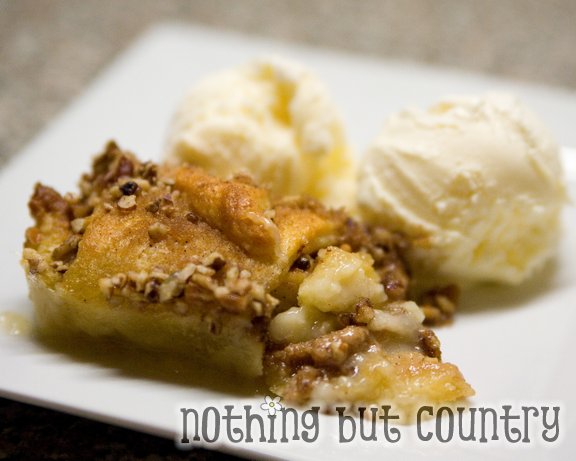 It is best served warm and with vanilla ice cream. DELISH!!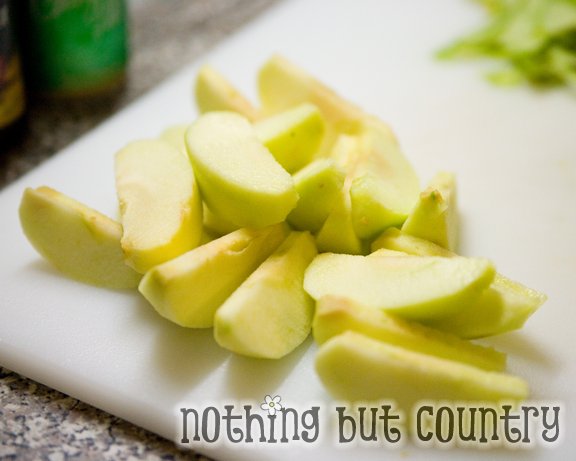 Peel and slice thickly 2 granny smith apples. (Approximately 8 slices per apple) You will need 16 total apple slices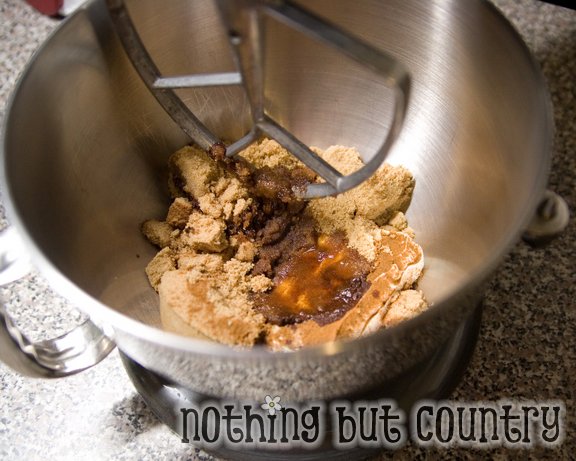 In a mixer- stir in 1 package of cream cheese, 1 1/2 cups of brown sugar, 2-3 teaspoons of cinnamon, and 1 teaspoon of vanilla extract. Mix that well till you get a yummy creamy paste.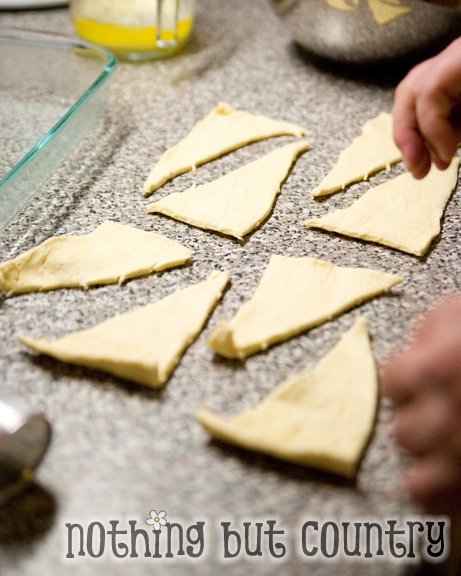 Using refrigerated croissant rolls- you will need 2 packs (8 in each). Unroll your first package.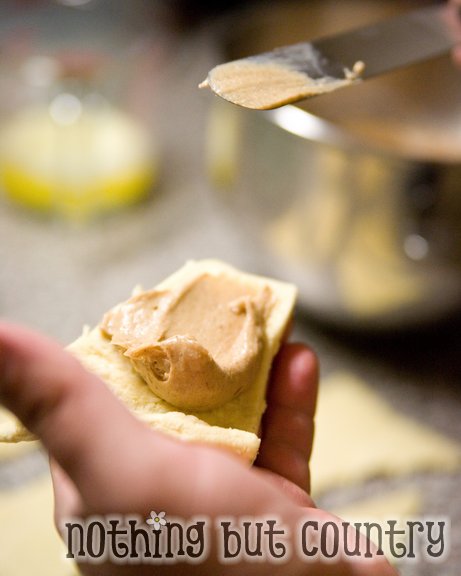 Inside each of the triangles put in a heaping tablespoon of your cream cheese/cinnamon mix.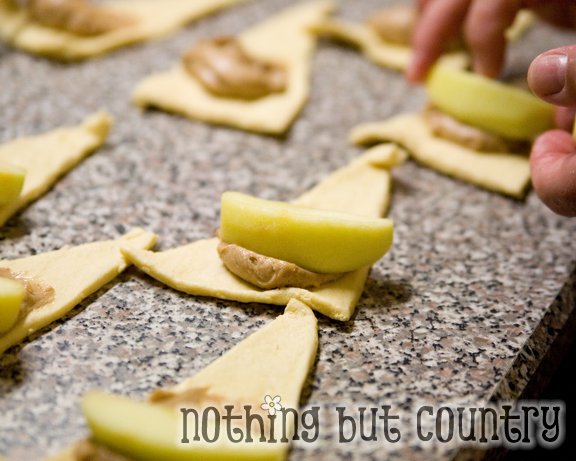 Now lay in a large apple slice on each of your triangles – try not to lick your fingers because you will be OOHHH so tempted to!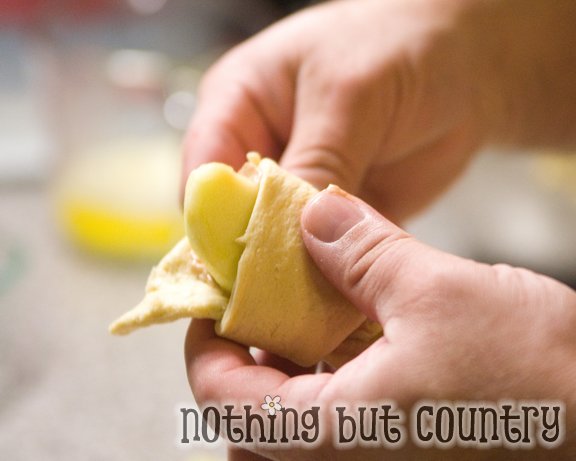 Wrap the triangle completely around your apple slice carefully, no need to seal the ends.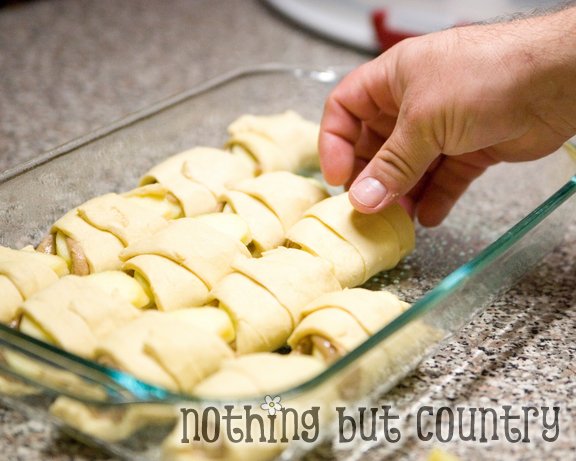 Place your apple wraps in a greased/prepared 9×13 pan. 4 rows and 4 columns.  You will need to do 8 at a time. If you lay out all 16 triangles, your dough may get too soft as you begin to wrap the last few. So do them 8 at a time leaving the other dough in the fridge till you are ready.

Butter makes EVERYTHING BETTER. (I didn't say this was low-fat by any means.. just extremely delicious!!) Melt 2 sticks of butter and pour evenly over your apple wraps.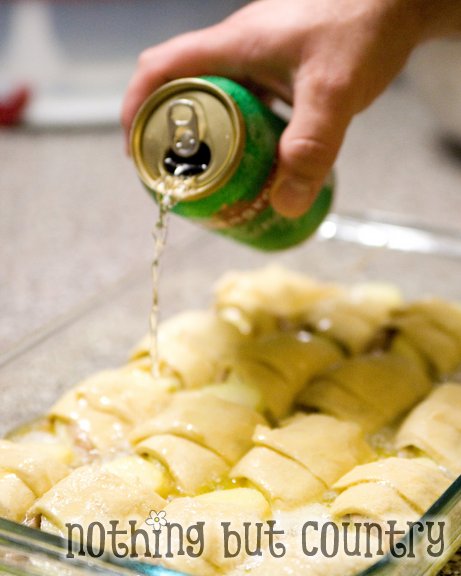 Now pour 1 – 12 oz can of your favorite ginger ale over the apple wraps.
Bake them for 20 minutes at 350 degrees.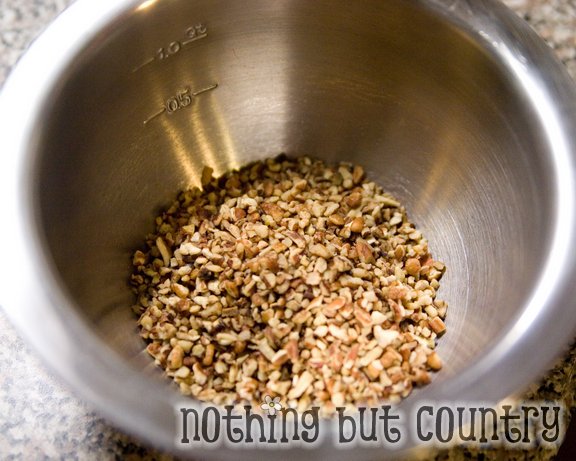 While the wraps are baking- in a small bowl, mix in 1 tablespoon of flour, 2 teaspoons of cinnamon, 1/4 cup of chopped pecans, 1/4 cup of brown sugar. Mix it well with a fork or your hands.
After 20 minutes of baking- sprinkle on your pecan mixture over the entire top of the dessert and allow to continue to bake another 10-15 minutes until golden brown.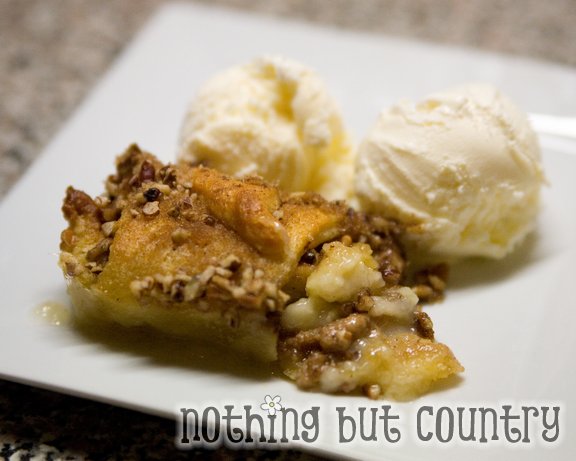 Doesn't this look amazing?? This is one of my new favorite dishes created by Chad. So savory with the sweet and saltiness in it. You have to control yourself not to try and eat too many wraps. I know 1st hand how hard that is!

Ginger Pecan Apple Wraps
2 pkgs of refrigerated croissant rolls (16 total)
2 granny smith apples
2 sticks of butter
1 12oz can of ginger ale
Filling:
1 pkg cream cheese
1 1/2 cups of brown sugar
1 teaspoon of vanilla extract
2-3 teaspoons of cinnamon
Crumble Topping:
1 tblsp flour
2 tsp cinnamon
1/4 cup brown sugar
1/4 cup chopped pecans
 Preheat oven to 350 degrees F. Prepare a 9×13 pan with butter spray.
In a bowl, mix together your entire filling – cream cheese, brown sugar, vanilla and cinnamon.
Peel and cut up 2 – granny smith apples into 16 slices
Unroll 1 package of croissant dough and in each triangle spread in a heaping tablespoon of filling and 1 apple. Wrap the apple and place in prepared dish. Continue till you finish all 16 wraps.
Melt 2 sticks of butter and pour over the top of your apple wraps.
Pour 1 can of ginger ale over the top of your wraps.
Bake 20 minutes- while baking mix up your crumble topping in another bowl.
20 minutes into the baking, sprinkle your crumble topping over your apple wraps.
Bake another 10 – 15 minutes until golden brown.
Serve warm with ice cream.
Happy Dessert Eating!!