I am so excited to share with my readers another guest blogger here on Nothing But Country. Brekke Felt of BrekkeCakes.com!! She is also a fellow photographer as we are and loveee that!! She makes amazing cupcakes and she has the most humorous names for her cupcakes. Failcakes, Scratchcakes and Cheatercakes. Wanna know what those are? I love this post on her blog about her great terminology found here at BrekkeCakes.com Now we use these terms in our house every time we make cupcakes. 🙂
Brekke is going to show us a great tutorial on decorating cupcakes!!
HI!! I am Brekke from "From Failcakes to Brekkecakes"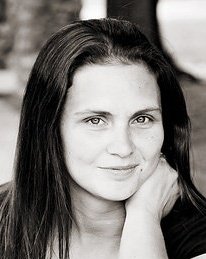 Today I am going to share with you Simple Chocolate Embelishments for Cupcakes
It's my son's seventh birthday.  Every year I let my children give me ideas to help plan their birthday parties.  This year, my son said, "Surprise me.", Music to a creative mom's ears.  My son LOVES Kung Fu Panda, most especially, Po, so in perfect secret, I planned and executed a Dragon Warrior Training Birthday Party.
I planned everything to be as close to the movie as I could, even down to the food.  We even had Master Monkey's almond Cookies and Po's Bean Buns (donut holes).  So the cupcakes had to tie into the theme as well.   The color theme was red, white and black, so I used that to make red velvet cupcakes and a basic vanilla cream cheese frosting.  To complete the image of "Master Shifu's Dragon Cakes" I wanted the Chinese character for "dragon" on the cake, so I created it out of chocolate and topped the cakes.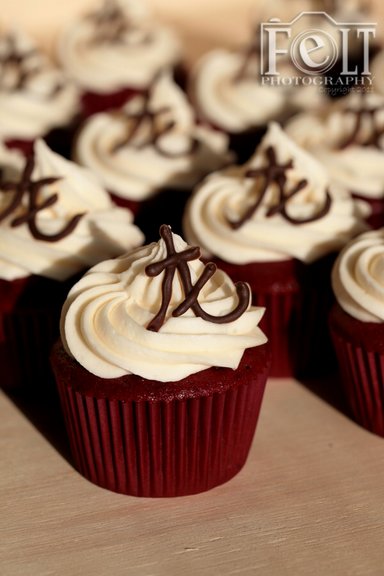 They turned out so fun and the simple chocolate embellishments were so simple and can give that little extra personal touch to so many different occasions.
You can do this out of white or milk chocolate and really the possibilities are endless.  You could do letters, words, flowers, animals, and just about anything with patience.
To make these chocolate embellishments, you will need:
Chocolate – I use "Almond Bark" which is sold in bricks at our local grocery store.  Chips I am sure will do in a pinch.
Plastic Squeeze Bottle: These are available at Walmart, by the craft section where they sell the Wilton food coloring and other cake decorating supplies.
Wax Paper & support: These have to be put in the fridge or freezer so you need something to support your chocolate so it doesn't slide around.
Printout of whatever you want to create in chocolate. – For this tutorial I remade my "dragon" characters, only in white chocolate.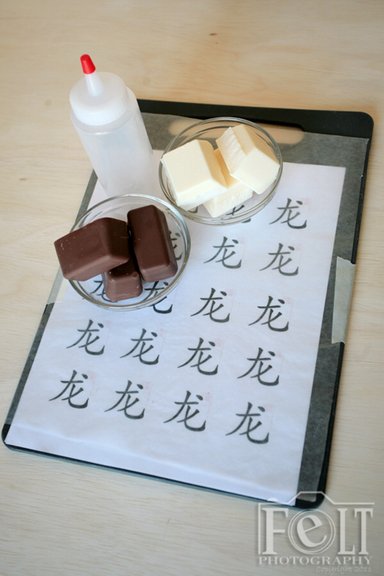 First, place your image on your support and secure it, then secure your wax paper on top.
Next, put your chocolate in a microwave safe bowl and place it in the microwave.  Heat for 30 seconds, stir, and the repeat until the chocolate is melted and is a smooth consistency.  (White chocolate takes significantly less time to melt than milk chocolate.  Be careful not to overcook or burn your chocolate, that's why it's done in small intervals.)
Pour your chocolate into the squeeze bottle and simply "trace" your pattern with the chocolate.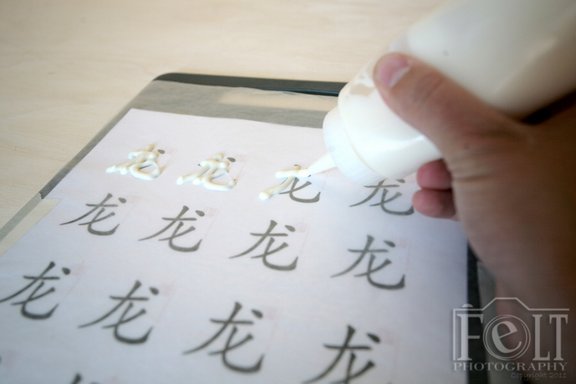 When you have finished tracing them all, place the whole thing in the freezer and let them harden.  (It only takes a few minutes)  Once they've hardened you can place them on your frosted cupcakes.  I used my thin spatula to remove them from the wax paper, as they tend to be fragile (and I broke a couple using my fingers).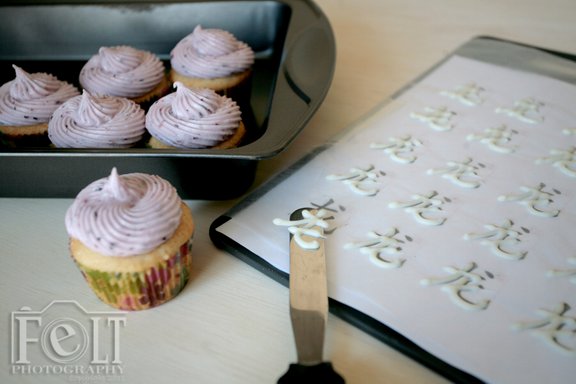 They are simple, but add such a great finishing touch to your cupcakes and can be themed for just about any event.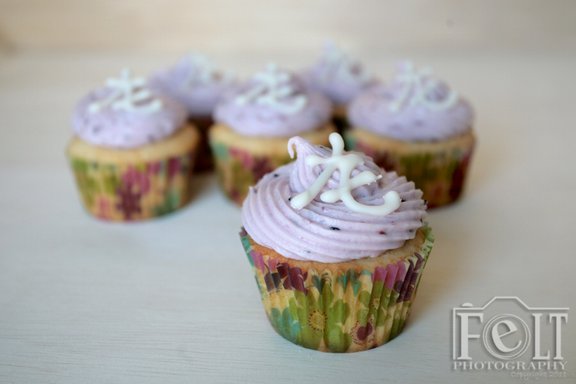 I LOVE THIS!!! Chad and I have been trying our hand at more cupcakes and haven't done this techinque yet and I can't wait to try this out!!
We have been following Brekke from the beginning of her cupcake journey and we have enjoyed reading her blog!!
Be sure to leave a comment for Brekke here and stop by and visit her on the net.
Thank you so much Brekke for this yummy & amazing tutorial!!
She can be found online at
Website – http://www.brekkecakes.com
Facebook– http://www.facebook.com/pages/BrekkeCakes/151823531548585