TO VIEW ALL POSTS IN THIS SERIES CLICK HERE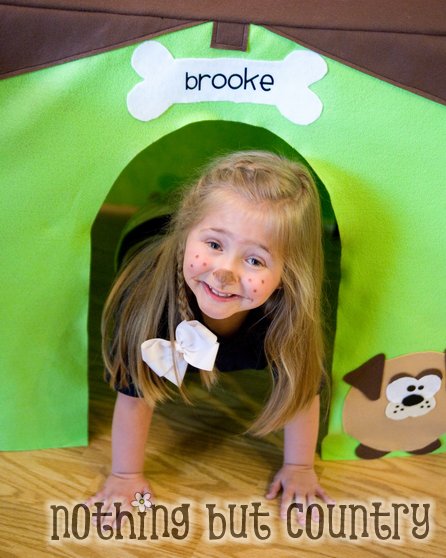 Finishing up our Dog Playhouse series.
Time to put this puppy together (hahah)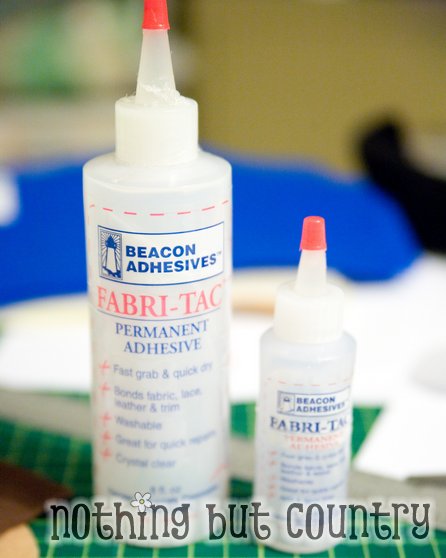 Again using my favorite Fabri-Tac glue from Jo-Ann's Fabric I started gluing on all my pieces.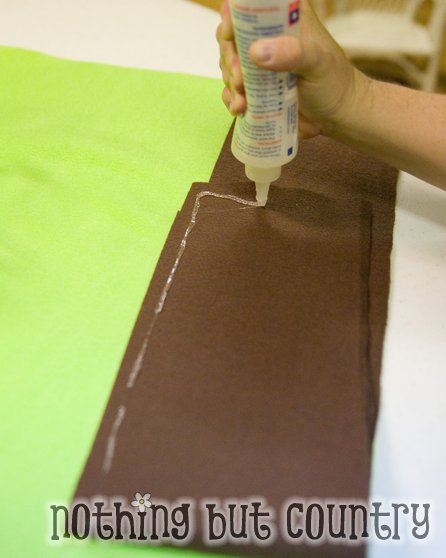 On each of the 4 lime green panels I glued on the triangles and the rectangle pieces. The side pieces were the regular rectangles, and the front and back were my triangles.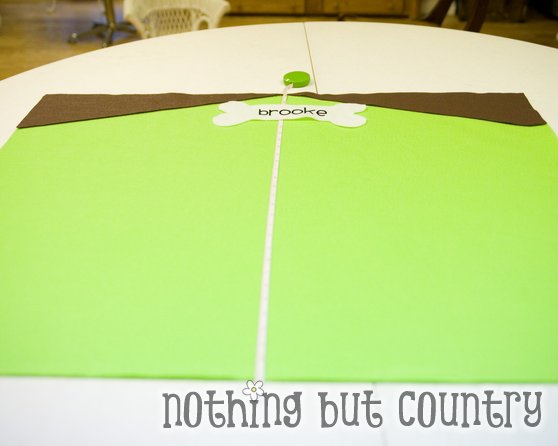 On the front panel I added my personalized bone to the top of the house. I wanted to make sure I cleared enough space so I could cut a hole later on for the door way.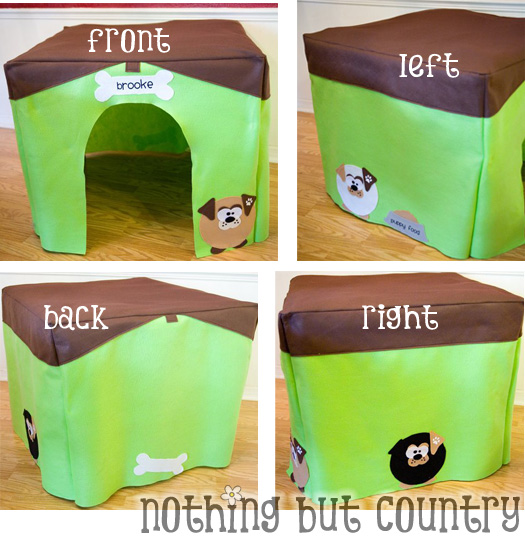 All 4 sides I continued to glue on my bones and food and chubbie puppies before I started sewing.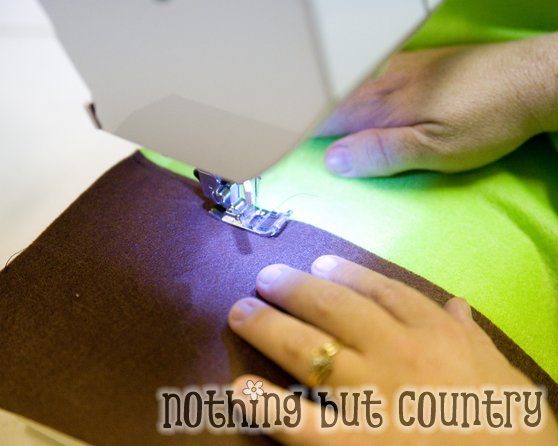 I then sewed for extra hold the brown roof pieces onto the lime panels.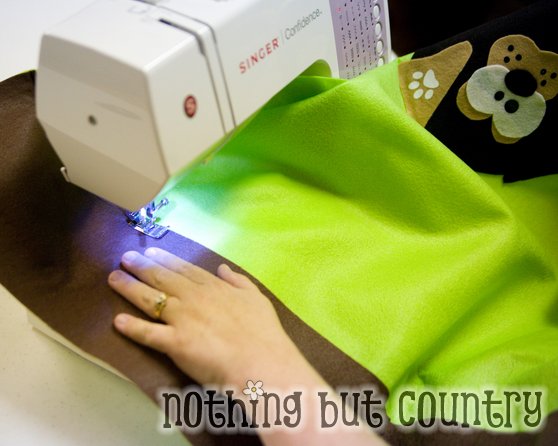 Not really shown here- however once all my brown were sewn down- I put the sides of the house together. The roof went on last.
**NOTE: I do want to mention on my dog house, at the top of every arch panel (front and back) I added a little square piece of brown at the tip for decoration, no pattern needed I just cut from a piece of scrap and glued it on and sewed it before I started putting the sides together**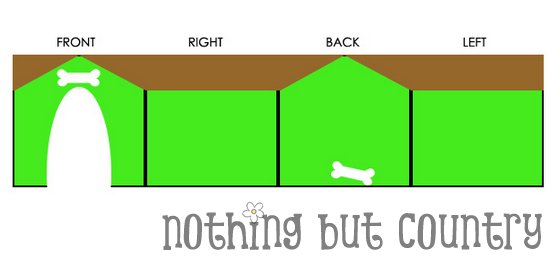 This is how I sewed my sides together before I sewed the 4th edge into a full cube.  You sew each panel right sides together open it up and add your next panel. I wanted my front panel on  the far left- so I could then cut out the door.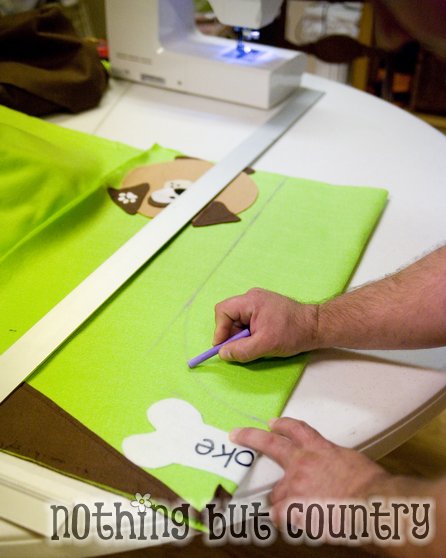 I folded that front panel in 1/2. Using chalk I marked 7 inches wide by 23 inches. Then I hand drew a rounded edge. So it would be a round top door to the dog house.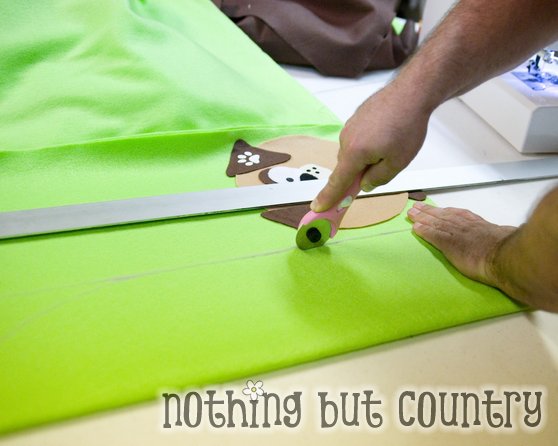 Using the rotary blade cutter, I cut thru the folded front panel. So when I opened it up my door measured 14″ x 23″ tall. Just enough for my 6 yr old to crawl in and out well.
I simply used a damp rag to wipe off the chalk line.
I then proceeded to sew the 4th side of my cube together. I made sure I sewed 1/2 inch seam allowance on all 4 sides.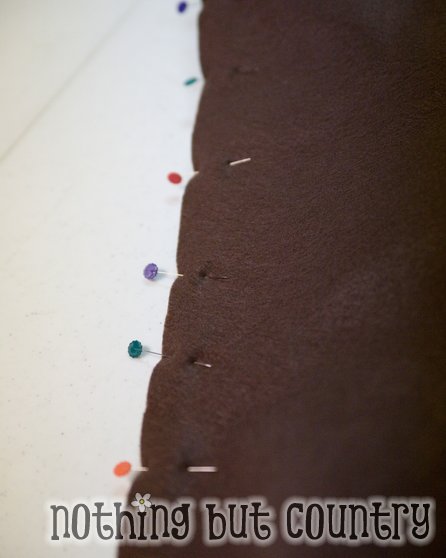 Turning the cube inside out. I then attached the roof. Pinning it all the way around.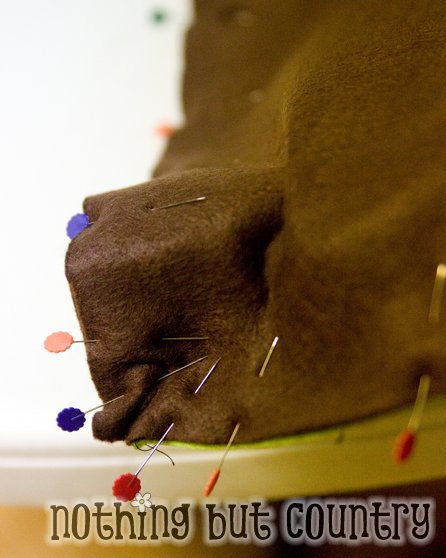 The corners were the hardest. There will be a bit extra. I just sewed all the way around then trimmed any excess I had left.
Sew again- using a 1/2 inch seam allowance or your house will be too long on all 4 sides.
Flip the house right side out- and you are DONE!!
Slip it over your card table and admire you awesome work!!
Hope you enjoyed the playhouse series posts and if you make a card table playhouse, I would love it if you emailed us a photo to share. We would love to feature you!!