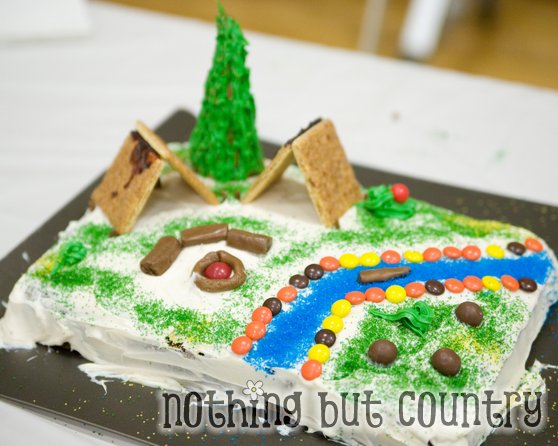 My husband and I are big time into Cub Scouts. I am sad that my little man is too old for cub scouts. He is now in boy scouts. But through our church callings we are still involved in cub scouts.  Between the 2 of us- we are the main folks in charge when it comes to the pack meetings and banquets.
We were also on a major budget – so I had to get creative.
One of the activities at our Blue and Gold – "The Magic of Cub Scouting" evening. The father's were to work with their scouts on a cake. They had 15 minutes to decorate a cake for judging. They had to have the cake premade but not iced or decorated at all. There were alot of great cakes. This is just 1 of the many cute cakes there.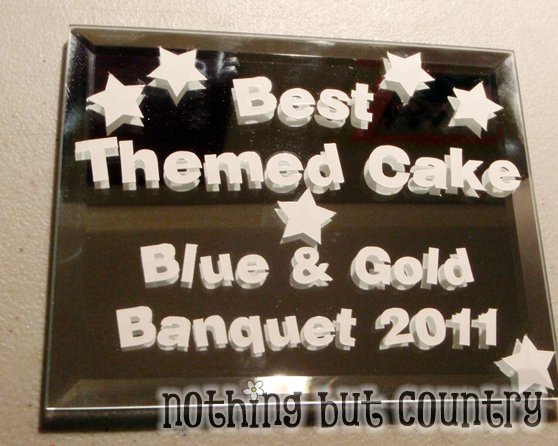 I wanted to have a nice little award they could take home that was personalized a little bit. I found these great candle holder mirrors at the Dollar store. I used my Silhouette machine and cut out and made plaques for the boys.  I am really excited how they came out. For just 1.00 for the mirror and some vinyl we had nice awards. Adding stars on it to keep our "Magic" theme.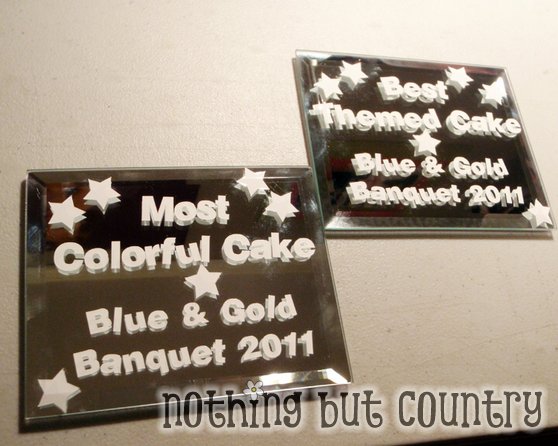 The boys were really excited to get one of these awards. It being shiny made it feel more special than just a ribbon of sorts. Something out of the ordinary.
The other cheap craft we created for the night- I wanted to share in this post each of the boys were given a magic wand. We used them for decorations on the table and at the end of the night let them go home with one.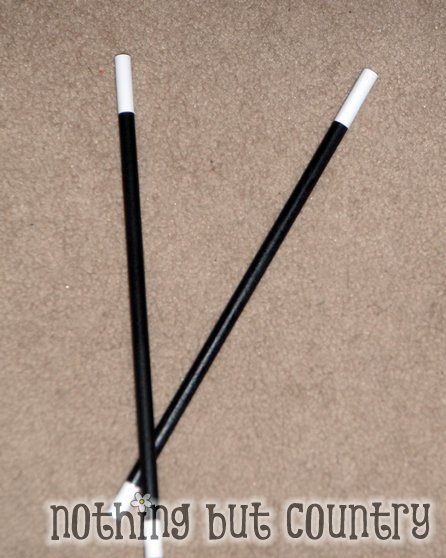 This too was very easy and inexpensive. We made 12 of these for less than 5.00 for all 12!
The dowels we got in 4 foot lengths at our home improvement store.  (3 of them) Chad cut them in 1 foot lengths.  He then spray painted all 12 black.
Once they were all dried I used my silhouette machine again and cut out rectangles one thicker than the other and I just made sure they were long enough rectangles to over lap a little bit.   So I cut out 12 bigger rectangles and 12 thinner rectangles.  I then wrapped each end of the black dowels with the vinyl.
That's all it took. We had really nice magic wands. I didn't have to hand paint them at all. That made me happy. Cheap and fast. My kind of prop/craft!! 🙂
I will post part 2 of the party tomorrow. So be sure to come back to see how CUTE we decorated the entire event on a very strict budget.