This Teacher Appreciation Gift is a perfect gift to give to the teacher from the entire class. It can be changed and given from 1 person with each heart listing a memory or something they love about the teacher or different quotes they may want to put on the hearts.
We gave each parent a heart to ask their child to list 1 thing they loved about their teacher. They then turned in all the hearts and I put it into a canning jar with a piece of bee fabric.  Very simple. I am not sure where I got the poem from. If anyone knows I would love to give them credit. The poem reads-
This isn't strawberry jam.
Apple, plum or peach,
With sweets, I will not tempt,
It's your heart I wish to reach.
What I really want to give you
Is something nothing can destroy,
For my teach, I want you to
Have this little jar of JOY!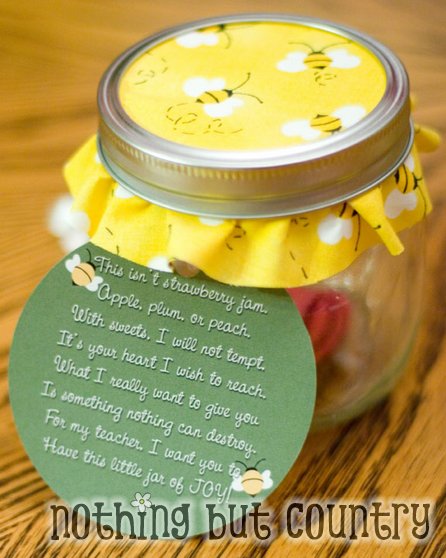 The teacher was very moved by this gift. it was easy and nearly free using a jar I already had in my home from canning.  The hearts were purchased from a school supply store since I needed so many- however they could be easily cut out by hand with construction paper.
I have also included the tag that goes with this project for you.  You love freebies right?? I love to share too!
I  use a 2 1/2 inch scalloped punch for my tags.  – Uchida Clever Lever Mega Craft Punch, Scalloped Circle
or you can even use a plain circle as well you can find on that linked page.
Would appreciate any comments and/or you to LIKE us on our Facebook page here 🙂