This gift I made for family and friends for Christmas. However I am remaking this gift and going to give it to the teachers along with a clever tag to add to it.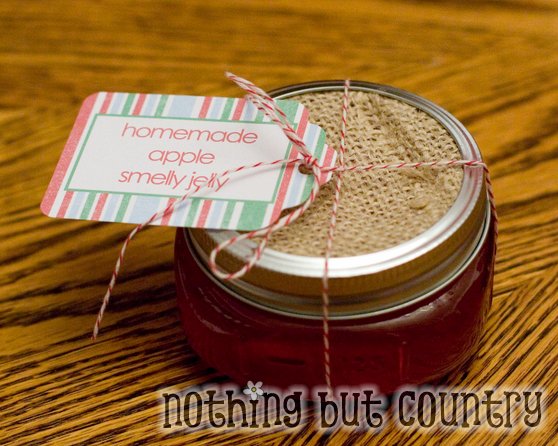 Air freshener Homemade of course. 🙂 It is SOOO EASY TO DO.
Easy Gel Room Freshener Jars
Ingredients
1 c. liquid potpourri
Food Coloring
1 (1 ounce) package of Knox unflavored gelatin
Directions
using an old pan, boil potpourri; add food coloring and gelatin. Pour into small jelly jars. Let sit until firm. Add a small square of breathable material and tie in place.
Extremely easy to do. The breathable fabric I use is burlap. And I don't tie it on. I cut it to fit the same size as the metal lid inside. Lay it in there and add the ring and it works great.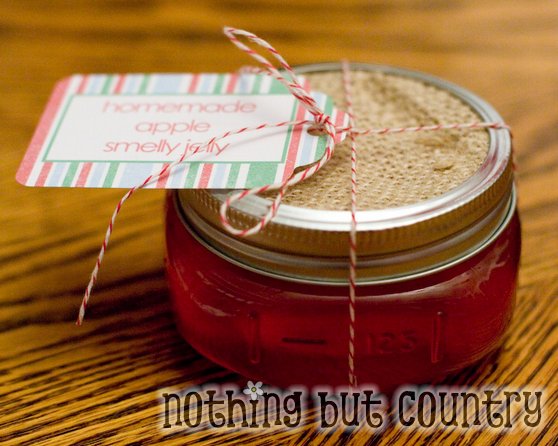 Potpourri I got at the dollar store. They sell a large container for 1.00 so I was able to make quite a few.  Also a box of Gelatin comes with 4 packs. That will make 4 jars as well.  I already had the jelly jars and burlap.
One word of advice if you are going to make more than 1 container of Air Freshener (smelly jelly). Do it with alot of ventilation in your home. Bringing more than 1 cup of potpourri to a boil, takes longer and the fumes can give you a bit of a high if you hang around it with bad air movement. Just Sayin'.
Once I poured it into the jars and let it set out, it thickened up quickly. I made enough for 7 jars at one time. Very quick and easy! Fill the jar all the way up till you leave a 1/2 inch of the jar top/lip left.
Add a cute tag and you have a great gift. 🙂
I plan to use a 2 1/2 inch scalloped punch for my tags.  – Uchida Clever Lever Mega Craft Punch, Scalloped Circle
or you can even use a plain circle as well you can find on that linked page.

Would appreciate any comments and/or you to LIKE us on our Facebook page here 🙂