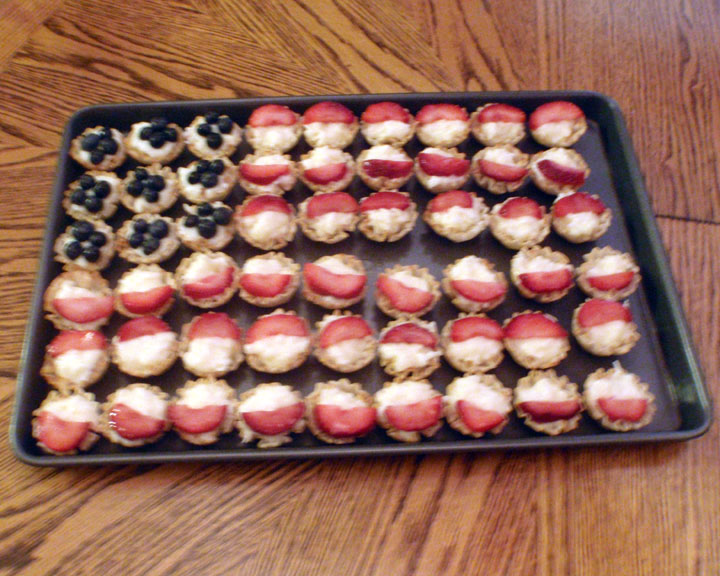 Inspired from my latest copy of Food Network Magazine. I used the photo as the inspiration.
I did not want to do a rich tart as they called for mascarpone cheese etc.
I used a recipe that I previously posted for my eclairs but I also use it when I make Coconut Cream Pies.
Ingredients-
1/3 cup sugar
2 tblsp Corn Starch
1/3 tsp salt
2 c. Milk
2 egg yolks beaten
2 tblsp Butter
2 tsp Vanilla
3/4 cup of sweet coconut flakes
Sugar, Corn Starch, Salt—Blend together put in a medium pot
Combine Milk, Eggs, gradually stirring into Sugar mixture over medium heat.
Stir constantly till boils. Once starts boiling allow for 1 minute. Remove off heat add in butter and vanilla. Add your coconut flakes and mix in well. Let set till cool/thicken (If you do not like coconut- you can discard that)
I used 54 Phyllo tart shells. You get them in the freezer section of your local grocer. 15 for about 2.00 or less.  (Food Network used actual tart shells and only 48 of them) I added an extra column of 6.
You will need fresh blueberries and strawberries.
Arrange your 54 shells on a baking sheet (or any other sheet you wish to serve on)
Fill each shell with cool coconut cream filling. Once they are all filled (you will have plenty left over to enjoy licking the bowls clean)  Place 4 blueberries in some of the spaces, and then put in 1/2 of a slice of strawberries arranged as my photo shows to create the red /white stripes.
I would do this just a few hours before eating or eat immediately. I would not put them together the day before. They were DELISH!!! Everyone enjoyed 1 (or 3 or 5) HAHA  they were great little treats and FULL of flavor and just soo soo cute for the 4th of July party we had!! Definitely a change from the over used baked cake with white icing and strawberries (or raspberries) and blue berry flags you see overused.  (Not that – the cake was bad this is just another fun twist)
Hope you all had a wonderful and safe July 4th. This will also make a great dessert for Memorial and Labor Day as well!!